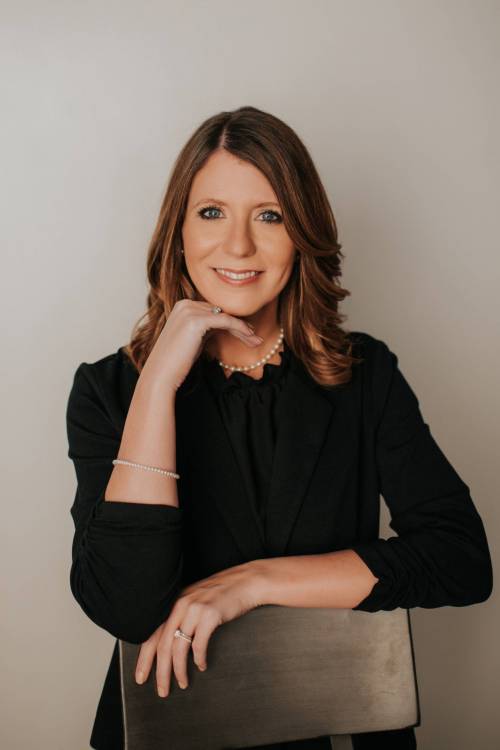 Due to the social distancing guidelines, we have converted our traditional AllOnGeorgia candidate video interviews into short questionnaires. Each candidate in the race was provided an identical questionnaire with the same deadline. Answers were not edited in any way.

The Primary Election was moved to June 9th.
The last day to register to vote in the primary is May 11th.
Early voting begins May 18th.
To sign up to volunteer as a poll worker, click here.
---
Please provide a brief bio on yourself.

My name is Leslie Deal Akins and I seek your vote in the Bulloch County Tax Commissioner's race. I am Bulloch County born and raised. In my 43 years, there has never been a single day that I didn't call Bulloch County my home. I am a 1995 honor graduate of Statesboro High School and a 1999 graduate of Georgia Southern University. After a few years of working as a social worker in a long term care facility, I began my work in the Tax Commissioner's office. I ended up filling a gap while a clerk went out on maternity leave and learned both the property tax and tag side of the office in the process. I worked part time for a while before eventually becoming a full time employee of Bulloch County. My 19 years of experience and first hand knowledge of the inner workings of this office have well prepared me to seek this position and lead our office well. 

My husband, Stan, works in management with Georgia Southern's Eagle Dining. We live in Downtown Statesboro with our children, Hope, Sara, Liam & Skylar. I am a member of Connection Church, where I serve weekly in the Children's Ministry, Guest Services Team and also as a Connect Group leader. I am a member of Statesboro Service League and serve as Treasurer for the Dayspring Walk to Emmaus Board. I enjoy volunteering with various other groups/missions here in Statesboro as well. I am very proud of our community. It is a wonderful place to raise children and is always a source of support for each other, especially in times of uncertainty like these. It is refreshing to see how our community always comes together for the good of us all. I am proud to call Bulloch County my home and thank everyone for the amazing things they are doing right now to help each other. We are truly #BoroStrong.



What experience do you have that properly equips you for the position of Tax Commissioner?

The experience that is absolutely necessary for fulfilling the duties of this position is something that only I possess in this race. That critical & relevant experience comes from physically being employed in the Tax Commissioner's office for 19 years. In my opinion, there is NO substitute for the first hand, cumulative experience I have in property tax collection, knowledge of the digest, millage rates and property tax laws. I possess knowledge as well in all aspects of the services we provide as an agent of the Georgia Department of Revenue in motor vehicle transactions for the county. I have experience and knowledge of our bookkeeping policies, procedures & programming. I have extensive knowledge of Bulloch County's tax sale process and laws, as it pertains to real property and mobile homes. I am trained and skilled in the efiling of liens and cancellations through GSCCCA, as well as the efiling of deeds and other real estate documents that are filed by our office. I have proven leadership experience in many areas both in and out of the office. My leadership and "team player" attitude within the office is best exemplified through the public support of many of the current employees that I work with daily. Their voluntary demonstrations of public support are a true testament to their belief in my ability to lead our office as Tax Commissioner. The knowledge that I have accumulated over nearly two decades would allow me to move into this position easily, without having to go through a long-term learning curve of the basic functions and processes of our office.

How do you view the day-to-day role of the Tax Commissioner? (The balance between managing the office, working with other elected officials, and general tax-related work; duties and responsibilities; etc.)

The day to day role of the Tax Commissioner is one I've been able to witness first hand over the years. The Tax Commissioner works very closely with our Chief Tax Assessor, John Scott, and his employees on a daily basis. The County Manager, County Attorney, Human Resources Director and our Board of Commissioners are also worked with closely, especially with regards to all budget issues, any legal or personnel issues that may arise, etc. The Tax Commissioner is also an appointed Ex-Officio sheriff (appointed by Sheriff Noel Brown) for the purposes of being able to conduct and carry out our annual tax sales and all delinquent tax collections independently. The Tax Commissioner is also available to the 10 employees of our office each day. Daily duties vary and no day in the Tax Commissioner's office is the same. Different scenarios present themselves and you do have to be able to multitask. Some days, you will have many taxpayers wishing to meet with you or speak to you by phone. Others days, you might be answering 100 emails. More recently, in these uncertain times we are living in, participating in a lot of ZOOM conference calls with other governing officials is a regular necessity. There is definitely a balance to be found, just like any job really. I think having regular office hours and continuing the "Open Door Policy" that has always been in place is a huge factor in the office running smoothly.

What practices are in place from the outgoing administration that you think should be carried over by the new administration?

While I will always be open to positive changes and the input of others, I think there are many good practices in place that should definitely continue. Weekly disbursements, on Mondays, to the Bulloch County Board of Commissioners and the Bulloch County Board of Education would be one practice that would definitely stay in place. Continuing to carry out a tax sale in the fall of each year would be another practice that should definitely be kept. The timely filing of proof of claim paperwork in bankruptcy cases is another important practice that must stay in place to prevent a loss of revenue to the county. Our daily checkup process is another practice that must continue. Security features within our programming should also be kept in place. For example, only those with supervisor status have the authority to create adjustments, create bills for items not on the digest, perform back outs, gain access to certain reports, etc. I would like to continue the current leadership structure in the office with two supervisors in place, one over our Motor Vehicle Division and one over our Property Tax Division. These two serve directly under the Tax Commissioner, working together to ensure accountability and also to serve as a back up to each other and to the Tax Commissioner as needed.


How can the Bulloch County Tax Commissioner's Office be more efficient?

Honestly, this is a tough question because our office is really very efficient already. We already have very efficient procedures in place for property tax collection. As of 4/13/20, just to give you an idea, our 2019 property taxes are at 97.21% collected. We send regular mailings to those who are delinquent and our collection rate is superb. We typically process all mail that we receive either the same day or next day. Only during the extremely busy December 1 property tax deadline do we ever get more than one day behind on incoming mail. Even around December 1, when thousands of payments flood in all at once, we still manage to get it all done within a few days. Encouraging use of the postal service, over the phone and online transactions for simple tag transactions and property tax payments is one way that lines could be kept to a minimum, thus creating less wait times in the office. However, many people like to come in and personally get their tag or pay their taxes and that's just fine too. We are happy to serve the citizens of this county in the way that makes them most comfortable, whether that be in person or by other means.

How do you plan to advance the office technologically while simultaneously being a good steward of tax dollars?

Technology is constantly changing and evolving in today's world. In 2019, the state of Georgia implemented DRIVES, the new tag and title system. DRIVES is much more advanced than GRATIS, which was the previous system. Much of our equipment and programming through the Georgia Department of Revenue is implemented by and provided through the state and is not something we have input on. The state is requiring scanners in place for every terminal so that motor vehicle documents can be scanned in and saved on our server as opposed to having to search for a physical paper if the need arises. Those scanners will tentatively be in place by July 1. Our property tax program is something we are currently happy with, but at some point in time will require an update. We are already utilizing efiling capabilities within our office through the GSCCCA website and equipment we already have in place. I would like to launch a Facebook business page for the Tax Commissioner's Office to keep the community informed of any news, deadlines, important information, tax sales, etc. Being a good steward of tax dollars has always been important in this office and we will continue to keep that mindset.

Why do you want to be the next Tax Commissioner of Bulloch County?

I feel that my many years of experience have prepared me for this position. I have loved the many years that I have served in the Tax Commissioner's office and want to continue to do so in an even bigger role. I love Bulloch County and its citizens. I have a servant's heart and want to continue to serve. I love the wonderful staff we have in place and want to continue serving alongside each of them. After 19 years, there was no other logical choice for me but to seek the position.

Is there anything else you would like the public to know about you? (This area may also be used to include a bio and of er information on where people can learn more about you?)

I would like to just take a moment to thank all of our public servants who are working so hard to keep us all safe and healthy during this difficult time. To all of our health care workers, law enforcements officers, and essential personnel everywhere… my heartfelt thanks goes out to each of you for your hard work and dedication to our community. To everyone doing great things to help our small business community, thank you. To our community pastors who are working hard to provide online church services and worship times for your congregations, thank you. To all of our teachers, who are managing ZOOM calls with your classes and organizing paper packets and online resources for your students, thank you. To our governing officials, thank you. The decisions you are having to make are not easy ones.

Absentee ballot applications that were mailed out to registered voters can be returned to the Bulloch County Board of Elections office. Voting absentee ensures that your vote will be counted and that you will remain safe in the process. Tentatively, early voting will begin on May 18 at the Bulloch County Annex with polling places open on June 9. That is, of course, subject to change.

Our love and prayers go out to our entire community during this difficult time. Please continue to follow the campaign page on Facebook, Leslie Deal Akins for Bulloch County Tax Commissioner. You may also visit our website at www.lesliedealakins.com. I am always happy to speak with you and address any concerns you may have. Please feel free to reach out anytime. My contact information can be found on the Facebook page and on the website. Thank you for your time, your support and may God bless each of you in the days to come.