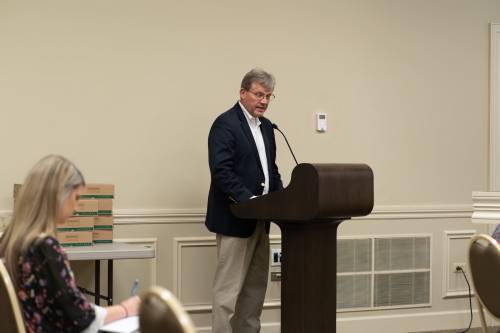 The Bulloch County Board of Commissioners will meet next week to implement additional protocols in response to the COVID-19 pandemic.

Commissioners met Friday at noon to hear an update on the response so far from both County Manager Tom Couch and EMA Director Ted Wynn and county employees presented information to commissioners on how recent measures approved by Congress would impact Bulloch County employees.
In terms of further actions by the county on the local level, Commissioners opted to take the weekend to allow the county manager to draft resolutions for consideration, but each of the Commissioners presented ideas of what they would like to see implemented on a county-wide basis.
"I think our planning thus far has been very good. We were among the first local governments to make some sort of emergency declaration…The balance of the county geographically isn't like Statesboro," Couch said in explaining that municipalities will still continue to make their own decisions on declarations. "We had 468 active occupational tax certificates [for businesses]. After looking at it, there are maybe only four to six business that would be subject to the types of restrictions that were put in place by Statesboro. Small contractors, manufacturing businesses, things of those sort. We just don't have the same types of businesses as the city."
"I'm not comfortable at all. I know there are COVID-19 positive people out there that will
never go to the doctor, so I don't have any measure of comfort for where we are right now, just because we don't have a confirmed case," Wynn said. "We need to put a few more tools in our tool box so we can pull the trigger pretty quick. The Governor is going to push that decision down…and we've got to look after the Bulloch County people."
Commissioner Jappy Stringer said he would like to see the county enforce the 10 persons or less measure for public gatherings, that he recommends no dine-in for restaurants, and he wants a curfew from 10pm to 6am. He also wants to encourage tele-working and that the elderly stay at home.
Commissioner Curt Deal echoed Stringer's desires saying, "Again, common sense, distance, wash your hands."
Under the Governor's order, restaurants are encouraged to offer curbside pick up and delivery options, but it is not required, though a number of cities around the state have taken it upon themselves to shutter the establishments to the public entirely.
Commissioner Ray Mosley said there's nothing wrong with implementing ideas that have been working in other communities.
Chairman Roy Thompson said he fully supports a curfew because there are a number of social gatherings taking place at night. "I think it's time we put something else in place. The curfew, as I see it, would not hurt private business. We don't want to do anything to hurt private business at all possible. People need to work, they need their paycheck to feed their families…but that's what I would like us to get in place."
Commissioners and county employees alike said any curfew would not be 'punitive,' in that it would not be used to punish people driving to and from work – as essential activities would be exempt – and would more so be used to deter gatherings that are still happening late in the evening and exceed 10 people. The county hopes to leave the discretion on what the consequences of violating curfew would be up to the Sheriff's Office. County Manager Tom Couch said he had full faith in the office to handle it appropriately.
A time for the meeting next week has not been confirmed, but the county plans to publish any proposals ahead of time to field public feedback.
County officials announced Saturday morning that a Bulloch County resident had tested positive for COVID-19 and that officials were notified by the Georgia Department of Public Health on Friday evening. EMA Director Ted Wynn told County Commissioners on Friday that he would have lead time on confirmed cases and would let elected officials know before the information was released to the public.
You can watch the Commission meeting in its entirety in the video below.
Bulloch County Board of Commissioners Special-called meeting (stream resumed)COVID-19 Update:

Posted by All On Georgia – Bulloch on Friday, March 27, 2020