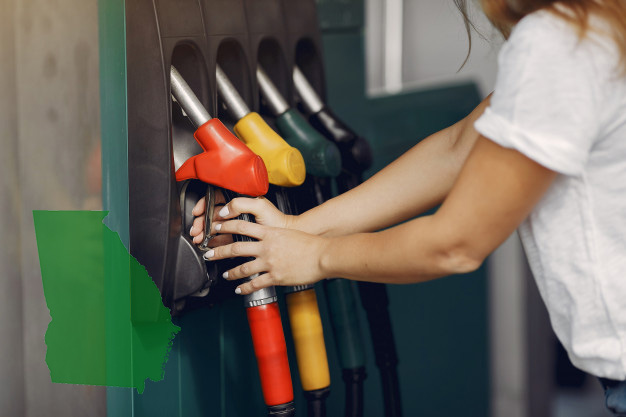 Georgians have seen almost no change in pump prices over the past month, until now. Somewhat of an increase was expected due to demand spikes, the upcoming Memorial Day weekend, and summer traveling. Now, the shutdown of the Colonial Pipeline, which delivers approximately 45% of all fuel to the East Coast, is expected to cause a hike in prices this week. Many have been reporting seeing higher prices and are concerned about possible shortages, as consumers head to stations to fill up their tanks.


The average price of a gallon of regular unleaded gas in Georgia as of today is $2.871, which is 17 cents more than a week ago and a month ago. Nationally, the average price is $2.985 today, which is 7 cents more than a week ago and 12 cents more than a month ago.
AAA spokesperson, Jeanette McGee spoke about prices, "This shutdown will have implications on both gasoline supply and prices, but the impact will vary regionally. Areas including Mississippi, Tennessee and the east coast from Georgia into Delaware are most likely to experience limited fuel availability and price increases, as early as this week. These states may see prices increase three to seven cents this week."
Colonial Pipeline announced over the weekend that they were the victim of a cybersecurity attack. The media statement said that as a proactive approach, the company took certain systems offline to contain the threat, which temporarily halted all operations. The pipeline runs from Texas to New York Harbor. As of Monday, some lines had reopened, but there is no timeline of when the mainline, including the gasoline line, will be back up and operational. Today, Colonial says they are continuing to make progress on the system restart plan.
Colonial released the following last night:
Colonial Pipeline is continuing to work in partnership with third-party cybersecurity experts, law enforcement, and other federal agencies to restore pipeline operations quickly and safely. While this situation remains fluid and continues to evolve, the Colonial operations team is executing a plan that involves an incremental process that will facilitate a return to service in a phased approach. 
We can now report that Line 4, which runs from Greensboro, N.C., to Woodbine, Md., is operating under manual control for a limited period of time while existing inventory is available. As previously announced, while our main lines continue to be offline, some smaller lateral lines between terminals and delivery points are now operational as well. We continue to evaluate product inventory in storage tanks at our facilities and others along our system and are working with our shippers to move this product to terminals for local delivery. 
Our primary focus remains the safe and efficient restoration of service to our pipeline system, while minimizing disruption to our customers and all those who rely on Colonial Pipeline. We will continue to provide updates as restoration efforts progress.
The FBI's statement on the compromise of the Colonial Pipeline Networks: The FBI confirms that the Darkside ransomware is responsible for the compromise of the Colonial Pipeline networks. We continue to work with the company and our government partners on the investigation.
Governor Kemp signed an executive order today, suspending the gas tax in Georgia to help with higher prices as a result of the Colonial cyber attack. He said "we are working closely with Colonial and expect for them to recover by the end of the week."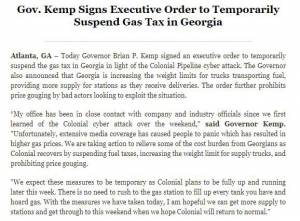 Kemp also today declared a State of Emergency due to Colonial Pipeline Cyber Incident, Invokes Price Gouging Statute
Check out below the Top 10 Lowest Gas Prices & Best Gas Stations in Bulloch County  as of today, according to Gas Buddy.