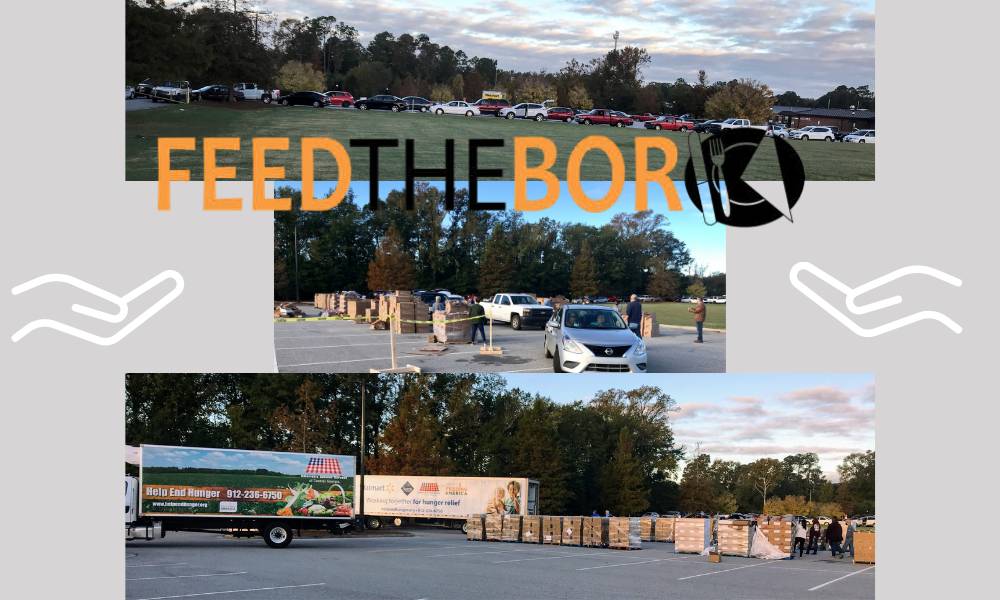 Feed the Boro (FTB) is stepping up again, but they need your help. Due to the severe need for food assistance in Bulloch County, FTB is coordinating a second emergency 1,000 family food drop at Statesboro High School this Saturday, December 12. This emergency drop is necessary to help provide critical food needed by hundreds of families. This will help get them through the Christmas holidays.


The need is heightened, due to Bulloch County Schools two-week Christmas break. Nearly 7,000 children in Bulloch County depend on the schools to provide them food. When there is an interruption, there is a need. The need is increased this year due to the COVID 19 pandemic which has caused many Bulloch County residents to remain out of work.
FTB continues their goal of providing food, love, and hope to as many people in Bulloch County as possible. Once again FTB has partnered with Second Harvest Food Bank to host a massive food drop.
In addition, Crossroads Community Church provides administrative and volunteer assistance annually to Feed the Boro.
Volunteers Needed for Saturday
"There is no way we could consider taking on a second massive food drop without the incredible generosity of our community in the form of monetary contributions and unselfishly volunteering their time", said Don Poe, FTB Chair. "I am overwhelmed by the need. My heart was touched by the gratitude of the recipients of food on Thanksgiving. If you want to discover the real magic of Christmas, volunteer with us Saturday."
We need your help to help feed the families in our community!
A few of the volunteer needs include help distributing the food, breaking down boxes, assisting with traffic flow and assuring documentation is completed by participants. This is an outdoor event social distancing and masks are strongly encouraged. Volunteer times will run from 8 a.m. to approximately noon, broken into one-hour increments.
Volunteers will park in the teachers/visitors parking at the front of the school or in the Big Lots shopping center across the street.
Help Give the Gift of Food
With this being an unscheduled, addition FTB needs donations to help cover the cost of the additional food drop. They are asking businesses and individuals to please sponsor a meal for an individual or a family. For a contribution of $15 you can sponsor a family of three. $25 – family of five, $100 – 20 people, etc.
Thanks to their generous sponsors, it only costs around $5 per person to provide groceries for a week.
---
FTB Resources Information:
FTB Paypal Link:  https://www.paypal.com/donate/?cmd=_s-xclick&hosted_button_id=95EAXLS935TPC&source=url
FTB Website: https://feedtheboro.com/#