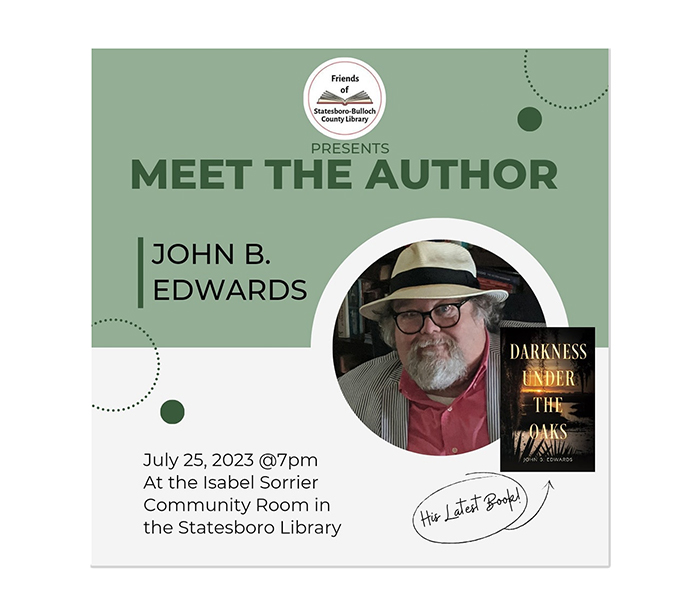 Presented by Friends of the Statesboro-Bulloch Library, Meet the Author with John B. Edwards will be Tuesday, July 25, 7:00 pm, in the Isabel Sorrier Community Room at the Statesboro-Bulloch Library.


Meet local author John B. Edwards as he introduces his newest book, published in May, 'Darkness under the Oaks'. Set in Savannah and Statesboro during the 70's, 'Darkness under the Oaks' accents law enforcement, organized crime, southern culture, and Christian doctrine.
Book description: A murder case needs solving in this intense crime thriller featuring forbidden romance between rivals and an investigation where no one is safe. Mafia boss Tony Deluca is exiled from Chicago to Savannah, and that means trouble for his new hometown. Tasked to manage properties purchased by the mafia, he soon finds himself embroiled in a murder mystery involving an unidentifiable-for- now victim. As local police investigate the organized crime, famed detective Hayden O'Connor's son falls for Tony's daughter. They keep their love a secret as they decide how—and if—their relationship is possible despite their families at war with one another. With help from a journalist who might also have ties to the murder victim, will Hayden's team solve the crime before someone else gets hurt and business mixes with personal? Love is the ultimate boss in this crime and family saga that will have readers rooting for the right types of wrong.
The library is located at 124 South Main Street in Statesboro.