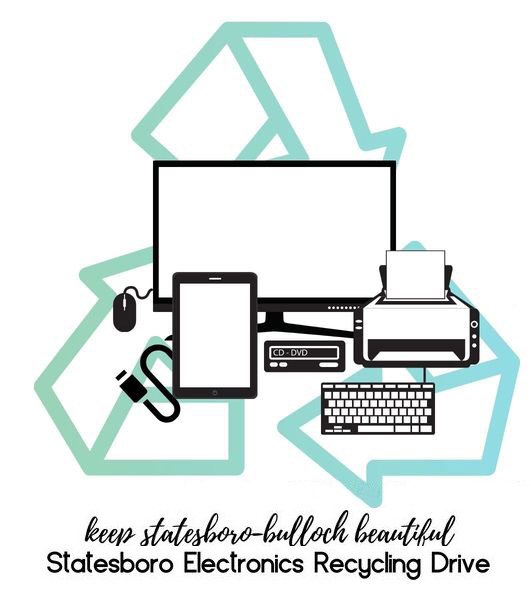 Keep Statesboro-Bulloch Beautiful (KSBB) is hosting a free electronic recycling drive this Saturday, June 5, 9:00 a.m. – 12:00 p.m. The event will be a drive-thru at Visit Statesboro/Statesboro Convention & Visitors Bureau, located at 222 South Main Street.


Individuals and businesses can drive up and drop off unused and discarded electronic items to be recycled.
The drive will be done in partnership with Sensible Recycling of Jacksonville, Florida, and the Pittman Park United Methodist Church (UMC).
Sensible Recycling follows a full data destruction policy for personal information left on hard drives or similar devices. Pittman Park UMC will be collecting household batteries at the drive.
A full list of items that are acceptable and not acceptable for electronic recycling:
Acceptable Material 

Computers
Laptops
Tablets
Cell Phones
Computer Components (memory, Hard drives, processors, power supplies, Disk drives, mother and daughter boards)
Docking Stations
Keyboards and Mice
Printer Ink and Toner
Circuit Boards (all types)
Flat Screen TV's
Computer Monitors
Printers and Copiers
Stereo Equipment
DVD Players
VCR's
Telephones and Telephone Equipment
Video Game Consoles
Cable/Satellite TV Boxes
Modems
Routers and Switches
Servers
Racks
UPS Battery Backups
Lithium Ion Batteries
Ink and Toner
Medical Electronics
Wires and Cables
Power Supplies
Unacceptable Material

Hazardous Waste (including asbestos)
PCB/Transformers/Capacitors
Any CFCs
Cylinders or Other Containers of Compressed Gas (including propane)
Radioactive Materials
Mercury / Mercury Switches
PCB Containing Materials such as Capacitators or Light Ballasts
Lead Iron Pipes
Sealed Containers
Liquids of any type
Flammable Materials
Trash, Garbage, Concrete, and Other Non-Recyclable Items
Broken, Cracked, or leaking Batteries
Materials With Strong Objectionable Odors
Materials Containing Asbestos
Unidentifiable Materials
CRT's
Railroad Scrap
Commercial Power Cables
No Buying Scrap Metal
A/C units
Large Appliances