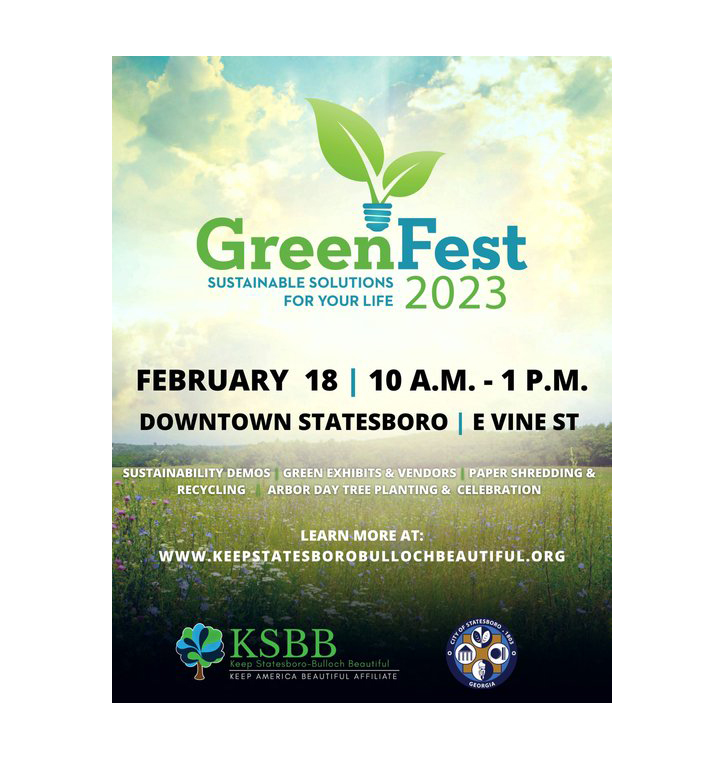 Originally set to take place in the fall of 2022, the ninth annual GreenFest was rescheduled for February 2023 due to Hurricane Ian. Keep Statesboro-Bulloch Beautiful(KSBB) and the City of Statesboro will be hosting the festival on Saturday, February 18, 10:00 am – 1:00 pm, behind City Hall on 29 E Vine Street.

The goal of GreenFest 2023 is to educate the public about sustainable solutions available in the community and to share green resources and eco-friendly ideas in an outdoor festival atmosphere. Festivalgoers can enjoy sustainability workshops, children's activities, and more. The event will showcase all the local area has to offer for sustainable living. Over 30 interactive vendors and exhibitors will share sustainability information and green products to encourage a green lifestyle. 
The City of Statesboro Tree Board will also host a tree planting at 11:00 am on Willie McTell Trail to highlight the importance of trees in communities and pay tribute to Arbor Day, which will be officially celebrated in the state of Georgia on February 17.
Visit www.keepstatesborobullochbeautiful.org/greenfest for more info.