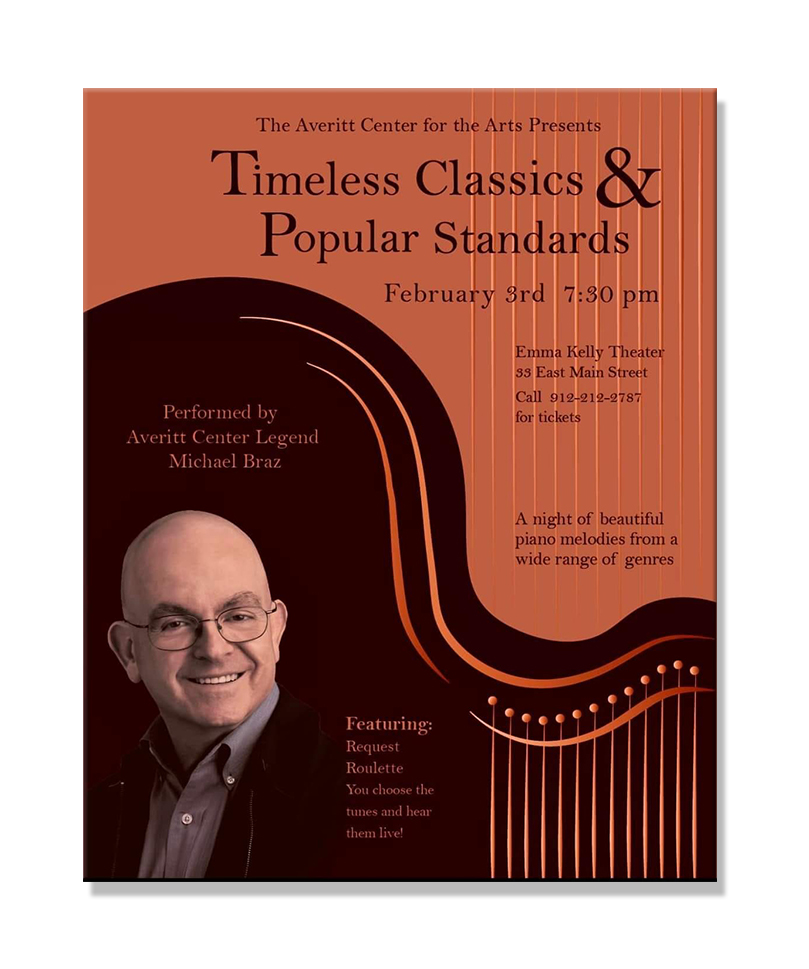 Performer, composer, educator, 2009 Averitt Center Legend in the Arts honoree, and Statesboro Youth Chorale founder, Dr Michael Braz will be performing an Averitt Center fundraising concert, "Timeless Classics and Popular Standards", Friday, February 3. 

The concert is scheduled to begin at 7:30 pm. General admission tickets are $25. Tickets for members, military, first responders, and city/county employees are $20, and tickets for students are $15.
Dr. Braz will celebrate the upcoming Valentine's Day holiday with an informal mix of "American Songbook" standards, popular, rock/jazz, film and Broadway themes, plus a few surprises. He's bringing back his popular "Request Roulette" segment, where members of the audience help choose the tunes for a part of the show.
Dr. Michael Braz is an internationally known performer, composer, educator and 2009 Averitt Center Legend in the Arts honoree. For over 50 years, his pianistic and teaching skills—combined with a natural sense of curiosity and fascination—have served to make music and musicianship accessible to children and adults on three continents. As he observes, "when I sit down at a piano, something exhilarating happens—it's the way I communicate ideas and emotions to others." Professor Emeritus of Music at Georgia Southern University and the Principal Keyboard with the Savannah Philharmonic, Braz has collaborated in thousands of performances with a host of soloists and musical ensembles.
Purchase tickets online HERE.