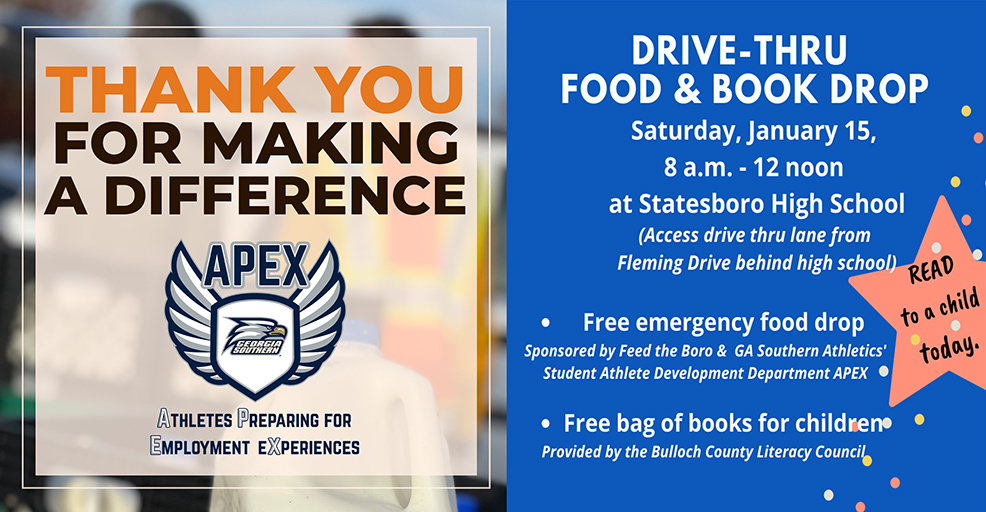 Feed the Boro's next Food Drop event will be held Saturday, January 15 at Statesboro High School, located at 10 Lester Road/10 Coach Lee Street. Food distribution begins at 8:00 a.m. and ends at 11:00 a.m. or when all food/supplies have been distributed.


Anyone in need of food is invited to come and get a week's supply of groceries. There are no financial requirements.
This event's presenting sponsor is Georgia Southern Athletics, in partnership with the Second Harvest Food Bank.
The Bulloch County Literacy Council's Bulloch Book Bus will also be there with bags of free books for children of participating families as they drive through.
Bulloch Co Schools: Food insecurity and access to books at home are issues for many of our students' families. The pandemic has increased the need for community services like these. Feed the Boro has provided more than 500,000 meals through food drops during the pandemic.
Volunteer & Sponsorship Opportunities
If you are interested in volunteering, visit Feed the Boro's website or Facebook site and look for the online volunteer form. The community can also contribute $15 to sponsor a family of three, $25 for a family of five, or $100 for 20 or more people.
If you plan to attend, please remember the following:
Enter the Statesboro High campus from the backside off Fleming Drive. Then enter the road that runs between Womack Field Stadium and the high school and proceed into the parking area where the distribution will take place.
Entrances to Statesboro High on Blue Devil Drive and Lee Hill Boulevard will be closed.  The only way to enter the food drop is from Fleming Drive.
To keep traffic flowing quickly, please ensure you have your trunk open and space already cleaned out in your vehicle for volunteers to place the boxes of food.
Volunteers will be following strict COVID protocols in making this a contactless delivery. Volunteers will not be allowed to touch or move items around in your vehicle.  If it is not cleaned out, they will only place what is possible in the space available, and you may not receive the full distribution if there is no space to put the food items.
Keep your trunk open as you slowly move through each of the different food drop stations without stopping.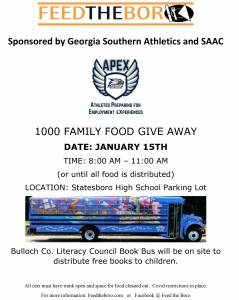 Bulloch County Literacy Council
The Bulloch County Literacy Council is a collaborative group of educators, representatives from literacy organizations, business and civic organization leaders, and community volunteers who want to help improve literacy in Bulloch County.
The Literacy Council has multiple initiatives aimed at raising public awareness of the importance of early literacy in preschool children. If you or your business or organization is interested in volunteering or supporting the Literacy Council's efforts, contact Crystal Simpkins by email.
The Literacy Council's focus is Bulloch READ:
Reading: Encourage families and businesses to create Reading nooks where children can look and read books or have books read to them.
Environment: Encourage a local Environment where reading and building early literacy skills is important.
Access: Increase the Access that children and their families have to books and reading resources through free book drops and Bulloch County Book Bus events.
Development: The Development of early literacy programs.
---
Have you wanted to help others in your community through Feed the Boro, but didn't know how? There are a few ways to help with Feed the Boro – donate, sponsor, and volunteer. You choose which works best for you.
Donate — Make a monetary donation of any amount by clicking the "donate now" buttons on Feed the Boro's website HERE or mail a check to Feed the Boro, P.O. Box 2736, Statesboro, Ga 30459.  The organization says each $5.00 donation will help feed a family of four for a week.
Sponsor — There are 5 levels of sponsors – Bronze($100), Silver($250), Gold($500), Platinum($1,000), and Presenting Sponsor($5,000). Visit Feed the Boro's website for more info on being a sponsor HERE.
Volunteer —  Volunteers help in the distribution lines, break down boxes, keep the area clean, and work in the parking area with the Statesboro Police Department to keep traffic flowing. Volunteers also assist with assuring paperwork is filled out prior to cars arriving in the distribution line.  Click HERE to sign up to be a volunteer at the next event.
Keep up with the latest and be informed of the next Feed the Boro event on their Facebook page HERE.
---
About Feed the Boro: 
Feed The Boro is a non-profit organization that coordinates feeding residents of Bulloch, Candler and Evans county. The organization was started 27 years ago in Bulloch County. The goal was to "reach people that may not have a warm Thanksgiving meal available on Thanksgiving day but just as important to give a moment of human kindness and sense of belonging and community to people that may be alone or experiencing a sense of depression during what is for others a time of family and celebration". When able, the organization holds Food Drop Events during other times of the year as well.