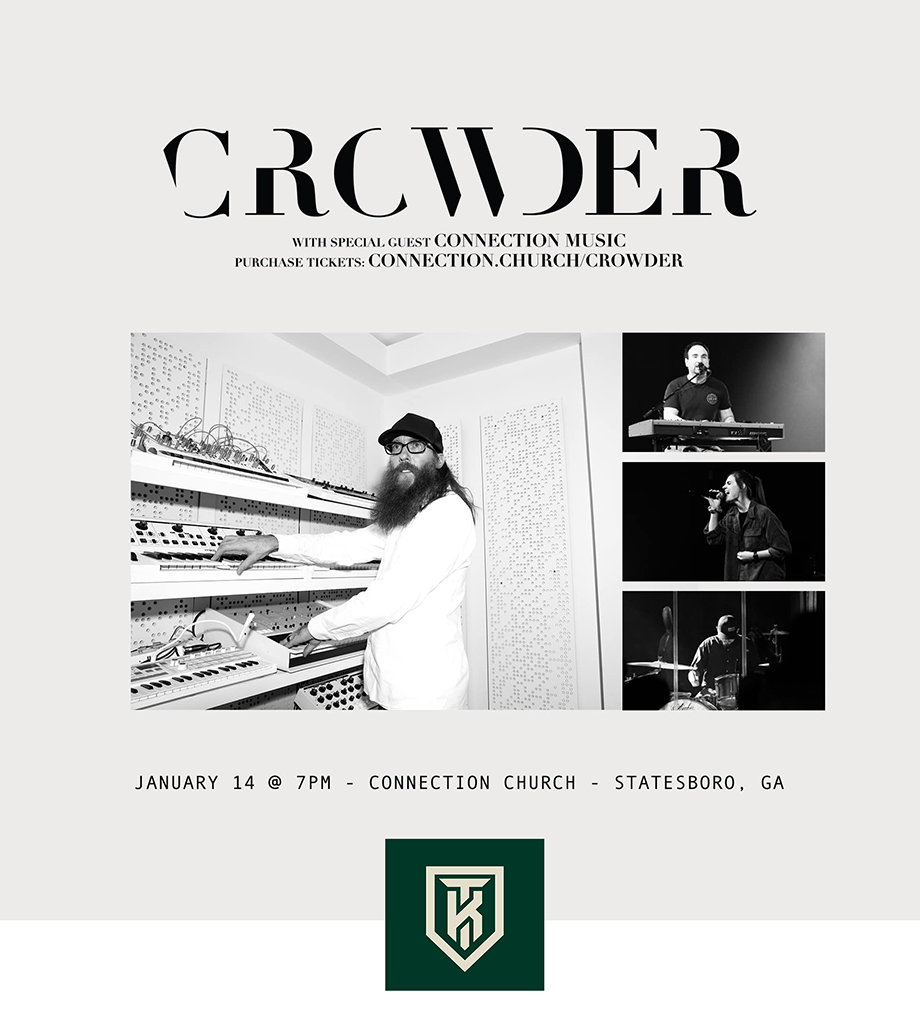 The KT Team Benefit Concert, featuring David Crowder/Crowder Music, will be at Connection Church in Statesboro on Friday, January 14. Special guest Connection Music will also be performing. The gates open at 6:00 pm, show starts at 7:00 pm.


The concert will benefit the KT Team and their mission to provide outdoor activities for physically challenged individuals.
David Crowder is a Christian singer/songwriter, multi-instrumentalist, and author. Crowder has released several albums, with the most recent, Milk & Honey, released last June.
Get tickets online at https://connection.church/crowder or https://www.crowdermusic.com.
Connection Church is located at 1342 Cawana Road.
There are several local event sponsors.
About KT Team:
The KT Team was founded by two individuals that met as a result of their passion for turkey hunting. Kerry Terrell and Jason Beard have been Turkey hunting together for more than 15 years. They have also developed a close friendship from their shared passion for hunting and most people know them as KT & JB. This relationship is unique because of Jason's physical condition. He is a quadriplegic paralyzed from the neck down. Jason has been paralyzed as a result of a diving accident since 1995. Through years of hunting experience in many different conditions, Kerry and Jason have developed strategies to overcome JB's physical challenges. From this unique knowledge, KT and JB are ready to share this with other physically challenged individuals and help them live out their passion for outdoor activities.
The KT Team will begin with turkey hunts in the 2018 Spring Turkey Season for paraplegics and quadriplegics. As God blesses The KT Team, we will add more outdoor activities such as fishing and deer hunting. If you would like to be a part of this dream, the KT Team is accepting donations through PayPal or by mailing a check.
For a more personal introduction of The KT Team, we invite you to watch the video by Jason Beard as he introduces The KT Team.
The KT Team is a non-profit corporation with 501C status that can receive tax deductible donations. Our purpose is defined in our mission statement:
The KT Team's mission is to provide opportunities to physically challenged individuals to live out their desire to participate in outdoor activities.