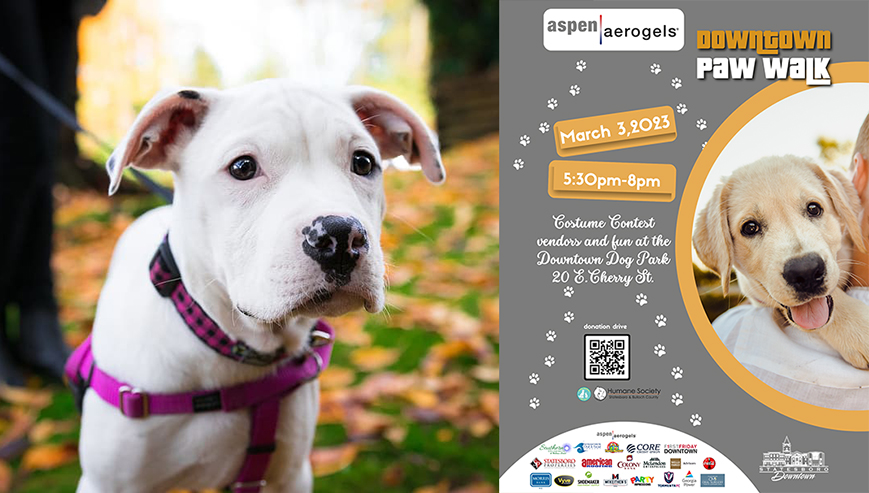 The Downtown Statesboro Development Authority(DSDA) will be hosting the 9th annual First Friday event, Downtown Paw Walk, this Friday, March 3, 5:30 pm – 8:00 pm. The event is presented by Aspen Aerogels and will take place at the Downtown Dog Park, located at 20 East Cherry Street.


There will be a dog costume contest beginning at 6:30 pm. Registration for contestants is 5:00 pm- 6:00 pm at the event. Winners will be announced at 7:30 pm. Prizes will be awarded for first, second, and third place in the large and small dog categories, as well as special awards picked by the judges. Prize baskets will include treats for dogs and their owners. Prizes are donations from local businesses like Chick-Fil-A, Petco, Soyumi Asian Kitchen, Cindy Lou's Dos, Three Tree Coffee Roasters, Eagle Creek Brewery, Sew Much Fun, Boro The Hatchet, and Auto Shine Car Wash.
"All dogs, no matter the size, are invited to enter our dog costume contest. Pets can be some of the best family members we have, and this event is the perfect chance to show your appreciation. We want to show people how pet friendly the downtown area is" said Allen Muldrew, Executive Director of the Downtown Statesboro Development Authority.
Also at the event – music provided by DJ Randy, a bouncy house, vendors, food trucks, as well as a donation drive hosted by the Humane Society of Statesboro and Bulloch County, Fixing the Boro, Aspen Aerogels, and the DSDA. Donations can be dropped off ahead of time at DSDA's South Main Street office or at the event. See the items needed list below.