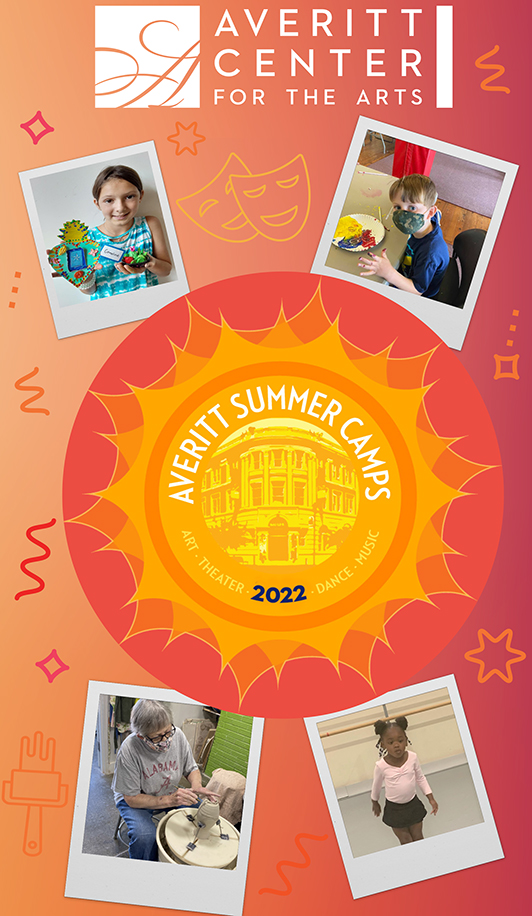 Averitt Center for the Arts has weekly Summer Camps for all ages.

Camps for the week of June 20 – 24:
Dragons & Unicorns – This camp explores the magical worlds of Unicorns and Dragons. "We'll spend the week exploring where these mythical creatures live and what they like to do. We will make fun crafts, play exciting games and have yummy, themed snacks." Ages 4 – 7
Painting for Gamers, Session 4 – This camp is for ages 11 – 15. "From Dungeons and Dragons to Risk to Warhammer, the world of tabletop games is filled with miniatures! In 'Painting for Gamers' we will be exploring the world of painting, and playing with those miniatures. Campers will learn all about the basic principles (and some more advanced ones) of painting and how to apply them to any miniature they want. Campers will also get a chance to learn about and participate in all the different kinds of games that can be played with their miniatures."
Clay Adventures 1 – This camp is for ages 6 – 13. "Campers will have the opportunity to work in many different applications of clay and expand their imaginations! While working with clay in hand building sculpture, slab-work, and coil work, students will learn to work independently and collaboratively in a small-class setting with plenty of individual instruction."
Dance Intensive – Seniors – This camp includes "Intermediate or Advanced level (two years) for Ballet, Pre-Pointe, Modern/Lyrical, Character, Conditioning and Choreography" Ages 12 and up.
Lion King Kids – This camp is June 20 – 24 & June 27 – July 1, and is for ages 8 – 13. "Musical theater experience for young actors who love singing, dancing and acting. We will produce the 30-minute version of Disney's The Lion King. Kids will learn about the many aspects of production including costumes, lighting and set design. This two-week camp will end with a fully-staged production for family and friends."
See the flyer below for a list of weekly camps. For more information about these camps and more, visit Averitt Center for the Arts' website HERE.
averitt summer camps 22