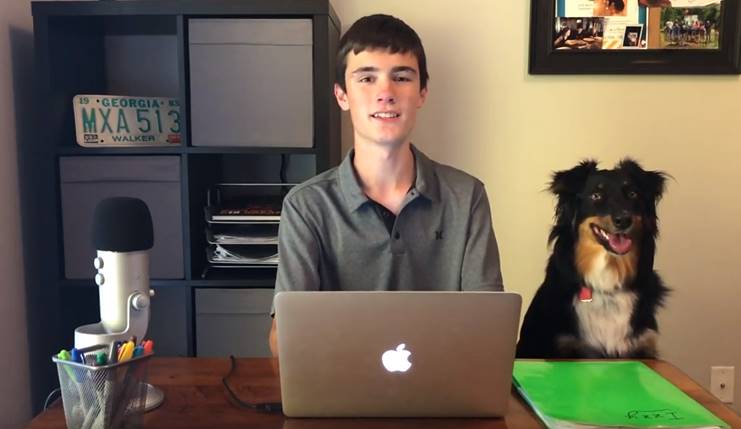 Rep. Tom Graves (R-GA-14) announced Andrew Lemons as the winner of this year's 14th District Congressional App Challenge. The App Challenge is a nationwide initiative to encourage student involvement, curiosity and creation in STEM (science, technology, engineering and math) education and computer science. Andrew, a 10th grader at LaFayette High School, submitted an original app called the Animal Record Keeper (ARK). Via video submission, Andrew detailed his new app with the help of his dog, Izzy.

Animal Record Keeper (ARK) is an app designed to help pet owners keep track of their animal's information. The app can store important documents like medical records and reminders like when to administer medication or vaccines. The information can be emailed or messaged to anyone directly from the app. Andrew mentioned that his inspiration for creating this was Izzy, especially since his family travels frequently and many dog parks require verification of certain vaccinations. The ARK app was created using SwiftUI, a developer tool designed by Apple.
"I was so impressed with this year's app submissions, and congratulate Andrew Lemons on his creative and original idea," said Rep. Graves. "As a pet owner and animal lover I agree with Andrew that an app like ARK would certainly come in handy. I also want to thank our panel of judges who volunteered to be a part of this unique competition. Northwest Georgia is full of so many talented students and I encourage them to start developing ideas for next year's challenge."
Three local judges from the 14th Congressional District reviewed the submissions and rated each application before sharing their feedback with Rep. Graves' office. Timothy P. Hawkins, Associate Professor at Dalton State College; Dwight Watt, Networking (Cisco/Windows), Computer Support and Cybersecurity Program Director/Instructor at Georgia Northwestern Technical College, and; Charles Howell, retired IT Director of Operations for Floyd Medical Center and financial coach, and founder of GeekWeekUSA, served as this year's judging panel.
You can view Andrew's video submission and app demonstration here.
About the Congressional App Challenge:
The App Challenge encourages students to use any programming language to code an app for any platform. There are no limits on the theme or topic. Students can form teams or enter the challenge individually. Since the App Challenge launched in 2014, more than 14,000 students across 47 states and territories have coded over 4,000 apps for desktop PCs, web, tablets, mobiles or other platforms.