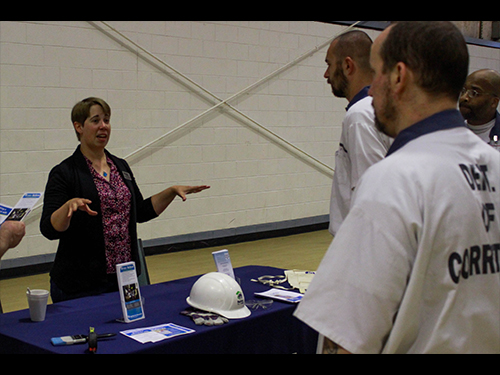 Walker State Prison (SP) held its third annual Job and Resource Fair on May 31, 2019 for offenders participating in the Faith and Character Based Program. Twenty companies and organizations from the community participated in the event, which is organized each year as a resource to provide information to offenders about job opportunities and resources available to them upon their release.
"One of our goals within the GDC is to assist offenders with re-entering society as productive citizens," said Timothy C. Ward, the commissioner of the Georgia Department of Corrections. "These types of opportunities allow the offenders to gain knowledge and skills that will benefit them upon their release."
As the first and only faith and character-based prison within GDC, Walker SP provides offenders an opportunity to develop interpersonal communication skills, understand diversity and partake in the rehabilitative process. By providing an environment for positive change through the promotion of personal accountability, responsibility, integrity and the building of one's faith and character, the program increases awareness of reentry needs for offenders.  The program is broken down into phases which consist of Foundation, Recovery and Transformation and Transition.  During the last phase offenders participate in the Walker Career Center which is designed to teach participants the steps to find employment opportunities and obtain a job. The course covers topics such as effective job searches, writing resumes and interview skills.