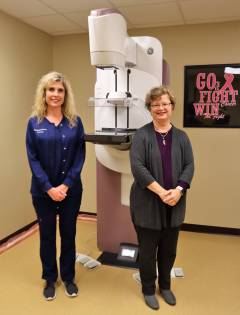 Thanks to Georgia residents who purchased Breast Cancer License Tags, Meadows Health Imaging Center in Vidalia was awarded a grant of $50,000 to provide breast health education, prevention screening, diagnostic testing, and treatment to underserved women and some men from a 30-county region of Southeast Georgia.


The new 3D mammography unit is identical to the unit and Meadows Regional Medical Center in Vidalia, and will be used for screenings only. Free mammogram screenings will be offered at Meadows Health Imaging Center to serve at least 150 qualified participants. Additional services offered include Non-Contrasted MRI, Ultrasound, and 3D Mammography. Those in need of additional diagnostic tests will be assisted with follow-up procedures, education, and treatment.
"One out of every four of our region's residents is currently uninsured, and many of our residents live in poverty, with limited English proficiency, education and transportation, so they don't seek medical care or prevention education," says Susan McLendon, APRN, Rural Community Health Nurse Specialist. "This generous gift continues a successful eight-year breast cancer prevention program that helps to combat the increasing rates of breast cancer we see in our community."
Twenty-two dollars ($22) of each Breast Cancer License Tag purchased or renewed funds the $275,000 in awards this year, administered by the Georgia Center for Oncology Research and Education (Georgia CORE) on behalf of the State Office of Rural Health in the Department of Community Health.
"While Georgia has increased breast cancer screening rates, not all women – particularly those without health insurance – receive appropriate screening or treatment," says Angie Patterson, Vice President of Georgia CORE and a 17-year breast cancer survivor.  "The work this grant supports will help identify breast cancer at an earlier stage, making treatment more effective.
"We hope that more Georgians will purchase the tags to provide even more resources for underserved women," she added.
Meadows Regional Medical Center is an accredited, non-profit hospital. For information on the BCLT program, please visit www.georgiacancerinfo.org/breastcancertag. To purchase a Breast Cancer License Tag, go to the Motor Vehicles section of dor.georgia.gov.
This is a press release from Meadows Health.