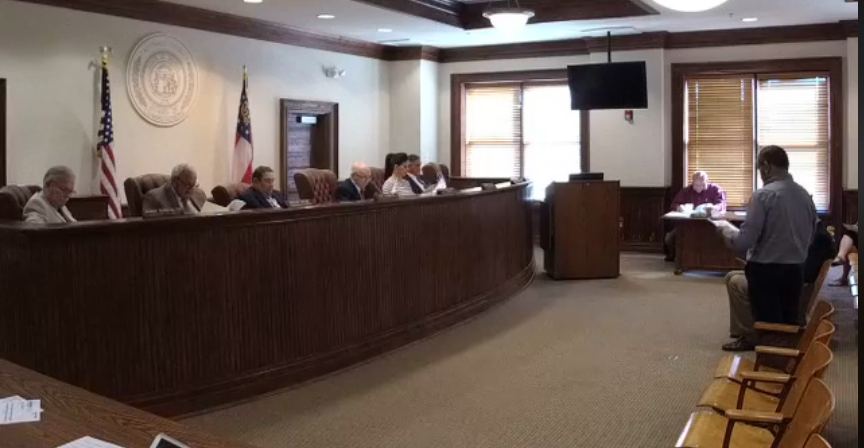 A newly formed investment group is asking the local governing authorities in Tattnall County for financial assistance and the creation of a local tax exemption for a new development project in the works in Reidsville.

Businessman Zuber Malek, a partner of Tattnall Investment Group formed on February 7, 2018,  went before Tattnall County Commissioners Monday to explain the initiative and development plans for the property located near Optim Medical Center in Reidsville. The group seeks to build "a hotel, a chain pharmacy, and a casual dining restaurant." 
Malek provided the Commissioners and the local media with a packet on Tattnall Investment Group, but the four page document was sparse on details. The proposition makes no mention of the investor names, only saying "We are a local group of Tattnall County business owners and community leaders that want to grow our local trade market area and keep sales and tax revenue working at home."
Nevertheless, Malek made his pitch to Commissioners. You can watch it beginning at the 19::00 minute mark.
[Story continues below]
Tattnall County Commission Meeting – begins at 9AM. TOPICS Include bids on variety of issues, privatizing probation, 911 maps, and more

Posted by All On Georgia – Tattnall on Monday, June 11, 2018
Tattnall Investment Group asked the county for (verbiage from TIG):
$20,000 in financial assistance to help pay for feasibility and environmental impact studies that are a routine part of new business developments.

A 10-year property exemption on property taxes for at least the hotel, if not all three businesses. This tax subsidy would go a long ways to attracting the franchises into a market such as ours, as it will negate a significant annual expense.
A feasibility study is a type of analysis used in measuring the ability and likelihood to successfully complete a project including all relevant factors. It must account for factors that affect it such as economic, technological, legal and scheduling factors. Project managers use feasibility studies to determine potential positive and negative outcomes of a project before investing a considerable amount of time and money into it. Essentially, the group wants help in determining whether or not the project would be successful in the County.
It is unusual for the government to fund the feasibility study instead of the business owner who stands to profit.
The four-page document is below.
Tattnall Investment Group - County Commission presentation

After Malek finished speaking, County Attorney Joe McGovern said that Malek's presentation to the County Commissioners was "premature" and that he needed to speak with the Tattnall County Development Authority.
At no point during his interjection or explanation of the process did McGovern disclose to Commissioners or the general public that he is the Registered Agent for the company, Tattnall Investment Group, according to the Georgia Secretary of State's website.
The Articles of Incorporation from the Secretary of State's office was also available:
Tattnall Investment Group_incorporation

While the development would likely be welcomed by the community, the conflict of interest of using county tax dollars to subsidize  a project that is backed by the county attorney in his private business affairs brings up major ethical concerns, much like the Reidsville City Hall purchase from then-city attorney Van Cheney and many of the affairs highlighted recently in Oak Park. Most local governing authorities have stipulations prohibiting elected and appointed officials from having direct interest in governmental activities that could benefit or give the perception of benefit for themselves. Tattnall County does not have a governing Charter, however, and operates on enabling legislation and local ordinances. 
Two months ago, Malek and another partner addressed the City Council in Reidsville for the same initiative, requesting a property tax exemption for the businesses, however the discussion took place in Executive Session and the minutes from that discussion are sealed to the public. Malek was joined by Russ Rhoden, another partner.   Rhoden told AllOnGeorgia in March that he, Malek, and McGovern were partners on the project. 
Malek told Commissioners he had not yet spoken to the Reidsville Development Authority.