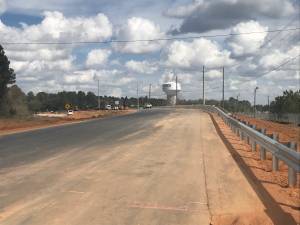 Starting Thursday, March 19, E.R. Snell Contractor will switch Gordon Highway traffic to brand new lanes from Fort Gordon Gate 2 back toward the Richmond County line.
Weather permitting, contractors are working through Wednesday to prepare the area with striping and temporary signs to allow the shift.
Traffic will flow one lane in each direction from Robinson Avenue to the other end of the project to the west. All entrance-ways will remain accessible during this phase.
Crews will move into the "old" highway lanes to demo and rebuild from this point forward.
The 2.4-mile construction project is widening Gordon Highway to four, 12-foot travel lanes with a 44-foot depressed grass median and 10-foot outside rural shoulders from approximately 950 feet northeast of the SR 223/East Robinson Avenue and 19th Street intersection to a proposed signalized intersection with the new Fort Gordon Gate 6 roadway (which will be constructed as a separate project by Fort Gordon).
Official completion is March 31, 2021.