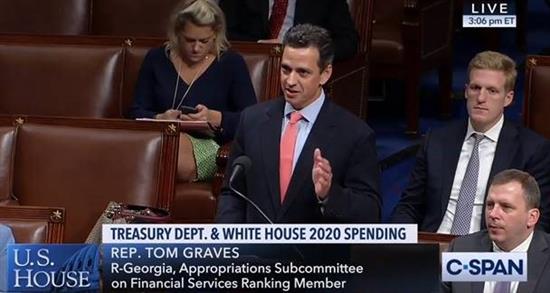 Rep. Tom Graves (R-GA-14), Republican Leader of the Appropriations Subcommittee on Financial Services and General Government, spoke on the floor of the U.S. House of Representatives in opposition to this year's subcommittee spending bill. The bill as drafted increases spending over last year's amount by 8 percent, or $1.8 billion. It also changes current policy in the District of Columbia to allow taxpayer funding for abortion and would block funds from being used to build a wall and secure the southern border. The bill is expected to be voted on this week.
"With the Federal debt exceeding $22 trillion we just cannot afford to spend more, we don't need to spend more on general government activities. Just because we can spend it, doesn't mean we should. It's up to us, let's set the example and leave this country's pocketbook in better shape for our kids and grandkids."
Last year, under a Republican majority and Rep. Graves' leadership as Chairman of the Financial Services and General Government Subcommittee, $585 million was cut from across the Fiscal Year 2019 (FY19) spending bill. The bill created The Fund for America's Kids and Grandkids ("The Fund"), which safeguards funds for future generations. The money saved was used to make an initial deposit in the fund, which could only be accessed when the nation's budget deficit is erased.
This is a press release from the Office of Congressman Tom Graves. He represents Catoosa, Chattooga, Dade, Floyd, Gordon, Haralson, Murray, Paulding, Pickens, Polk, Walker, and Whitfield counties. He is a member of the House Committee on Appropriations,  the Subcommittee on Financial Services and General Government, Republican Leader, the Subcommittee on Commerce, Justice, Science, and the Subcommittee on Labor, Health and Human Services, Education .