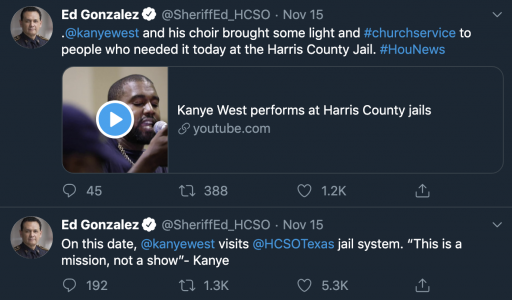 The Freedom From Religion Foundation (FFRF) is speaking out against a jail's showing of Kanye West programming because of the religious message with in it.

The Harris County Sheriff's Office in Houston, Tx has drawn the ire of the organization for two surprise concerts for inmates and staff in mid-November. FFRF says West coordinated the performances with jail officials and explained to the media that since his recent public conversion to Christianity, his "job is to spread the gospel, to let people know what Jesus has done for me." But the national nonprofit opposes the practice and says the attendance by inmates was not voluntary.
From the news release:
The performances of songs from West's recent religious album, "Jesus Is King," were "really more like a church service," the media has reported. West "brought some light and #churchservice to people who needed it today at the Harris County Jail," stated none other than Harris County Sheriff Ed Gonzalez on social media. Gonzalez also sent out a tweet quoting West as saying that the performance was "a mission, not a show." The Sheriff's Office retweeted both of these messages, celebrating the Christian aspect of West's performances.
Arranging a church-like religious concert for inmates clearly indicates the Harris County Sheriff's Office unconstitutional preference for Christianity, FFRF points out.
"The Supreme Court has said time and again that the First Amendment 'mandates governmental neutrality between religion and religion, and between religion and nonreligion,'" FFRF Director of Strategic Response Andrew L. Seidel writes to Gonzalez. "By organizing what you admit to be a worship service, you crossed this line."
In short, this was unconstitutional, FFRF underscores. Gonzalez has been elected to a secular office and to uphold a secular Constitution. He cannot use that public office to promote his personal religion, even if it happens to be a religion Kanye West shares. This constitutional violation by Gonzalez is particularly egregious because it imposed religious views on inmates — literally a captive audience — who have a deep and immediate interest in being seen favorably by the jail staff.
The organization is asking that the Harris County Sheriff's Office vow not to hold anymore programs or concerts with similar subject matter and has asked for a number of public records pertaining to the shows.
The news release offered no concessions based on Wests' fame. "Making Kanye West's megafame an excuse for allowing him to perform at government facilities is absurd. If anything, this makes the violation worse because the captive audience may be more receptive to his message."
You can read the full letter to the Harris County Sheriff's Office below.
HarrisCountySheriffrereligiousperformancesatjail