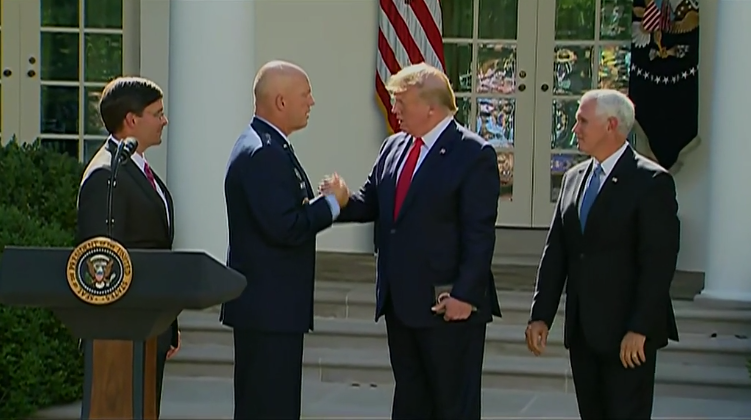 One step closer to blast off.

At the direction of the President of the United States, Secretary of Defense Mark T. Esper established U.S. Space Command (USSPACECOM) Thursday as the eleventh Unified Combatant Command.  Gen. John W. Raymond is its Senate confirmed commander.
The president's National Security Strategy and the National Strategy for Space highlight space as a strategic domain. USSPACECOM's establishment will modernize and enhance the United States' approach to space from a domain of an unchallenged environment to one of a warfighting domain.
From President Trump's Memorandum:
I assign to United States Space Command:  (1) all the general responsibilities of a Unified Combatant Command; (2) the space‑related responsibilities previously assigned to the Commander, United States Strategic Command; and (3) the responsibilities of Joint Force Provider and Joint Force Trainer for Space Operations Forces.  The comprehensive list of authorities and responsibilities for United States Space Command will be included in the next update to the Unified Command Plan.
"To ensure the protection of America's interests in space we must apply the necessary focus, energy, and resources to the task – and that is exactly what Space Command will do," Secretary Esper said in a news release. "Gen. Raymond is acutely aware of the vital role that space plays in U.S. national security and our way of life and is an ideal choice to lead this new command. Establishing the United States Space Command as a unified combatant command is the next critical step towards the creation of an independent Space Force as the sixth branch of the armed forces."
WATCH:
"Assured access to space is vital across the full range of military operations," Chairman of the Joint Chiefs of Staff Gen. Joseph F. Dunford, Jr commented. "This step puts us on a path to maintain a competitive advantage in this critical war fighting domain."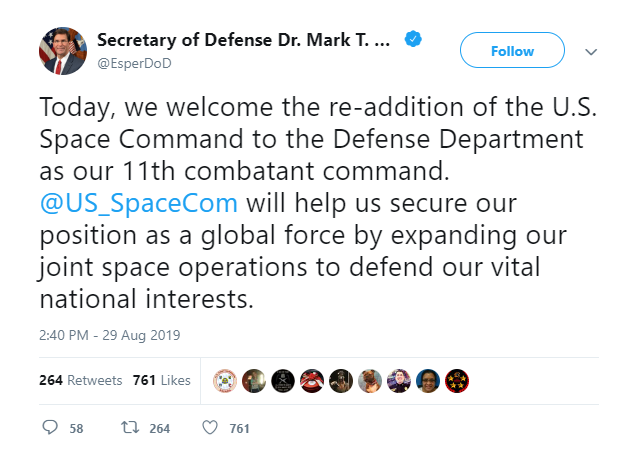 From establishment, Gen. Raymond will remain dual-hatted as Commander, U.S. Space Command, and Commander, Air Force Space Command.
You can follow Space Command on Twitter here. The official website is here.