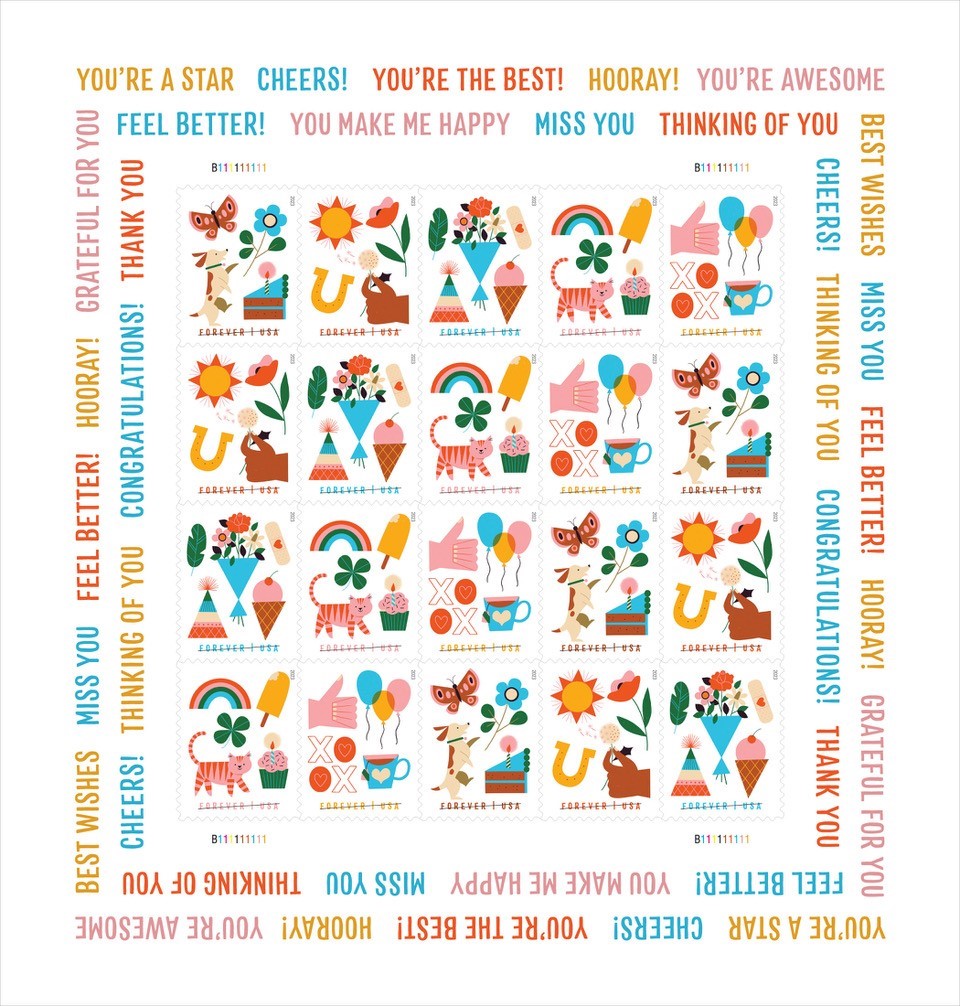 The U.S. Postal Service will release five new stamps to help people send a note of celebration, gratitude or just to say hi. These stamps let those we care about know that we're thinking of them and affirm our love and affection.

The first-day-of-issue event for the Thinking of You Forever stamps will be held at the Great American Stamp Show in partnership with the American Philatelic Society. The ceremony is free and open to the public. News of the stamp is being shared with the hashtag #ThinkingofYouStamps.
Friday, Aug. 11, 2023, at 11 a.m. EDT
Background:
These five new stamps from the U.S. Postal Service perfectly complement letters and cards sent to brighten someone's day.
The pane of 20 stamps features five unique designs filled with a variety of whimsical images, including flowers, balloons, cute animals, sweet treats and symbols of good luck. Capturing the excitement and delight of receiving a card in the mail meant just for you, each digital illustration uses a cohesive color palette to bring together the disparate icons in the designs. Words of encouragement and thoughtful affirmations surround the stamps on the pane in the same tones. Each greeting is die-cut and self-adhesive.
In good times and bad, checking in on friends and family provides an important connection. A feel-good, handwritten message, no matter the length, can boost spirits and bring relationships closer, despite miles of distance.
Greg Breeding, an art director for USPS, designed the stamps with original artwork by Ellen Surrey.
The Thinking of You stamps are being issued as Forever® stamps. These Forever stamps are always equal to the current First-Class Mail® one-ounce price.
---
USPS