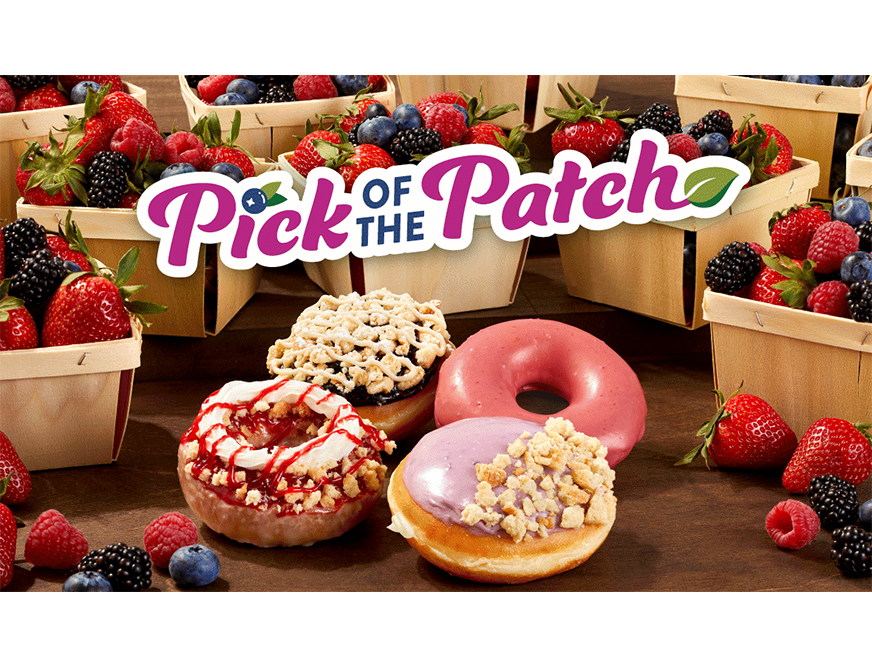 Krispy Kreme recently added 4 new summertime doughnuts and 2 new drink flavors for a limited time. They're also offering customers a free original glazed doughnut when the "Hot Now" sign is on.

The new Pick of the Patch doughnuts, mixed berry glazed, and berry chillers drinks are available through June 26, 2022. The free "Hot Now" glazed doughnuts are available through September 5, 2022.
Berry dessert-inspired doughnuts:
Strawberry Shortcake Doughnut – A glazed Sour Cream Cake doughnut dipped in strawberry filling and topped with shortbread crumbles, a vanilla buttercream swirl and a strawberry drizzle.
Blueberry Cheesecake Doughnut – A doughnut with blueberry cheesecake filling, dipped in blueberry icing and finished with shortbread crumbles.
Mixed Berry Cobbler Doughnut – A doughnut with mixed berry cobbler filling, topped with both mixed berry cobbler filling and shortbread crumbles and finished with brown sugar icing and a dusting of powdered sugar.
Berry Chillers:
Mixed Berry Lemonade Chiller – A Lemonade Chiller deliciously swirled with wild berry fruit puree.
Strawberries & Kreme™ Chiller – A creamy Strawberry Chiller topped with whipped cream and a strawberry drizzle.
Visit Krispy Kreme online HERE.