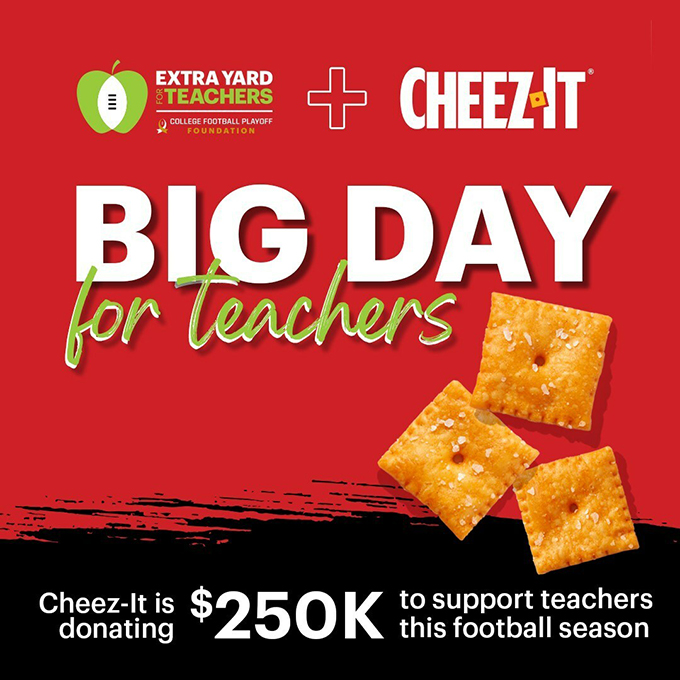 Creating Better Days for teachers who have stepped up couldn't be cheezier this college football season.

Six college football players will tell Cheez-It® about their favorite teachers who had them Feelin' the Cheeziest – or next-level excited – for academics or their sport. In turn, Cheez-It will send each teacher nominated by the six student-athletes a personalized Cheez-It swag gift box and will donate $5,000 directly to their classroom, while making another $5,000 gift to their school.
As part of the program, Cheez-It® will also make an overall donation of $250,000 to the College Football Playoff (CFP) Foundation's Extra Yard for Teachers initiative. The CFP Foundation is the largest sports entity dedicated to inspiring and empowering teachers.
This donation has already funded 253 projects from 198 teachers across 103 schools with more to come in January around the time of the Cheez-It Citrus Bowl.
"Cheez-It is thrilled to partner with the College Football Playoff Foundation and Extra Yard for Teachers to give back to educators who truly elevate the teaching profession," said Cara Tragseiler, Sr. Director of Brand Marketing for Cheez-It® at Kellanova. "Follow @CheezIt on your favorite social channel this season to get an inside look at some inspiring athlete stories and teacher surprises."
One of those inspiring stories has already been told. Watch Stanford defensive back Terrian Williams surprise his favorite teacher with a $10,000 donation to Dutchtown Elementary in Atlanta, Georgia: https://www.instagram.com/p/CxZSKMvp2X_/?hl=en
Through the Kellanova Better Days™ Promise, the company's social and environmental strategy, Kellanova is committing to creating better days for 4 billion people by the end of 2030. Follow @CheezIt on Instagram, Facebook and TikTok, as well as @CitrusBowl on your favorite social media platform, to keep up with the latest on how Cheez-It is showing up this college football season.
---
About Kellanova
Kellanova (NYSE: K) is a leader in global snacking, international cereal and noodles, and North America frozen foods with a legacy stretching back more than 100 years. Powered by differentiated brands including Pringles®, Cheez-It®, Pop-Tarts®, Kellogg's Rice Krispies Treats®, RXBAR®, Eggo®, MorningStar Farms®, Special K®, Coco Pops®, and more, Kellanova's vision is to become the world's best-performing snacks-led powerhouse, unleashing the full potential of our differentiated brands and our passionate people.
Kellanova is guided by our purpose to create better days and a place at the table for everyone through our trusted food brands. We are advancing sustainable and equitable access to food by addressing the intersection of hunger, sustainability, wellbeing, and equity, diversity & inclusion, with the ambition of creating Better Days for 4 billion people by the end of 2030. Visit www.Kellanova.com for more information.
About the College Football Playoff Foundation
The College Football Playoff (CFP) Foundation is the 501(c)3 non-profit organization serving as the community engagement arm of the College Football Playoff and works in partnership with institutions of higher education, sports organizations, corporations and non-profits to support educators and improve student outcomes. The purpose of the CFP Foundation lies in supporting PK-12 education by elevating the teaching profession. The CFP Foundation inspires and empowers educators by focusing its work in four areas: recognition, resources, recruitment and retention and professional development. To learn more, visit cfp-foundation.org and follow Extra Yard for Teachers (@CFPExtraYard) on social media.
---
---
SOURCE Kellanova