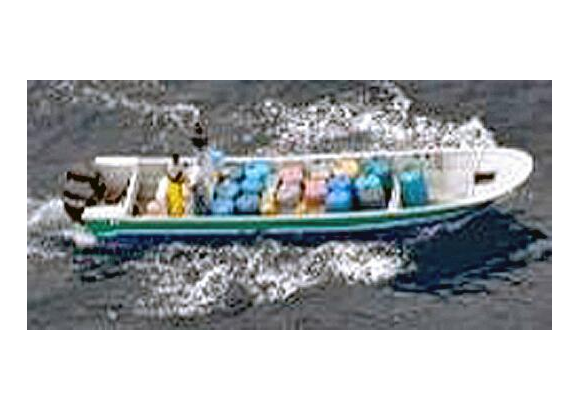 U.S. Customs and Border Protection's Air and Marine Operations P-3 aircraft crews located and tracked several go-fast vessels in the Eastern Pacific Ocean and Caribbean, leading to the seizure and disruption of approximately 22,000 pounds of cocaine during May.
The P-3 crews, from the National Air Security Operations Center (NASOC)-Jacksonville and Corpus Christi, conducted maritime patrols leading to 10 seizure or disruption events. Through coordinated interdiction efforts with partner agencies and partner nations via Joint Interagency Task Force-South, 19 individuals were detained, 18,816 pounds of cocaine originating from South America were seized, and 4,299 pounds of cocaine were disrupted.
"Our P-3 crews play a critical role in keeping these dangerous narcotics from making it to the U.S.," said Executive Director, National Air Security Operations, Jon Miller. "Every time our agents locate a drug-laden vessel and coordinate an interdiction, they keep these dangerous drugs from our communities."
AMO's National Air Security Operations Centers in Jacksonville, Florida, and Corpus Christi, Texas, operate P-3 aircraft throughout North and South America in defense of the borders of the United States and in active prosecution of attempts to smuggle persons or contraband.
AMO is a federal law enforcement component of CBP dedicated to serving and protecting the American people through advanced aeronautical and maritime operations. AMO interdicts and disrupts criminals and contraband approaching U.S. borders, investigates criminal networks and provides domain awareness in the air and maritime environments, and responds to contingencies and other national security operations. With approximately 1,800 federal agents and mission support personnel, 240 aircraft and 300 marine vessels operating throughout the United States, Puerto Rico, and U.S. Virgin Islands, AMO provides airborne and maritime law enforcement expertise to CBP, DHS and the federal government.
In Fiscal Year 2018, AMO enforcement actions resulted in the approximate seizure or disruption of 301,553 pounds of marijuana; 283,503 pounds of cocaine; 180,444 pounds of methamphetamine; 872 weapons and $34.2 million; 2,373 arrests and 47,744 apprehensions of illegal aliens.
This is a press release from Customs & Border Protection.