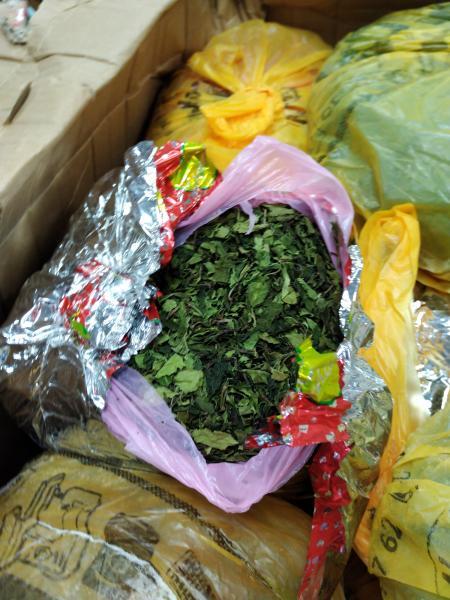 U.S. Customs and Border Protection (CBP) seized 103 pounds of khat Friday that arrived from Nigeria in air cargo at Washington Dulles International Airport.
CBP officers examined a shipment July 17 from Lagos, Nigeria, that was destined to an address in Dallas, Georgia. The package contained a green leafy substance, which officers suspected to be khat. Officers submitted a sample to the U.S. Department of Agriculture (USDA) botanist who verified the substance Friday as Catha Edulis, commonly known as khat.
Khat is typically grown in East Africa and the Arabian Peninsula and is chewed for its stimulant effect. The World Health Organization classified khat as a drug of abuse in 1980.
The Drug Enforcement Administration classifies cathinone as a schedule 1 drug – the most restrictive category used by the DEA.  Please see more information on the DEA Khat Fact Sheet.
The khat will be destroyed.
"Customs and Border Protection is our nation's first line of defense against transnational criminal organizations that thrive on the sale of illicit products such as khat to fund their other nefarious businesses," said Casey Durst, CBP's Field Operations Director in Baltimore. "But khat possession and use remains illegal in the United States and CBP officers are committed to protecting our communities by seizing illicit and dangerous drugs when we encounter them."
CBP routinely conducts inspection operations on arriving and departing international flights and intercepts narcotics, weapons, currency, prohibited agriculture products, counterfeit goods and other illicit items at our nation's 328 international ports of entry.
On average, CBP officers seized 4,657 pounds of illicit narcotics every day during 2018. Learn what more CBP achieved during "A Typical Day" in 2018.
CBP's Border Security mission is led at ports of entry by CBP officers from the Office of Field Operations.  Please visit CBP Ports of Entry to learn more about how CBP's Office of Field Operations secures our nation's borders.
This is a press release from Customs & Border Protection.