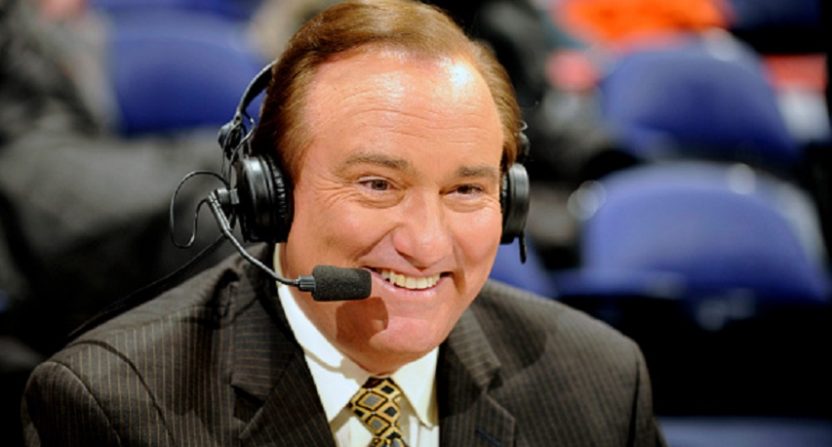 Last week, one of the giants of the television sports industry was presented a pinnacle honor that was long overdue. The National Broadcasting Society presented Fox and Raycom sportscaster Tim Brando with its Lifetime Achievement Award.
Timmy B accepted long distance from the Fox remote truck shortly after his call of the Xavier-Providence basketball game. The NBS convention began Wednesday in Washington DC. Delegates from our NBS chapter at @UnionUniversity were present to hear words of encouragement from Tim live via Skype. He was kind enough to engage in a question-and-answer session with delegates for about a half-hour.
From the many text messages I have received, he made a significant impact on those in attendance from around the nation. Tim has been most generous as a mentor to the next generation of sports broadcasters.
I've had a personal association with Timmy B for more than 10 years since I interviewed him for my former website TVgameshows.net. For those of you who may not know, he was down to the final two to succeed Pat Sajak as daytime host of 'Wheel of Fortune' when Sajak left the daytime show to do his short-lived late night talk show on CBS.
Trust me, he should have been the host … but we may have missed out on one of the storied sports broadcasting careers had that happened.
His relentless commentaries on the fallacies of the old BCS format to decide a college football champion were among the major reasons we now have a college football playoff. On a lighter note, no one does a better impersonation of Brent Musburger referring to Iowa's sports teams as "the HOCK-IIIIIIIIZE" than Timmy B.
For 13 years, I was senior commentator for the NAIA women's national championship basketball tournament. On championship day in 2010, I was on Tim's former radio program and he was asking me about the title game.
I made the statement, "This is not on the level of the games you call." He stopped me right there. "Don't ever feel that way," he said. "First off, SOMEBODY has to do that game. Second, the fact that you're calling it means a lot to those kids."
I never again minimized the level of college basketball that I called on television.
In 2010, I experienced the second of three serious bouts with clinical depression in the last 27 years. The psychologist who appears on our 'Jackson 24-7' broadcast ordered me not to go anywhere near campus during spring break.
Among the therapy was to spend as much time outdoors in sunshine and to walk as much as possible. At intervals in the morning and afternoon, I collectively walked between seven and eight miles every day.
Part of my ritual was to listen to Tim's former radio show on noise-canceling headphones. I told him a few years back that the humor and discussion during those three daily hours were a major part of my recovery.
I tuned out the issues that were creating my illness. The first laugh I had in nearly a month was when Timmy B had Iowa coach Fran McCaffery on and said, "Fran is the coach of The HOCK-IIIIIIIZE." McCaffery had the most infectious cackle at Tim's impersonation of Musburger. I was still a few months away from being me again but that was a start of the road back.
Timmy B was the original host, along with the legendary Beano Cook, of "GameDay" on ESPN when the show was done in the studio in Bristol, Conn. The roots of what is now a fall phenomenon started with Tim at the helm.
In the last 15 years, he has helped me understand the business side of sports broadcasting. He has consistently given his audiences primers on why television sports have as much to do with dollars and cents as it does with entertaining the American public.
In my view, the time is way overdue for Timmy B to receive a pinnacle award of this nature to recognize his career contributions to the sports broadcasting industry. Doubtless, Terri, Tiffany and Tara wholeheartedly agree, as do the associates who have been closest to him over the years.
The words he shared tonight with hundreds of delegates to NBS will no doubt be remembered as they pursue their careers in the near future. They will be the generation that champions the streaming era of television news and sports.
(Steve Beverly is a former television news anchor at both WRBL-TV and WTVM-TV in Columbus, Ga. He is now a professor of broadcast journalism at Union University in Jackson, Tenn., where he produces Jackson 24-7, a daily local television news show that features students from his communication classes.)