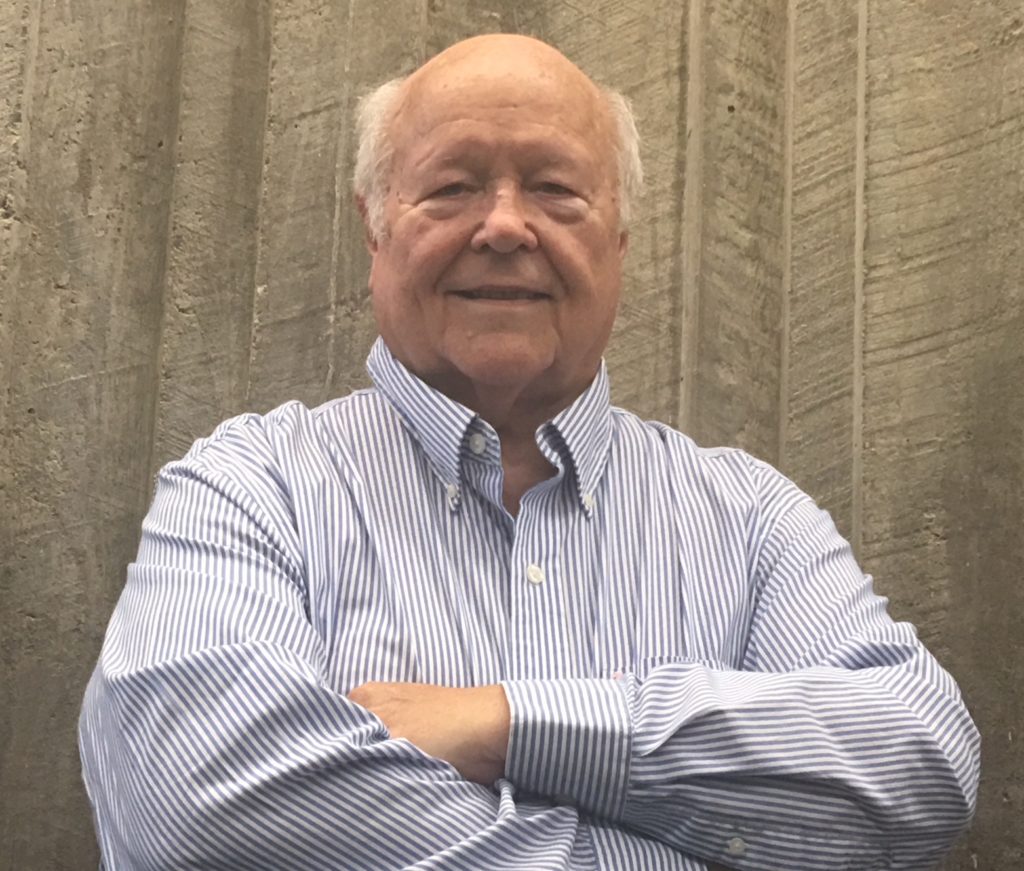 He was charmingly cocky and adorably confident when he first hit town in the fifties, bringing optimism to an overlooked school that people said was on the wrong side of town while delivering a healthy dose of self-assurance to a wilted student body that needed it badly. It didn't happen overnight, but Bubba Ball stayed around long enough to become Baker High School.

No school anywhere ever loved a teacher or a coach like Baker loved Bubba. For the first time, he gave students at the school and people who lived around it an outlandish belief that they were just as good as Columbus High and that if they would listen to him they could even beat the Blue Devils on a basketball court, a baseball diamond or a football field.
There is no Baker High School today. It exists only in the hearts and souls of its former students. The last class there was dismissed in 1991. There was a tragic fire along the way before the site was turned into a Wal-Mart. But old grads have never forgotten their beloved school, their classmates or the coach who made them believe.
That's why word that James A. "Bubba" Ball had passed away spread so quickly Tuesday among a loyal army of Baker grads that is scattered all over the world. It was difficult for those old Lions to accept the fact that Bubba was 96 years old when he died, for the gleam in his eye and the strut in his step never went away.
To his former players, he was invincible. Baker folks still socialize at the Golden Corral in Columbus and once a year they celebrate Bubba's birthday. No matter how old he was he was still the life of the party remembering students from his PE classes as well as the aging players who helped him win state basketball championships in 1954 and 1956.
(FUNERAL SERVICES FOR COACH JAMES A. "BUBBA" BALL WILL BE FRIDAY AT 3 P.M. AT MORNINGSIDE BAPTIST CHURCH, 6065 MORNINGSIDE DR. IN COLUMBUS. INTERMENT WILL FOLLOW AT PARKHILL CEMETERY. VISITATION WILL BE  THURSDAY FROM 5 TO 7 P.M. AT MCMULLEN FUNERAL HOME AND CREMATORY, 3874 GENTIAN BLVD.)
Bubba would quickly add that it should have been three titles in a row. He would give anyone who stopped to listen a detailed play-by-play of the night that the Lions' 40-game winning streak was finally broken in the state basketball tournament.
Players and coaches are like that. No matter how many games they win the losses stick with them even more than the victories. That's why Bubba has talked more about the trophy he didn't bring home than the night his players tossed him and Athletic Director Ed Wolff into the icy cold fountain at Hurt Park across from the Atlanta City Auditorium to celebrate their first title in 1954.
There are still folks who remember when he came to town in 1951. He was a player manager for a Class D League minor league baseball team in Headland, Ala. He could hit, though he never had much punch. He ended his seven year baseball career that summer, hitting .315.
Before he went in the Navy during World War II, he was a high school star in Bessemer, Ala. He later graduated from Auburn University. Without blinking Bubba would tell folks that he was the greatest athlete who ever came out of Bessemer. (But there is this other good one from Bessemer — Vincent Edward Jackson. Some folks call him Bo.)
Bubba started at Baker in 1951 as the school's head basketball coach. The Lions had been around since 1943 but no one had ever taught them how to win. He was joined on the staff by Pig Davis (football) and Sam Roberts (track) and like Bubba they were on their way to the local sports hall of fame.
In a struggling neighborhood, Bubba was a surrogate father to a long list of players.
When Foster Watkins didn't make the football team as a 9th grader, Bubba gave him a basketball uniform. Watkins played on that first state title team and also played some football, going on to an outstanding career as a lineman at Georgia Tech. (He later became a college president.)
Bubba found the Darrah brothers — Gordon and Tommy — risking their limbs on an outdoor cement court back of the Rec Center in Baker Village. They went on to play college basketball at Georgia and Austin Peay. "I've been looking up to those Darrah boys all my life," Bubba once said.
Jimmy Lee was one of his best. He was MVP in a state basketball tournament and a star in football and baseball. From Baker, he went to Auburn and led the Tigers in scoring for two years. In high school, he was part of the team that won 40 straight and in college he was on a team that won 30 straight. Jimmy later came home to coach at Hardaway and Shaw always running the shuffle offense that Bubba helped perfect.
Bubba spent 15 years at Baker and later coached at Hardaway. He was also head basketball coach at Gainesville Junior College before coming back to Columbus to build the first athletic program at Shaw High in 1978.
But the people who came through Baker High remember him for more than sports. He was an encourager and a mentor. He remembered their names and the names of their siblings. He made sure they came to school and if they didn't have a ride he found them one.
In those early years, Bubba was one of them. He was a consummate storyteller, and some of his tales were even true. In gym class, he would join in the fun. It was the same at basketball practice as Gordon Darrah has often recalled.
"He would get out on the court and play with us — and he was always the star."
After coaching he found another life with his second wife Debbie. She was also a gifted coach of softball and basketball. Late in life, they had two boys, Austin and Alex. Debbie's first son, Dusty Perdue, is a trophy-winning basketball and softball coach at Glenwood School, where his mother often serves his first base coach.
Bubba is a certified legend but you wouldn't always know that. When Debbie was coaching at Shaw, he would hop on a riding lawn mower and keep the field tidy. When sons Austin and Alex were at Blanchard Elementary School, Bubba would stand outside in the morning and open car doors for parents and students. The school district didn't have physical education in grade schools then so Bubba talked to the principal and became a volunteer PE teacher.
Long ago, when I was in high school in Atlanta, Sylvan High won two straight state titles. The first time my alma mater competed in the tournament they were distinct underdogs. They opened with a team that was supposed to win it all: Baker of Columbus.
At one of their reunions, my old classmates said they didn't know if they really belonged in 1959. Then they opened with the Lions. "Their coach was Bubba Ball and he was one of the great ones. When we beat Baker, we decided we were supposed to be there," said Lee DeFore, a star on that Sylvan team.
One of the guys in the room that night asked me about Bubba.
"Is he still around Columbus?"
I said he was, and that one of his sons was the starting point guard at Brookstone School that season.
"You mean his grandson, don't you?"
No, his son."
And suddenly the legend of Bubba Ball grew even larger.
Being his friend for 40 years has been a joy for he was a joy. If the world had cooperated, he probably would have still been coaching for he loved it that much. Seeing how his former players revere him is a lesson in how sports should be. Hearing old Baker people talk about what he and his teams meant to the spirit of the school and that part of Columbus tugs at your heart. So did the sight of Bubba at a piano recital supporting his talented son.
And only Bubba could get away with telling a tale about Newt Gingrich's football career at Baker. The old coach loved to tell folks that the former U.S. Congressman and high stakes political guru wasn't much of a football player.
"At practice, he would stop action right in the middle of a play and ask coaches to explain why we did certain things. The worse thing was we couldn't get a helmet to fit him," Bubba said. "His head was just too damn big."
Many people know about Bubba's winning ways for his enviable record speaks for itself. Coaching eventually became his family business. As a family unit, Bubba, Debbie and Dusty have won more than 2,000 high school games.
And since he is no longer with us, I will point out that 800 of those wins belong to James A. "Bubba" Ball.
Right Bubba?