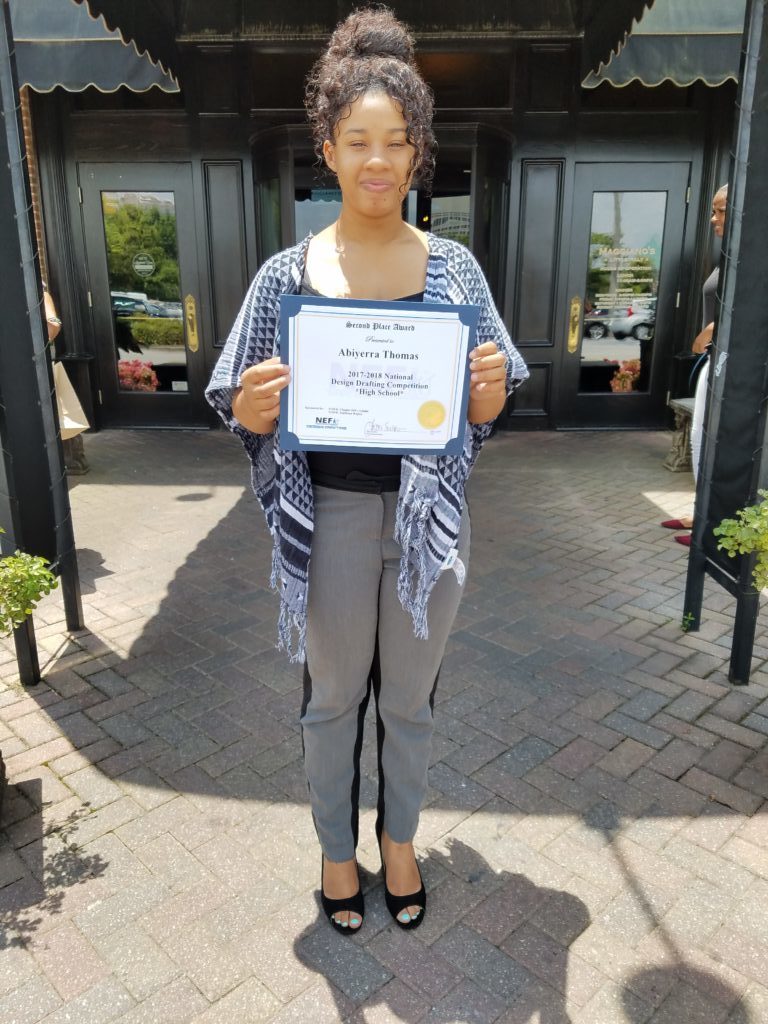 Abiyerra Thomas, a recent graduate of Jordan High School, placed second in the 2018 Annual National Association of Women in Construction's (NAWIC) Student Design Drafting Competition, the Muscogee County School District has announced.
Her teacher, Clayton Graham, said Thomas is confident and strong on details.

"I had confidence she would do well because she is very meticulous in detail and would try over and over to perfect her design," said Graham, who teaches in the architecture and engineering programs at Jordan High School.
According to the NAWIC, "This year's project was to design a tiny house capable of travel, while incorporating common household essentials that were detailed in the project requirements, along with adding specialized design features that are both important to the designer and unique to the designer's house."
Entries were evaluated for detail, accuracy and originality of work. Contestants were judged at the local and regional levels earlier this year. Thomas placed 1st in both the Regional and State competitions this year.
Graham served as a mentor and Skills USA sponsor throughout Thomas' matriculation at Jordan. She began her studies within the District's Career, Technical, and Agricultural Education (CTAE) career pathways during her freshman year. She and her family left the area her sophomore year and returned the following year.
The instructor said Thomas requested to return to the area to continue her involvement with the CTAE program offerings. She graduated from Jordan High School in May 2018. She was recognized by the NAWIC's Atlanta Chapter for her achievement, during an anniversary luncheon on June 13, 2018.
The competition, hosted by the NAWIC Education Foundation (NEF), is designed for Senior High School and College level students. The contest provides recognition to students for creative design, successful problem solving, and craftsmanship in preparing architectural drawings. NEF, established by the NAWIC in 1972, provides educational opportunities and programs to benefit and promote the construction industry.
# # #
The mission of the Muscogee County School District is to inspire and equip all students to achieve unlimited potential. For more information, contact the Office of Communications at 706.748.2034 or communications@muscogee.k12.ga.us.