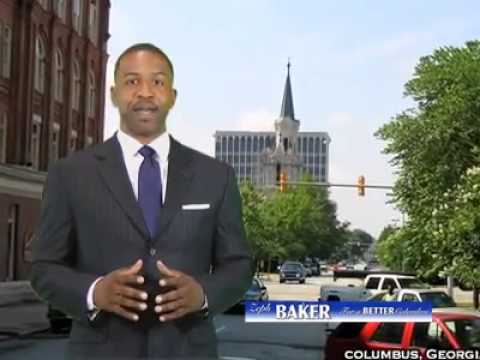 An unusual residency complaint against Zeph Baker filed by one of his opponents in the upcoming Columbus mayor's race alleges the candidate doesn't legally live in the city he wants to lead.
The challenge filed on March 22 by fellow candidate Norma Beth Harris claims Baker's legal residence is in Newnan, Ga., where he and co-owner Sharon Cosby receive homestead exemption on a $560,000 house in a Coweta County subdivision that is 78 miles from the Government Center in Columbus.

The Muscogee County Board of Elections & Registration will conduct a special hearing on that written complaint on Thursday April 5 at the panel's office on the second floor in the Citizen Services Center, 3111 Citizens Way in Columbus. The residency hearing is scheduled to begin at 2 p.m.
In a certified letter sent to the board, Harris said this:
"It has come to my attention that Zephaniah Baker is not a current resident of Columbus, Georgia. I have attached documents from the Muscogee County and Coweta County property tax offices that indicate this to be true."
Documents she provided have been verified by officials in both counties. Records from the Coweta County Tax Assessor's Office show Cosby bought the two-story house at 40 Lantana Way on Jan. 4, 2016, and that Baker was added to the deed on that same day.
An official with the Coweta tax office said an application for Homestead Exemption on the 6,197 square foot home in the Arbor Springs Plantation Subdivision was filed on March 31, 2017. Records in Coweta show no change of ownership.
Baker qualified to run for mayor of Columbus for a second time on March 9. He did not file his qualifying papers or pay the required fees until near the close of business on the final day of qualifying for the May 22 primary election.
Advanced voting begins on April 30.
In a Declaration of Intent (DOI) signed by the candidate and filed on qualifying day, Baker indicated his home address is 1091 Bolton Court in Columbus. (This is the same address he used when he ran for the District 1 seat on Columbus Council four years ago.)
Tax records in Muscogee County show that Baker has been the sole owner of that property since 2003. He has not filed for Homestead Exemption at that address.
Records in Columbus show that Baker is registered to vote at that same Bolton Court address and that he voted twice in 2016. "And he voted in person," according to Muscogee County elections official Jeanette James.
Residency qualifications for the office of mayor are spelled out in the Columbus Charter, Sec. 4-200:
The Mayor shall be a citizen of the United States, shall have been a resident and qualified elector of the consolidated government for at least two years prior to the date of his or her election, and shall be at least 25 years of age when elected to office. If the Mayor shall cease to be a resident and qualified elector during his or her term of office he or she shall forthwith forfeit the office and the Council shall declare the office vacant.
Which house is the legal residence of Zeph Baker?
The dispute over whether Baker's legal residence is in Columbus or Newnan will be considered at the special 2 p.m. meeting of the Muscogee County Board of Elections & Registration on Thursday April 5. Members of that panel are Margaret Jenkins, Uhland D. Roberts, Diane Schrimpshire, Linda Parker and Eleanor White.
Baker is pastor/CEO of Spirited Filled Ministries in Columbus, where his father, the Rev. Wayne Baker, is senior pastor. Zeph Baker previously ran for the city's top spot in 2011, losing to eventual winner Teresa Tomlinson, who isn't eligible to run for a third term as mayor in 2018. He is a graduate of Carver High School and Columbus State University.
In 2008, he was a candidate for the Georgia House of Representatives in 2008, challenging veteran incumbent Calvin Smyre. In 2014, he ran for Columbus, Council opposing incumbent Jerry "Pops" Barnes in District 1 after considering another run for mayor.
The field for the 2018 race for mayor of Columbus is a crowded one. Candidates include:
Danny Arencibia
Zeph Baker
Norma Beth Harris
Berry "Skip" Henderson
Charles Roberts
Winfred Shipman Jr.