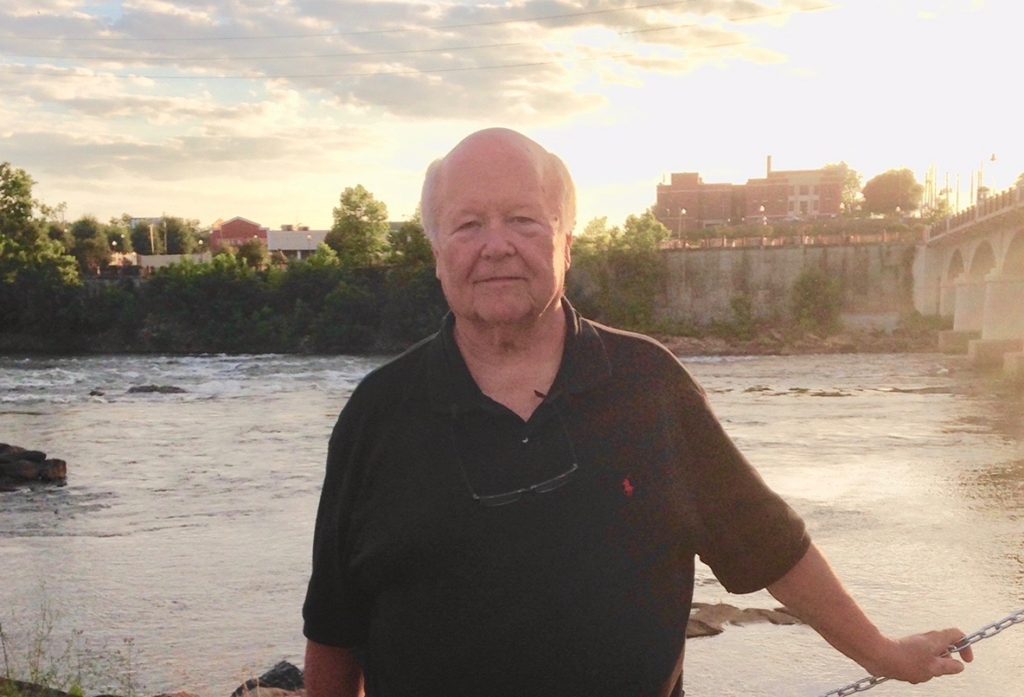 I would like to say that I was stunned to hear that a crazed shooter had gone into a newsroom in Maryland and assassinated five people busy doing the routine chores they did every day to get the paper out on time.
But I wasn't.
It wasn't callousness to tragedy that came out of a career dealing with articles that were often sad and morbid. This was reality hitting me in the gut, telling me that death in a newsroom was bound to come and in an idiosyncratic way might have been overdue.
I lived in newsrooms most of my adult life. I was addicted to adrenaline and thrived on the noise of ringing telephones and clanging wire machines. I could tune out the constant chatter of police scanners and somehow hear only the reports that I needed to hear.
Old newspaper buildings like the Ledger-Enquirer were smack in the middle of downtown surrounded by violence and a world I didn't know. Female employees who worked a late shift were required to have an escort walk them to their cars if it was dark when they got off.
Newsrooms always attracted the unseemly and uninvited of the world. Management finally had to deal with security and safety. Uniformed guards were put at the front door, though many of the guards they hired didn't make us feel that secure.
We had strange characters among us: ones who kept bottles of booze in their bottom desk drawers and a troubled female reporter who hid a loaded gun in her desk. Adding to our concerns were the unexpected visitors who could just waltz right into the newsroom.
One that always comes to mind is a whacked out former lawman that rode around town in a pickup truck decorated with crude signs threatening people he said had wronged him. He could just materialize in that old building on 12th Street .
It was our business to know people's quirks and we knew that he was an expert marksman and he always reminded us he was armed. As his mental condition worsened, a photo of the old deputy was posted inconspicuously at the front desk. If someone saw him enter the building they were supposed to call 9-1-1. One day they didn't call the law — they called me. He had asked for me by name. We sat in the lobby and he shared tips about current events before lapsing into a familiar monologue about his perceived enemies.
When I first came to town, Carlton Johnson was the editor of the afternoon Ledger. We became good friends and I found that he was one of the nicest people in the building. Only this mild-mannered newsman had a bizarre backstory.
He was a young cub reporter in 1947, as were Jim Bellows and photographer Joe Talbot. Bellows went on to enjoy a legendary career in big city journalism that included being editor of several major newspapers across the country — from Los Angeles to Washington.
In Columbus, Bellows received a tip from a source at Fort Benning that there was going to be a Ku Klux Klan rally near Pine Mountain. Even those three young news hounds recognized a good story when they saw one.
Staying at a distance, they joined the parade of hooded Klansmen. It was a colorful event, complete with a burning cross and the appearance of a well-known Columbus preacher.
The reporters were crouched in a ditch in Meriwether County when Talbot rose to take a photograph and was spotted by KKK security. The three of them were bound and forced to consume large amounts of whiskey. They were photographed posed in compromising positions. Their legs were injected with drugs.They ended up spending the night in a county lockup.
I was sitting in Johnson's office sometime in the 1970s when he shared that story and others. He showed me pictures of hooded Klansmen walking right down Broadway. Ordinary people joined them on the sidewalk without blinking. Those times seemed so long ago.
Decades later, I wrote a column about a KKK event being planned at Cooper Creek Park. I remembered Johnson's experiences when the telephone next to my bed rang in the middle of the night.
A voice I didn't recognize was on the line. He wanted to discuss — in specifics — my story about the Klan.
What bothered me more than his subtle threats was the fact that the morning paper hadn't been delivered yet. To see what I had written at that hour, the caller had to be in the newspaper building.
Until then, it had never dawned on me that I could be working around fellows who had Klan robes hanging in their closet.
Around this time, there was an annual outdoor festival in Columbus known as the Salisbury Fair. By then I had moved from sports to news and I learned that the fair was named for a former newspaper editor. I was curious about this man, so I assigned a reporter a story on this newsman from another era.
Here's what the reporter discovered:
Col. William E. Salisbury was from one of the city's founding families. He was wealthy. He had helped found the local public school system, was a prominent banker, a city alderman, the publisher of the Columbus Enquirer and the father of 10 children.
Oh, and one other thing. In 1878 a newspaper reader who didn't like the way he was portrayed in an article written by Salisbury shot the editor in the back while they were standing on the platform of the train depot in Seale, Ala.
The shooter was Dr. Robert Palmer of Phenix City who had previously filed a libel suit against Salisbury and the Enquirer for an article about lawlessness in Russell County — a case that netted Palmer just a single penny.
Salisbury died after an episode that was straight ouf of a scene stolen from a black-and-white shoot 'em up cowboy movie. Salisbury got the worst of it, but he was armed as well and before he succumbed he fired off a few rounds of his own.
It is bizarre to consider that Jarrod Ramos — the suspect in the Maryland killings on Thursday — carried a similar grudge against the Capitol Gazette for an article that led to him filing a lawsuit against the newspaper in 2012.
Over the years, my mailbox and my inbox were often filled with hate mail and threats that I never took seriously. The only time I felt uneasy I asked the Ledger-Enquirer to reimburse me for the installation of dead bolt locks in my home during a series of articles that I wrote about Phenix City lawmen being involved in a high stakes poker game.
How would I handle such hate mail in today's social media culture? The world is more violent and fractured now and so are the subjects that I would be writing about. Would I start packing a handgun as Col. Salisbury did so long ago, and would my bosses allow it?
In the past, we were constantly on the fringes of violence and violent people but not of the volume of today's society where police blotters are a best seller in every newsroom. But stories coming out of Maryland remind me that one tradition hasn't changed. I can relate to some of the comments made by reporters that work for the Gazette.
In the midst of newsroom chaos and mourning for their departed co-workers, surviving reporters remembered their calling as colleagues from their sister paper, The Baltimore Sun, arrived to do what they could do to help.
In the spirit of old-time journalism one Annapolis reporter took to Twitter and posted this Old School comment: "I can tell you: We're putting out a damn newspaper tomorrow."
And as promised, they did.