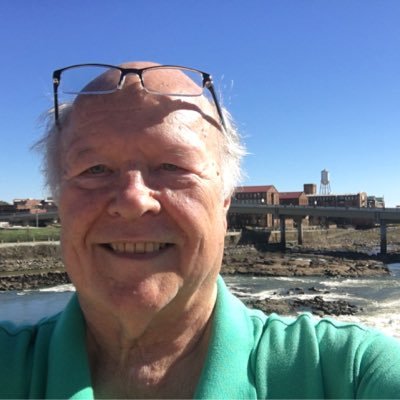 Fred Miller wasn't killed in Vietnam but that bloody war did take his life.
Without warning my old pal's name came up on Monday — not because of Memorial Day but because of an unexpected email from a high school classmate of ours. I hadn't heard from her in a very long time and Shelby Clift Smith's message said she thought she remembered me telling her Fred was killed in Vietnam.
"This past weekend in Pensacola, where a 1/3 scale of the Vietnam War Wall is located in our Veteran's Park, the names of everyone on the wall were read aloud over the course of a week. I was one of 1,000 readers of names. It was an inspiring emotional event," Shelby wrote.
Afterward, she tried to look up Fred's name but she found nothing. I answered Shelby's email, and told her why the name of our high school classmate isn't on that wall.
My friendship with J. Fred Miller Jr. began on the first day of eighth grade in a homeroom class  tucked away in a converted music closet near the band room at Sylvan High School in Atlanta.
We came from different elementary schools and different neighborhoods but there we were — 13 years old, very nervous and just plain scared.
Turns out our class schedules that first term of high school were identical so Fred and I saw a lot of each other on opening day and that whole school year. We didn't know it then, but a lifelong friendship was being born in that room without windows.
Over the next five years we were inseparable. Fred's father, a real estate agent in East Point, had died years before we met, making his mother a very important figure in his life. Today she would be called a single mom, but to us she was a sweetheart and always a friend.
Ma Miller warmly welcomed me and our friend-in-common, Art Meares, into her two-story home in Capitol View like it was ours. She cooked for us and she fed us great quantities of food. She listened to our private thoughts, things we wouldn't tell our own mothers, and she encouraged us when we needed encouraging.
And did I tell you that she fed us?
It was that way through high school and into college. We all stayed around Atlanta. Fred and Art went to Georgia Tech. I enrolled at Georgia State University. When the time came, we registered for the draft as good boys were supposed to do. My friends were classified 1-A, which in the mid-1960s meant an all-expense paid trip to Southeast Asia. I was 1-Y, which meant a faulty kidney would keep me in civilian clothes.
Fred and Art graduated in the same class from Tech. Soon after that I recall taking an all-day trip to an Army base in Virginia with his mother and older sister. Fred, by then a Second Lieutenant in the U.S. Army, was graduating from some kind of army school. Not long after that road trip, my friends were on their way to Vietnam, courtesy of our Uncle Sam.
From a distance, I kept up with them through their families and I suppose we all assumed our lives would pick up where they left off once they were civilians again. But as you would expect, things did not work out that way.
We would always be friends with scrapbooks of shared memories, but our individual paths started going in different directions. Life brought me to Columbus. An engineering career took Art and his growing family all over the country and around the world. Fred returned to Atlanta, working in the corporate world. I knew he was bouncing around quite a bit but thought nothing about the moves.
Down the road, I was surprised one morning to pick up a copy of the Atlanta Constitution and read a nice feature article about Fred. He was active in some kind of big brother program and the story described how he had guided a grateful adolescent through some tough times. It said Fred was manager of a liquor store.
That didn't compute. Tech grads just don't work behind counters selling booze.
The three of us talked independently but schedules didn't allow to be together very often. Decades passed, and I often wondered what was going on with Fred. Art was always the smart one. He was successful, had two beautiful daughters and I adored his wife Donna, who graduated first in our high school class. When Art and I talked long distance, we sometimes shared concerns about our friend, already a confirmed bachelor.
Through a series of strange circumstances, from a hundred miles away, I learned that Fred was a recovering alcoholic. He had found recovery working the 12 steps of Alcoholics Anonymous. In that wonderful program, he was actively sharing his experience, strength and hope with others.
I don't remember who called about us getting together for a reunion, but Art and Donna (who lived in California) and I were invited to Marietta, Ga., to the home of Fred's brother-in-law Dr. Judson Trippe Jr., and his sister Mary Ellen. Ma Miller would be there and so would her youngest son Steve. Judson was a beloved pediatrician around the area and before we got together he shared privately what was happening to our dear friend.
During his tour of duty in Vietnam, Fred had been exposed to some serious but unknown chemicals — probably Agent Orange. Over the years it affected his brain and eventually led to an early form of Alzheimer's or Dementia. Fred was relatively young, but his brain was old before its time, and it would never be the same again.
It was a beautiful Sunday afternoon when we gathered in the living room at Judson and Mary Ellen's home near the square in Marietta. We were little more than kids when we last visited as a group. Now we were not so young. Yet, without a prepared script, we somehow settled into our comfortable old routines. We were all uneasy about Fred and his condition, but true to form he laughed about it and put us at ease.
He told us how he remembered everything that happened to us back in high school and college but warned us he couldn't remember what he had for breakfast. He told us that he lived alone, not far from his sister's suburban Atlanta home, and that his family was always close by.
His AA sponsor and other friends from the program picked him up just about every day and took him to meetings. Those meetings kept him connected to the world and to the anonymous groups that saved his life.
That would be the last time we were all together and the last time I ever saw Fred Miller. I kept up with him the best I could and his family shared what was going on as sad as that was.
Then I got the call we all were dreading: my old friend was dead. His family asked if I would be a pallbearer at his funeral and I couldn't say no. We never expected to carry a weighty coffin up a grassy hillside in our old hometown. But I did just that and still consider it an honor.
So that's why Shelby Clift Smith didn't find Fred's name on that miniature Vietnam wall in Pensacola. He didn't die in the jungles of Vietnam but no matter what county officials put on his death certificate, that war did take his life. I wonder how many others died that way. They survived long enough to make it home, but they left so much behind.