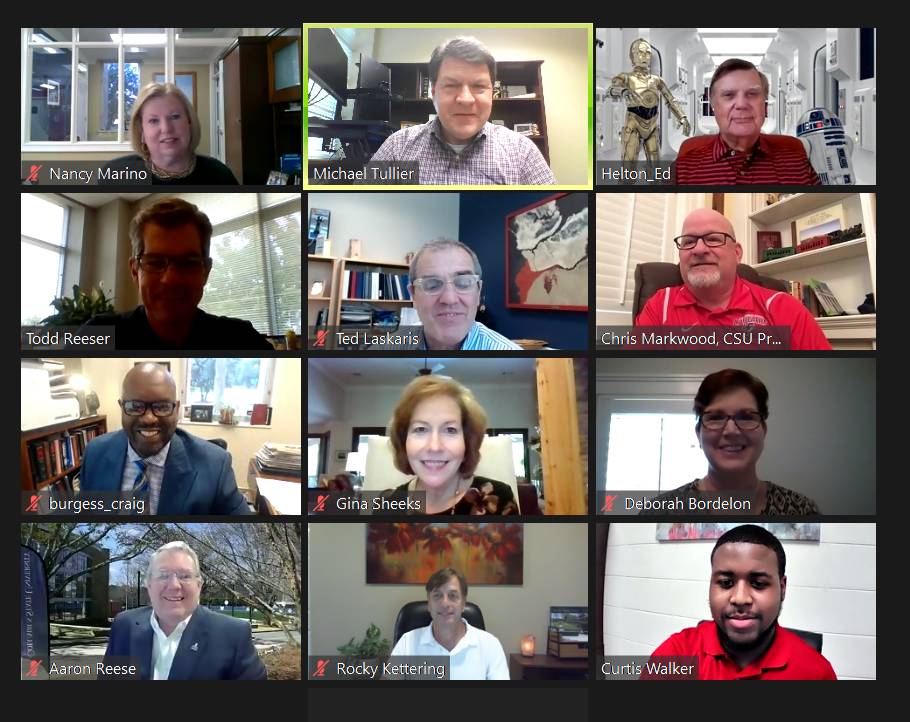 Columbus State University students are accepting the university's call to be proactive about following pandemic-era public health guidance, as demonstrated by a Student Government Association resolution presented Tuesday to CSU President Chris Markwood.

The resolution, presented virtually to the president's full Executive Leadership Team and other university administrators, adds it support to CSU's continued call for its students, employees and campus visitors to wear face coverings and adhere to physical distancing guidelines. It even goes a step further — imploring students to get tested and to encourage their peers to do the same.
Walker, who began his tenure as SGA president in May 2020 after being elected in the spring to represent the university's 8,300-plus students, said the timing of the resolution is deliberate.
"It is very important that students model CSU's public health recommendations so that we may continue to have a healthy and safe campus and surrounding community," said the Columbus native, Columbus High School graduate, and junior English major. "Now is the perfect time as we go into holiday season. It is easy to forget those health precautions, but we hope this serves as a reminder to keep ourselves, our families, and peers safe."
In accepting the resolution, Markwood commended Walker and SGA for their leadership and their "bold and very collaborative effort […] to be a part of coming back to campus and continuing the great educational opportunity that you have here."
The full text of the Student Government Association's resolution follows:
Whereas, the Columbus State University Student Government Association is the governing and representative body of all students of the Columbus State University community.
Whereas, Columbus State University recognizes the implications and severity of COVID-19 while actively mitigating risk of exposure to students.
Whereas, Columbus State University encourages students, faculty, and staff to practice social distancing measures and effectively enforces the use of facial coverings.
Whereas, both Columbus State University and its Student Government Association desire to retain low amounts of COVID – 19 cases.
Whereas, the Student Government Association understands the importance of maintaining a safe and healthy campus community.
Be it hereby resolved that the Columbus State University students through the Student Government Association take the pledge to better ensure our safety by getting tested for COVID-19.
We pledge to PROTECT ourselves and our peers by taking a COVID-19 tests.
We pledge to ENCOURAGE our peers to get tested as well and follow proper safety precautions on campus.
We pledge to REPORT our test results to Columbus State University personnel, and quarantine in the unfortunate case that we may test positive for COVID – 19.
We pledge to CREATE an environment in which the health and safety of our peers and community are supported and upheld.
Presented by:
Curtis Walker, President
Student Government Association
Accepted by:
Chris Markwood, President
Columbus State University