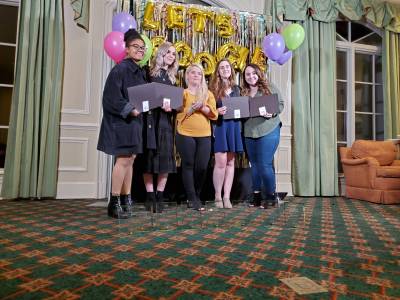 Six Columbus State graphic design students and alumnae were recently awarded 17 American Advertising Awards (ADDYs) during the American Advertising Federation's (AAF) Montgomery regional advertising and design competition. It was only CSU's second time competing in the competition. Below are the awards received.
Lauren Riddle, December 2019 graduate
Student Designer of the Year
Judge's Choice and Gold ADDY for a brand identity campaign
Gold ADDY for her book jackets
Silver ADDYs for her book jackets
Carlie Hedges
Gold ADDY for a music festival branding
Best of Show and Gold ADDY for packaging and branding
Rachel Ramsey
Judge'sChoice and Silver ADDY for branding
Cierra Fountain
Silver ADDY for a book jacket
Silver ADDY for a US Currency Redesign
Kylee Greiner
Silver ADDY for a book jacket
Tori Neundorfer, December 2019 graduate
Silver ADDY for an exhibit
The American Advertising Awards is the advertising industry's largest competition and is judged by industry professionals. The winners of the Gold ADDYs will have their work submitted to the American Advertising District 7 Awards to be held in a few weeks.
 "It was humbling to hear that some attendees believed that our students' work rivaled the pieces entered by the agencies," said Nicholas McMillan, assistant professor of graphic design at CSU. "This recognition has announced to the state of Alabama that Columbus State is the place to study graphic design."