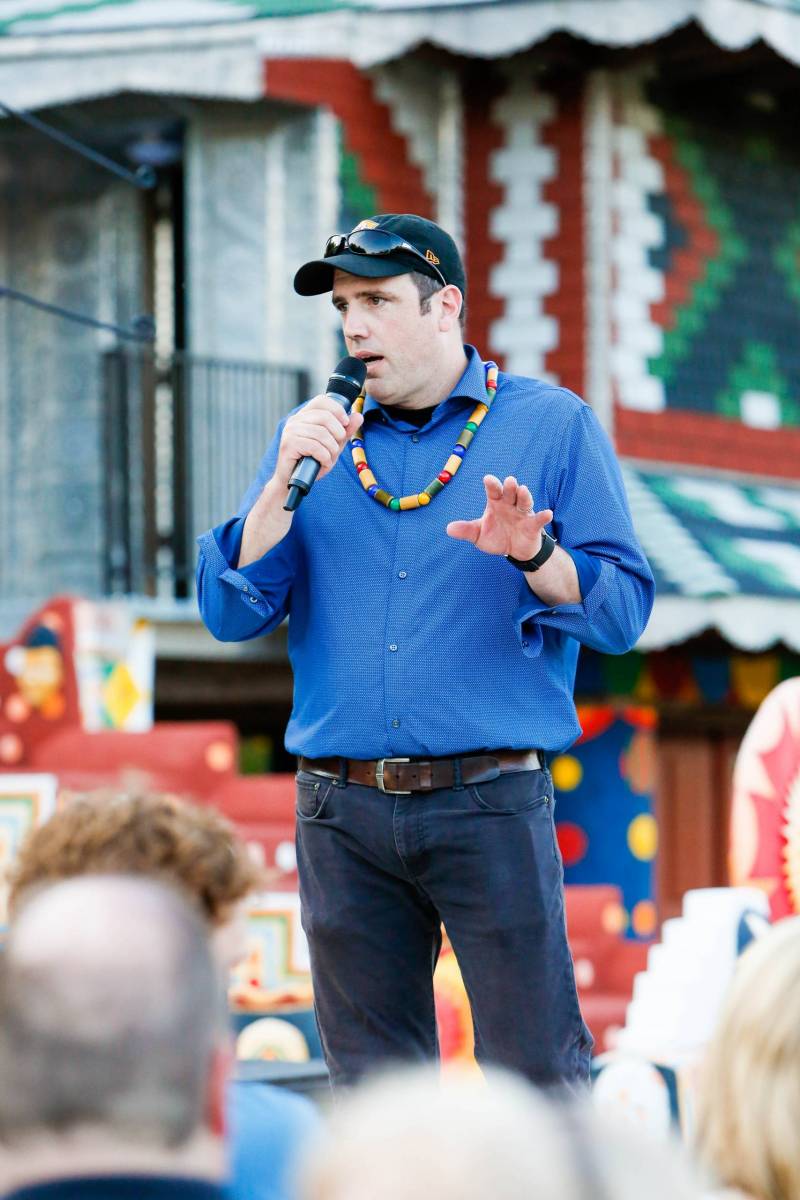 Columbus State University announced this week that Mike McFalls, a professor of art, will serve as the new interim director of the Bo Bartlett Center. He will also continue his role as director of the university's Pasaquan art site near Buena Vista, Georgia. 
"Mike McFalls has done a tremendous job as the director of Pasaquan, and I am confident that he will now bring that same vision and passion to the Bo Bartlett Center," said CSU President Chris Markwood. "The center is an arts destination for all who visit Uptown Columbus and its missions to demonstrate the transformative power of art is making a difference in people's lives.  His leadership will be pivotal to the center's cultural and educational contributions to our city and region."
Helen Hobbs, chair of the Bartlett Center Board of Advisors, looks to McFalls to bring his extensive artistic experience to enhancing the center's community and cultural profile.
"Professor McFalls will focus on exhibitions and curriculum, ensuring that the center consistently supports and advances the strategic priorities of the university," she said.
McFalls considers his assignment a short-term — but essential — role, through which he'll continue the infrastructure-building process begun by his predecessor, Rex Whiddon, who served as the center's interim director for the previous 18 months.
"Rex and I as well as the other staff, will be working as a team; I'll focus my energies on university curriculum development and exhibitions, while Rex will be focusing on philanthropy and donor relations," McFalls explained. "I see this as a bridge-building position that will develop curricular bonds between the center and the Art Department faculty. My role as the interim director will be to put into place the structure needed for the next executive director."
Hobbs indicated that Whiddon will continue to be an integral part of the center. He will work closely with the Board of Advisors and focus on raising the private funds needed to support the exhibitions and outreach programs, as well as donor relations and related programs and activities. "Having been involved with the Center since its inception, his wisdom and expertise is invaluable," said Hobbs.
A member of the CSU faculty since 2007, McFalls is a practicing artist and professor of art. In 2014, he also became director of Pasaquan — a seven-acre internationally renowned art site nestled in the pines of rural Marion County and created by eccentric folk artist Eddie Owens Martin. Pasaquan, like the Bo Bartlett Center, is under CSU's stewardship. Following a two-year restoration project and grand reopening in 2014, Pasaquan has witnessed a resurgence fueled by McFalls' passion, leadership and frequent lectures about the site and Martin's legacy. McFalls is currently working with CSU's Schwob School of Music, Pasaquan Preservation Society, and Institute 193 to release a limited-edition, multi-colored vinyl LP entitled "A Circle of Atoms; The Pasaquan Sessions 2020."
McFalls received his BFA in fine arts from the Columbus College of Art and Design in Columbus, Ohio, and his MFA from the University of California at Davis. He is a Fulbright Scholar and has earned numerous scholarships, grants, and awards for his artistic research. His resume touts an extensive list of artist residencies, grants, and solo and collaborative projects and exhibitions — among additional artistic and scholarly efforts
The Bo Bartlett Center is a dynamic, creative learning laboratory that is part community center, part gallery/museum, and part experimental arts incubator. Based on the belief that art can change lives, the center has a twofold mission: grassroots community outreach programs to the local public schools, disabled adults, the homeless and prisoners; and a national mission to partner with other institutions and collectors to provide innovative exhibitions and programming that deepens our understanding of art in America, both past and present through exhibitions, publications, and public programming. One of the newest and most unique cultural institutions in the country, the center is poised to take a leadership role in art, community, and creativity — one that creates a new paradigm for leadership, innovation, and service.