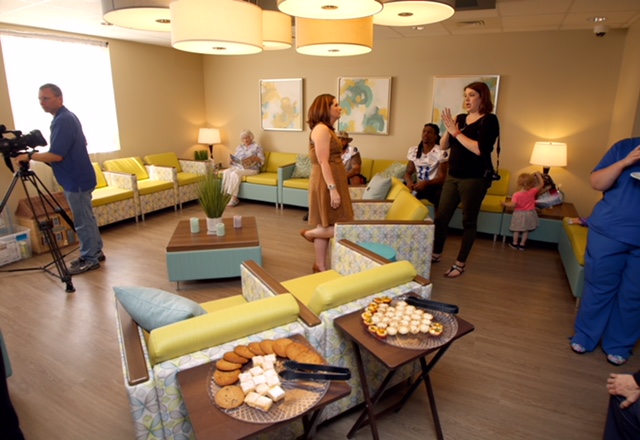 The Ronald McDonald House of West Georgia has opened a comfortable new Family Room at Piedmont Regional's Midtown Campus in Columbus that will allow families who have patients in the Children's Hospital to unwind and relax.
The purpose of the room is to:
° Provide a restful place for families who need a break from the stresses of being at their child's hospital bedside.
° Be a place to "recharge their batteries" before returning to their child's room
° Be a suitable location for caring individuals who wish to provide comfort to families who are undergoing a crisis
° Provide a vital component of family-centered patient care for critically ill or injured children
° Be a resource center where caregivers have access to information about their child's illness and treatment, learn about support groups and at-home aftercare
More than 600 families stay at the Ronald McDonald House of West Georgia each year. In the next 12 months, a total of 1,500 families are projected to stay at the Ronald McDonald Family Room, which is located on the 4th floor of the hospital's Midtown Campus.
The Family Room is a relaxing extension of the Ronald McDonald House, which provides a private getaway for families who have traveled to Columbus to be with their hospitalized infant or child. Providing a warm and supportive alternative to costly hotels or uncomfortable waiting rooms, families are able to stay close to the hospital at no cost.
Ronald McDonald House Charities® of West Georgia has been providing a home away from home for families of seriously ill or injured children since 1987. The house is located at 1959 Hamilton Rd. in Columbus.
The Ronald McDonald House gives children a place to play after a long day at the hospital … provides parents a home for a good night's sleep and a warm meal near the hospital … and offers families relief from the financial and emotional burdens of traveling for their child's medical care.
Click here to learn more about the Ronald McDonald House.
Piedmont Columbus Regional's Midtown Campus is committed to children's health and welfare. It is home to a Level 3 Neonatal Intensive Care Unit, one of only six perinatal centers in Georgia and the region's only full-service Pediatric Intensive Care Unit.