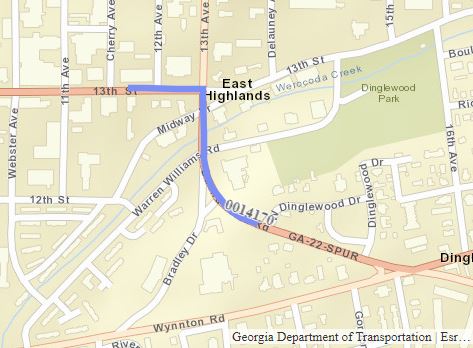 The Georgia Department of Transportation will hold a Public Detour Open House for Project # 0014170 in Muscogee County on Thursday, Dec. 5, 2019 from 5:00 p.m. to 7:00 p.m. at the Columbus Government Center Annex, 420 10th Street, Columbus, GA 31901.
The project is located on the Georgia 22 Spur and proposes to replace the existing bridge culvert carrying Weracoba Creek. The culvert would be built with a full road closure and detoured traffic.
The purpose of the Public Detour Open House is to provide the public with an opportunity to view the proposed detour, ask questions and comment on the project and the proposed detour.
The Public Detour Open House will be informal and the public is invited to attend at any time during the hours listed above. There will be no formal presentation. A court reporter will be available to allow the public an opportunity to make verbal comments about the proposed detour and project.
Americans with Disabilities Act (ADA) Information: The meeting site is accessible to persons with disabilities. Accommodations for people with disabilities can be arranged with advance notice by calling Harland Smith at 706-741-3613.
Written statements will be accepted concerning this project until Monday, Dec. 16, 2019. Written statements may be submitted to:
Mr. Eric Duff
State Environmental Administrator
Georgia Department of Transportation
600 W. Peachtree Street, NW – 16th Floor
Atlanta, GA 30308