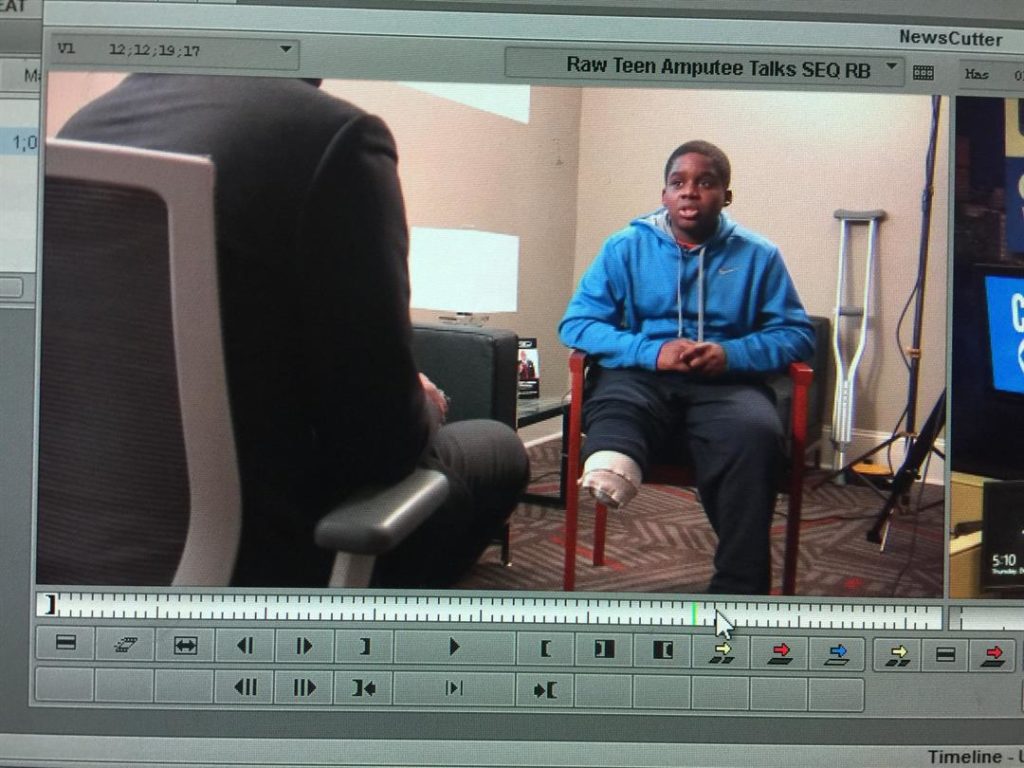 More than 800 days after a troubled middle school student's leg was amputated following an altercation with a contract teacher in a local classroom, attorneys for the Columbus Ledger-Enquirer have filed a 16-page affidavit supporting a civil action against the Muscogee County School District demanding release of security video recorded at the Edgewood Student Service Center in 2016.

Montravious Thomas was 13 years old when he was allegedly slammed to the floor of Room 109 at least five times during a physical confrontation with Bryant Mosley on Sept. 12, 2016. A former college football player, Mosley was working as a contract behavior specialist at the alternative education center where the student was assigned.
Thomas was sent home on a school bus without receiving medical treatment. He was airlifted to Atlanta that night and a month after his injury, doctors at Children's Healthcare of Atlanta at Egleston Hospital were forced to amputate Thomas' right leg below the kneecap.
The revised affidavit was filed this week in Muscogee Superior Court in support of a newspaper lawsuit filed in January of this year asking the school district to release classroom security tapes that captured the actions of Mosley and Thomas. Portions of a hallway video showing the contract teacher carrying the injured student to a school bus were obtained and posted by Muscogee AllonGeorgia in October 2016, but school officials have consistently refused to release ones taken in the classroom.
Plaintiff's Motion for Summary Judgment and Supporting Memorandum (01225982)

Attorney David Hudson of Hull Barrett, a law firm in Augusta, Ga., represents the Columbus newspaper. A noted expert in Georgia's Open Record's Act, Hudson said release of the classroom tape is not an invasion of privacy and is in the public interest.
"The disclosure of the video of such a potentially tragic occurrence between a contract employee of the District and a student is on its face in the public interest and disclosure of it could not constitute an invasion of privacy."
The school system maintains security cameras in MCSD classrooms and images are recorded on servers in every school, according to policy. The video recorded in that particular classroom at Edgewood has been viewed by school officials, according a deposition cited in the newspaper suit, but the district has repeatedly refused to release it to the media.
The school system is being represented by attorney Greg Ellington of Hall Booth Smith P.C.
According to school district policy, students in Muscogee County may be videoed while they are walking to class, riding a school bus and attending classes or school activities. Cameras are running 24 hours a day, seven days a week.
School district attorneys maintain that the contents of the Thomas video are educational and come under the Family Educational Rights and Privacy Act (FERPA). But in the affidavit filed this week Hudson claims the Georgia Supreme Court previously ruled that FERPA should not be a barrier to the disclosure of documents under the Georgia Open Records Act.
The latest legal action is not the only suit pending in the Thomas case. A $25 million suit was filed by the law firm of Forrest B. Johnson & Associates on behalf of the youngster and his family against several participants in the original action. A federal suit also has been filed by educator Eddie Powell, the assistant principal at Edgewood at the time of the incident in 2016. Powell is currently an assistant principal at Midland Academy.
Powell's suit alleges racial discrimination, retaliation for having complained against discrimination and a violation of the Georgia Whistleblower Protection Act after he leaked the surveillance video to Muscogee All on Georgia showing Moseley carrying Thomas to the bus after his injury.
Since the amputation of his leg, Thomas has never returned to school in Muscogee County.
Muscogee All on Georgia's Richard Hyatt conducted a candid 55-minute interview with former Muscogee County School Board members John Thomas, left, and Frank Myers about the Montravious Thomas case in 2017.