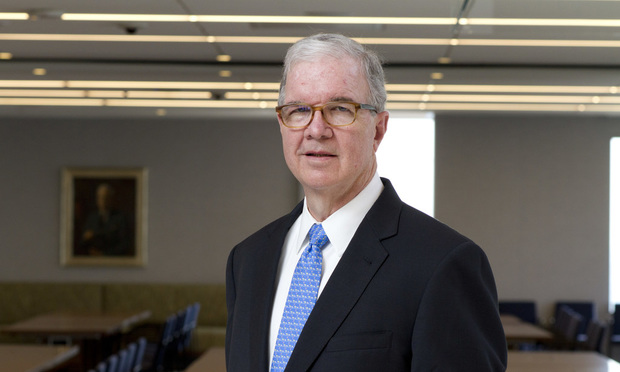 There have been many landmark events in Pete Robinson's life and this month the influential public policy lawyer celebrates the latest by becoming a partner at King & Spalding — a prestigious Atlanta law firm that has been serving clients for more than 130 years.
The Columbus native leaves behind Troutman Sanders LLP where since 2002 he had been a managing partner of its Atlanta office and the founding chairman of Troutman Sanders Strategies, which he built into one of the state's leading governmental affairs firm.
At King & Spalding, Robinson will serve on the firm's Government Advocacy and Public Policy Team. His practice will be based in Atlanta and Washington, D.C.
"I am thrilled to join King & Spalding," Robinson said in a news release. "The firm's wide range of high quality practices and extraordinary lawyers are invaluable to its clients, many of which I already work with."
It was appropriate that the announcement of his new position came on the week that a new Georgia governor took office and the 2019 session of the General Assembly convened, for Robinson is already one of the most powerful lobbyists under the state capitol's gold dome.
As a teen, his interest in service was greatly inspired by his Sunday School teacher at St. Luke United Methodist Church. That teacher was the late William B. Turner, one of the most influential businessmen in the state.
His interest in state politics came naturally. His father, who died when Robinson was young, instilled in him the belief that he needed to make things better. His mother's family had a long tradition in the Georgia State Senate.
His interest in public service grew when he was an undergraduate at Emory University where one of his favorite professors was Zell Miller, at the time the sitting Lieutenant Governor of Georgia. (He would later serve as the Senate Majority Leader under the late Gov. Miller.)
Robinson graduated from the Walter F. George School of Law at Mercer University — a law school that has turned out generations of state officials. He then came home to begin his practice of law.
In 1983, as a young Columbus attorney, he took the oath of office as a newly appointed member of the Muscogee County School Board. He later served as a member of the board that helped plan the new Columbus Public Library on Macon Road.
"(The school board )taught me a lot about where policy hits a person," he told Georgia Trend Magazine in an article in 2011. "A discipline issue doesn't just affect a student; it affects a parent, a principal, a teacher, the system. It gave a good port of entry into government."
A year later, Robinson won a seat in the Georgia House of Representatives by 15 votes in the district where he was reared. Six years later, he was elected to the Georgia State Senate.
Then in 1994, when most observers believed he was on his way to higher officer, he quit. With a young family at home, he needed to make more money so again he came home to practice law.
Seven years later, Troutman Sanders lured back ino politics but this time he would be working with officials on both side of the political aisle.
His primary goal as a lobbyist didn't change though. "My goal as a legislator was to find common ground," he said.
As a lobbyist with a well-known firm, his star continued to rise. His resume of high-profile clients was most impressive.
But in 2009 his professional career took a backseat to something far more important than law or politics. Robinson describes what happened as an "epiphany moment." He began suffering from seizures and out of nowhere doctors told him he had a brain tumor and that it had to be removed immediately. A confident person suddenly faced an unknown future.
Surgery was performed at the Columbus Medical Center. News was good. The tumor was benign.
His formerly busy schedule was suddenly blank. In many ways he had to learn to live again. He was away from work for nearly three months, and when he returned, Robinson's views on the world had changed.
"My experience gave me a healthy respect for people who have it much worse than I do," he told Georgia Trend. "I had access to good healthcare, health insurance and bosses that supported me when I didn't know what was going on. Three months later I was back driving. … It makes you realize that as you pass people on the street they're going through something and you don't know what it is. And that's why you want to be in a position to make things better for people."
For the past eight years Robinson chaired former Georgia Gov. Nathan Deal's Judicial Nominating Commission. He was charged with reviewing state judiciary candidates and making recommendations to the governor.
The former legislator has recommended, among others, six Supreme Court justices, 11 Court of Appeals judges and numerous trial judges.
When King & Spalding announced last week that he was joining their firm they talked about Robinson's experience in a variety of issues in government at every level.
"Pete is a problem-solver and brings deep expertise to issues that intersect government relations, regulatory policy and litigation strategy," said Mark Jensen, managing partner of King & Spalding's Washington office. "Pete is a natural leader and consummate team player. He will be an outstanding addition to the partnership."
"Being able to provide Pete's level of strategic public policy counsel is a boon for all – in particular our clients who are navigating the complex waters where Pete has vital insight," said Josh Kamin, managing partner of the firm's Atlanta office.
####
About King & Spalding
Founded in Atlanta, King & Spalding is an international law firm that represents a broad array of clients, including half of the Fortune Global 100, with 1,000 lawyers in 20 offices in the United States, Europe, the Middle East and Asia. The firm has handled matters in over 160 countries on six continents. More information is available at www.kslaw.com.