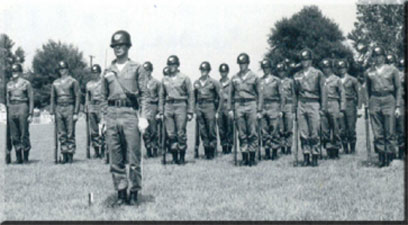 Nearly half a million soldiers have been commissioned as second lieutenants after successfully graduating from Officer Candidate School at Fort Benning  — a United States Army training program inspired by Gen. George Marshall and Gen. Omar Bradley in the months leading up to World War II.
Since then, about 2,000 of those honored graduates have been inducted into the OCS Hall of Fame, marking their contributions to the military and to the civilian community. This weekend, 21 of those graduates will be recognized in a new exhibit at the National Infantry Museum.
The special OCS exhibit opens Saturday, March 24 at 1 p.m. Former Sen. Mack Mattingly, R-Georgia, will be the guest speaker. He served in the U.S. Senate from 1981 to 1987.
Each of the 21 honorees have achieved national and international greatness for military service, public service and their business and educational achievements. The list includes those who rose to the rank of general and membership in the United States Senate and House of Representatives. Others were cabinet secretaries, ambassadors and governors.
In attendance will be family members of some of the distinguished inductees. Several of the honorees are deceased and advanced age or poor health will prevent some from attending. Honorees will receive a certificate, a specially designed lapel pin, and a miniature version of a commemorative paver that has been placed in their honor on Fort Benning's OCS Walk of Honor.
The new exhibit, featuring accomplishments of each of the 21 honorees, will be unveiled at the close of the ceremony. It is located in the OCS Hall of Honor on the mezzanine level of the National Infantry Museum and Soldier Center, a 155-acre tract that links Columbus and the Maneuver Center of Excellence at Fort Benning.
The 21 honorees include:
Gov. Winthrop Rockefeller

Secretary Caspar Weinberger

Rep. John Dingell, Jr.

Sen. Frank Church

GEN Frederick Kroesen, Jr.

Sen. Bob Dole

William Buckley, Jr.

William Gates, Sr.

Secretary John Marsh, Jr.

Ambassador Terence Todman

Secretary Gordon Gray

GEN Robert Kingston

GEN James Lindsay

GEN Leon Salomon

GEN John Shalikashvili

GEN Johnnie Wilson

GEN Tommy Franks

GEN John Abrams

GEN Buck Kernan

GEN Benjamin Griffic

GEN Bryan Brown