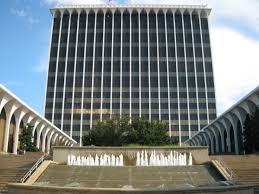 Who will be the 70th mayor of Columbus?
Good question. And it's never too soon to ask.
That person won't take office until early 2019, but it is time for serious thinkers to start the thought process for this is going to be an important change of command. A new mayor will be elected in 2018 and already a few potential candidates are quietly positioning themselves for the wide-open race to choose Mayor Teresa Tomlinson's successor. She has been in office since 2011, and is not eligible to seek a third term.
So who will take her place?
The largest crowd of possible candidates sits together every Tuesday at Columbus Council. That list includes District 1 councilor Pops Barnes; District 3 councilor Bruce Huff and District 10 at-large councilor Skip Henderson.
Former state legislator Jed G. Harris, who last ran for mayor in 2002, will likely join members of that trio when it is time to print the ballots.
Surely there will be others.
When Politics Was Deadly
John Fontaine was the first mayor of Columbus.
He was elected in 1836, and until then the burgeoning government was led by an "Intendant." The first "Intendant" was Ulysses Lewis, who was elected in 1828 — soon after the Georgia Legislature chartered the city. Those were explosive times and Intendant Solon Wollfolk, who served in 1830, died two years later in a well-publicized duel held at Fort Mitchell, Ala.
The city's first fulltime mayor was B. Ed Johnson. He was elected in 1965. The first mayor elected after city and county governments merged in 1968 was J.R. Allen. He took office in 1969 and died in a plane crash in 1973 while on an evangelical trip to Floyd County selling the virtues of consolidation. He was the father of current councilor Gary Allen.
Tomlinson, the city's first female mayor, is only the second two-term leader. The other was Bobby Peters, who served from 1995-2002. He is now a Superior Court judge. Outside of Tomlinson, only four past mayors survive: Jim Wetherington, Bob Poydasheff, Bob Hydrick and Peters.
Our List of Elected Mayors
Teresa Tomlinson 2011-2019
Jim Wetherington 2007-2010
Bob Poydasheff 2003-2006
Bobby Peters 1995-2002
Frank Martin 1991-1994
James Jernigan 1987-1990
J.W. "Bill" Feighner 1983-1986
Harry Jackson 1979-1982
Jack Mickle 1975-1978
Bob Hydrick 1973-1974
A.J. McClung Feb. 15, 1973 to April 8, 1973
J.R. Allen 1969-1973
B. Ed Johnson 1965-1968
Click here for a complete list of past mayors.
It's More than Cutting Ribbons
Today, the mayor is the Chief Executive of the Columbus Consolidated Government — and the job is much more than ceremonial.
Besides cutting ribbons and going to civic meetings, the mayor directs the executive branch of government, consisting of the office of the mayor, the office of the city manager, the directors of departments, boards, commissions and authorities ordained by Columbus Council or established by law.
The mayor is the official spokesperson for the Consolidated Government, presides at all meetings of Columbus Council, and is the Director of Public Safety. The mayor is aided by a city manager who —in the performance of his or her duties — is responsible to the mayor. Specific powers and duties of the office of the mayor are set forth in the City's Charter, including Sec. 4–201.
For a look at the CCG chain of command, click here.
A Cloud of Issues
The calendar says the upcoming race for mayor is a long way off, but the realities of contemporary politics say otherwise.
Early voting practices have had a dramatic impact on the rhythm of running local races and the lack of an incumbent will play a major role in the length of this campaign. The mounting costs of running for office and the unknown number of candidates will require extra time to meet the challenge of raising money.
Important issues already hover over this race.
The budget process and the cost of delivering vital city services continue to be important. The outcome of the upcoming vote on the thawing of property taxes may also have an impact. The next mayor will likely have a voice in the appointment of key officials.
Outside of local government, Base Realignment and Closing (BRAC) threatens the future of Fort Benning and is a challenge that must be met. The fact that Georgia will have a new governor, a new congressman will be in office and a new mayor is coming adds to the importance of choosing a strong, informed chief executive to lead this fight.
Who will that be?
Pops Barnes?
This veteran member of council continues to take positions on unpopular issues that pit him against Tomlinson. He is forever walking his district, knocking on doors and meeting people — things a candidate is expected to do.
Bruce Huff?
A member of a prominent family whose business has been at the forefront of the black community for years, this former college baseball player has the personality, the temperament and the potential to hold higher office.
Skip Henderson?
He has been on the verge of entering the race before but has never grabbed the spotlight. As a citywide councilor, he has been deeply involved in budget writing, which would be a vital tool for the next mayor. The highly contested race he won last time around will pay dividends. He and his wife will make this decision later this year.
Jed G. Harris?
He has dabbled in politics since he was in college at Columbus State. He served one term in the Georgia House of Representatives and was a candidate for mayor in 2002, finishing third behind Bob Poydasheff and Richard Smith with 23 percent of the vote.
Other potential candidates say no or maybe.
District 9 councilor Judy Thomas says she likes her present job and will be not a candidate.
State legislator John Pezold isn't talking yet.
District 8 councilor Walker Garrett is seen as a future mayoral candidate just not right now.