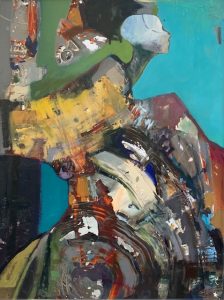 The first annual exhibition "Beyond Go Figure" honors and showcases the talents of everyone who has been part of the dream and reality of The Bo Bartlett Center, according to exhibit curator, Gloria Mani. "We have a diverse, wonderful collection of artworks on display, including various styles, medium, and subject matter. Columbus has always had a great appreciation for the arts, and this exhibition makes that statement."
Some of the artists featured in "Beyond Go Figure" include Jo Farris, Susan Culpepper, Suzanne Reed Fine, and Shannon Candler. Many members of The Bartlett Center's Board of Advisors are artists.
Mani grew up in an art school, and not only is she a second-generation artist, but a second generation art restorer as well. She has owned and operated her own business-studio-gallery, Gloria Mani Fine Art, since 1978 in Columbus. In addition to studying at the New York Arts Student League and the Ringling School of Art, she is also one of the few to study with master art conservator William Haney. Exhibitions of her work have been displayed at the Agora Gallery in SoHo, NYC, Carmel Plein-Air Paint Out Event, Ella Walton Richardson Fine Art, Hagan Fine Art Gallery in Charleston, S.C., The Telfair Art Fair, John Tucker Fine Art, Kim Iocovozzi Fine Art in Savannah, G.A., and Plantation Wildlife Arts Festival in Thomasville, GA.
"I am very excited that our young Columbus creatives have an exuberant spirit for the arts," Mani said. "Our future belongs to them, and we must all encourage and support them."
The Bo Bartlett Center is an 18,425 square foot interactive gallery space, housed on the RiverPark campus of Columbus State University. The red brick, a former textile warehouse turned gallery space, designed by AIA award-winning architect, Tom Kundig, sits on the banks of the Chattahoochee River in Bartlett's hometown, Columbus, GA. As a cornerstone of the College of the Arts' Corn Center for Visual Arts, The Bo Bartlett Center is a pivotal element in the continued emergence of a national and international presence originally established by the College's Schwob School of Music and its Legacy Hall. Complementing exhibitions in the CSU Department of Art's acclaimed Norman Shannon and Emmy Lou P. Illges Gallery, The Bartlett Center serves as an experiential learning center and cultural hub for the visual arts while affording visitors a broad range of arts experiences offered within the College's arts district.