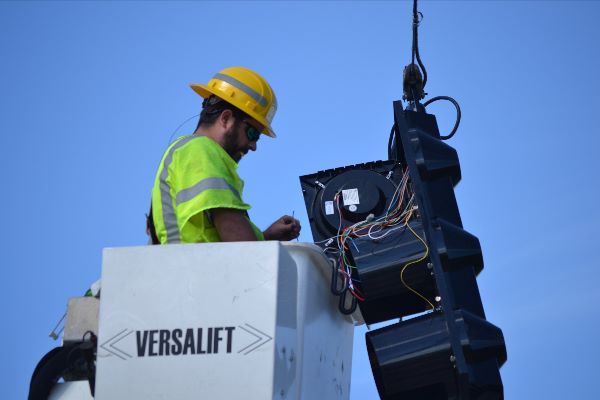 New US 84 signalized intersection at County Farm Road will be activated Wednesday, July 24 which includes a Flashing Yellow Arrow (FYA) signal. Traffic operations at this intersection is designed to improve safety and maintain the level of service on US 84. Intersection signal activation is contingent on weather and other factors.
This signalized intersection has been configured for continuous flow eastbound on US 84 with FYA for left turns, US 84 westbound signalized stop go traffic flow and County Farm Road signalized right turns only. Motorists can access US 84 eastbound from New School Road.
The Four-Section FYA traffic light installed eastbound on US 84 will provide an extended period of time for motorists to turn left onto County Farm Road after yielding to any oncoming traffic. This is the first FYA signal in Pierce County.
"The flashing yellow arrow primary purpose is to reduce the often-devastating right angle crashes that occur when drivers turning left are struck by oncoming traffic," stated Cynthia Phillips, District Traffic Engineer. "This new traffic signal design will give drivers a clear picture of when they may turn left, when to proceed with caution, and when they should prepare to stop."
The FYA signals will apply exclusively to drivers making left turns. The signal configuration will be a vertical display of four left turn arrows functioning as follows (displayed at bottom):
When solid Red arrow is illuminated, no left turn is allowed;
When solid Yellow arrow is displayed, drivers should prepare to stop as light is about to turn red;
When flashing Yellow arrow is illuminated, drivers may turn left but must yield to pedestrians and oncoming vehicles;
When solid Green arrow is displayed, drivers may turn left.