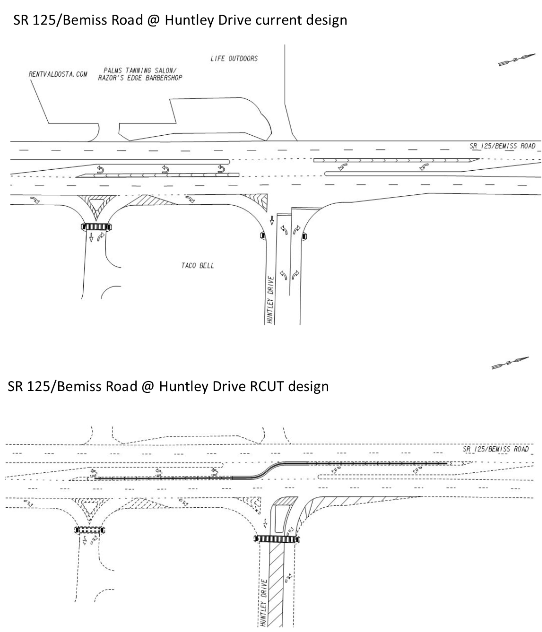 Georgia Department of Transportation has awarded a contract for installation of a Reduced Conflict U-Turn (RCUT) on State Route (SR) 125 Bemiss Road at Huntley Drive in Valdosta.
Installation is scheduled to begin Tuesday, Sept. 15, and will be done by Southland Contractors of Valdosta. Motorists should expect lane closures throughout the day when the contractor is on site. Installation isn't expected to take more than two weeks.
The RCUT will utilize a 425-foot raised continuous curb to prevent Huntley Drive traffic from turning left onto Bemiss Road. The curb will be topped with sturdy, reflective vertical posts. Huntley Drive motorists will have to  turn right, travel about 1,000 feet and make a U-turn to travel south on Bemiss Road. This will be the only change to the intersection.
Georgia DOT has done six traffic engineering studies of the intersection. The study is required to determine if the location meets the requirements for a stop and go traffic signal. Bemiss Road at Huntley Drive has never met the requirements. The RCUT is expected to move peak traffic efficiently and safely.
An RCUT is installed to reduce angle collisions at a divided highway intersection with a minor street approach. Nine crashes were reported from January 2016 to July 2019 at Bemiss Road and Huntley Drive. Seven were angle crashes. The intersection had an average crash rate of three per year from 2016 through 2018. No fatalities were reported.
The RCUT is a Quick Response Project. These projects typically cost less than $200,000 and can be completed in a short period of time. The money comes from the state motor fuel tax and is primarily used for small operational improvements and safety and maintenance projects on the state route system.