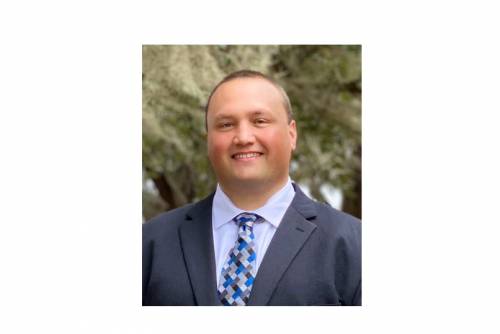 Due to the social distancing guidelines, we have converted our traditional AllOnGeorgia candidate video interviews into short questionnaires. Each candidate in the race was provided an identical questionnaire with the same deadline. Answers were not edited in any way.
The Primary Election was moved to June 9th.
The last day to register to vote in the primary is May 11th.
Early voting begins May 18th.
To sign up to volunteer as a poll worker, click here.
---
Please

 

provide

 

a

 

brief

 

bio

 

on

 

yourself.
Jason Bragg is a sergeant with the Effingham County Sheriff's Office. His law enforcement career began in 1999 as a jailer and dispatcher with the Screven County Sheriff's Office. In 2001, he graduated from the police academy, and at 19 years old, became a certified police officer. Five years later, Jason moved to Effingham County and started as a road deputy.
While working at the sheriff's office, Jason earned his Bachelor's degree in criminal justice administration.During his time at the sheriff's office, Sheriff McDuffie tasked him with finding and implementing the records management, jail, and dispatch software. Throughout his tenure, he has successfully managed civilian and sworn personnel. Jason has more than 2,400 hours of additional training and certifications through the Peace Officers Training Council.
In addition to his role at the sheriff's office, Jason also works for Courtware Solutions, a software company that manages courts throughout Georgia. With Jason's two decades of experience, he is running for Clerk of Superior Court of Effingham County. Jason is from Swainsboro, Georgia, and is the son of Susan Bragg.
What

 

experience

 

do

 

you

 

have

 

that

 

properly

 

equips

 

you

 

for

 

the

 

position

 

of

 

Clerk of

 

Court?
An extensive background in the criminal justice system, more than 2,400 hours of training, and a degree in criminal justice administration equips me with the skills needed to be your next Clerk of Superior Court. I am employed by Sheriff McDuffie as a sergeant and managed the communications division. I was responsible for nearly a dozen employees and oversaw the daily operations of the division. I serve my community with pride, honor, and integrity. 
In addition to working for the Effingham County Sheriff's Office, I work for Courtware Solutions. We provide court management software for more than 300 customers throughout two states. I am very knowledgeable when it comes to the operations of the court system.
How

 

do

 

you

 

view

 

the

 

day-to-day

 

role

 

of

 

the

 

Clerk

 

of

 

Court?

 

(The

 

balance between

 

managing

 

the

 

office,

 

working

 

with

 

other

 

elected

 

officials,

 

and

 

general public

 

servant

 

work;

 

daily

 

duties

 

and

 

responsibilities;

 

etc.)
The title of Clerk has many responsibilities. One of the primary duties of the Clerk is being the official recordkeeper of the County. The Clerk's office receives and maintains all criminal and civil court filings as well as maintains county land and property records. 
As an elected position, the Clerk is a direct servant of the citizens of Effingham County and must maintain a positive relationship with citizens and other elected officials. The role of the Clerk is critical to the efficiency of the County's day-to-day operations. Because of that, it is vital to have someone passionate and dedicated to community service
What

 

practices

 

are

 

in

 

place

 

in

 

the

 

Clerk's

 

Office

 

that

 

you

 

think

 

are

 

important

 

to

 

carry over into a new administration?
I believe that the practices in place in the current Clerk's office are working very well. I want to maintain that level of quality when I'm in office and continue to enhance operations. As we progress as a county, there are always opportunities for growth and continued improvement.
How

 

can

 

the

 

Effingham

 

County

 

Clerk's

 

Office

 

be

 

more

 

efficient?

 
With today's technology, we can be more efficient by offering more online services and meeting the public where they are. What I mean by that is being more accessible online, whether it be by enhancing mobility applications or improved user-friendly ways to connect to the office. 
We can increase efficiency by providing a witness hotline that would allow citizens, officers, and attorneys to call in the day before they are scheduled for court to make sure that their cases are still scheduled to be heard. 
Another enhancement would be to provide kiosks that would offer residents the ability to pay for tickets instead of coming into the Clerk's office. Providing the ability to pay online would be another way to enhance operations and make it easier for our residents. 
I also believe in the continuity of operations and cross-training employees. If everyone is trained to handle various situations, this will allow for faster processing of documents. This would also ensure that the office could still operate in someone's absence.
How

 

can

 

the

 

Clerk's

 

Office

 

be

 

more

 

transparent

 

about

 

activities

 

and

 

finances?
I would like to see the Clerk's office on Facebook and other social media outlets. Social media is a great way to connect with our residents and meet them where they are. This would provide the general public an avenue to learn more about what we do, engage with us, and get to know us. 
In terms of finances, we do not make any money. What comes in is paid out. The office makes sure state and local fees are paid, and then all funds that are remaining are paid to the county general fund.
What

 

types

 

of

 

practices

 

do

 

you

 

plan

 

to

 

implement

 

to

 

advance

 

the

 

office

 

technologically?
I will be looking into installing kiosks in locations throughout the County to allow residents to pay for tickets. I want to put court calendars online, implement an automated phone system for court information, and move to a paperless environment. Digital is more important than ever, and we must make it easier for our citizens to interact with us online (safely).
Will

 

any

 

other

 

employment

 

or

 

business

 

venture

 

in

 

which

 

you

 

are

 

vested

 

present

a conflict of interest for you as Clerk of Court? Please explain your answer.
I am employed by Courtware Solutions, and we are under contract with Mrs. Hursey to provide court management software. If elected, I would end my employment with Courtware Solutions to avoid a conflict of interest.
Why

 

do

 

you

 

want

 

to

 

be

 

the

 

next

 

Clerk

 

of

 

Court

 

of

 

Effingham

 

County?
I want to continue serving the citizens of Effingham as I have done for many years. I feel that the Clerk's office needs someone willing to learn and move the office forward, especially when it comes to technology. The person for the job also needs to have the ability to lead personnel by building a team that works for one end goal of serving the public while keeping records, and maintaining the integrity and security of such records. 
I am a man of integrity with a passion for serving. I foresee myself with at least three more decades of service, and it would be an honor to lead this office.
Is

 

there

 

anything

 

else

 

you

 

would

 

like

 

the

 

public

 

to

 

know

 

about

 

you?
I have been in public service for more than 20 years. I grew up in a single-parent home and witnessed my mother work several jobs to make ends meet. I was the oldest of two children, and my sister and I were given the best lives. I was a Boy Scout and earned my Eagle Scout at the age of 17. I started the Law Enforcement Explorer Post in Swainsboro before attending the police academy. I have a passion for serving and being a community leader. I have earned many specialized certifications along with my Bachelor's degree in criminal justice administration. The experience and training I have will allow me to effectively lead the Clerk's office into its next phase. 
I know what it will take to improve customer service, training of employees, and technology within the office. I plan to do that all while serving the public and maintaining a competent and experienced staff. The office can't run with just one person; it takes a team to lead. 
To learn more about me and my visions, please my website at www.jasonbragg4clerk.com. I can be reached at jason@jasonbragg4clerk.com, on Facebook at Jason Bragg for Clerk of Superior Court or on my cell phone at 912-429-6193. 
I am always accessible to the public and promise to be even after elected. Please don't hesitate to contact me if you have any questions or concerns.