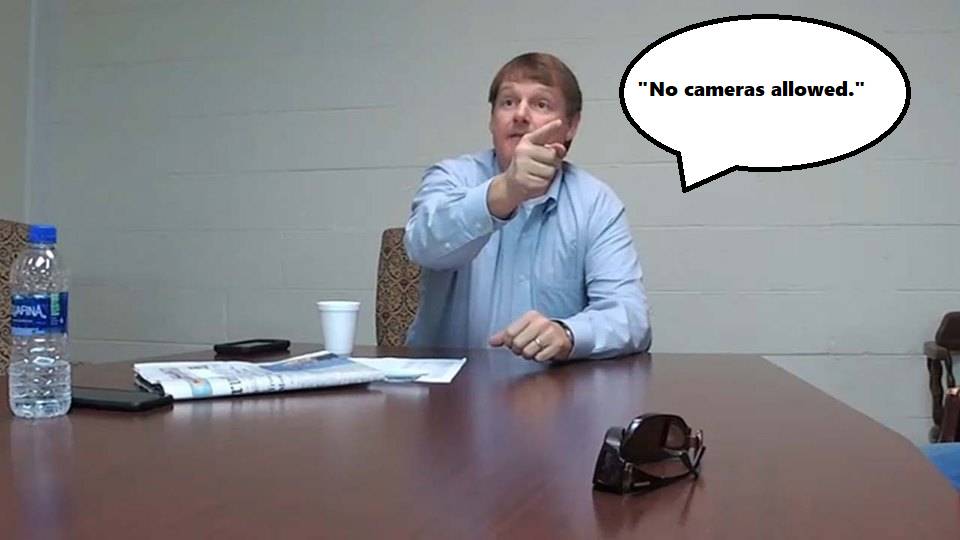 The county commissioner whose wife was arrested for pouring soda on an AllOnGeorgia reporter has upped the ante and barred cameras and video recording devices in the Commissioner's Office less than a week after his wife had warrants taken out for her arrest.
Sole Commissioner Jason Winters of northwest Georgia's Chattooga County placed the sign up at the county office on Tuesday saying that no cameras were permitted in the building.
AllOnGeorgia contacted the county office about the specifics of the policy on Tuesday morning. A county employee who answered the phone placed the call on hold for several minutes before County Clerk Martha Tucker confirmed the policy is in place. Tucker said it has 'always' been the county policy, but the office just posted the policy officially. It has not been enforced to date either. She also noted that an exception would be made when there are public meetings taking place at the office, which happens a couple times every year. 
"They will be checked before they go to the back, but they're only allowed in the meetings," Tucker said. "They'll be checked when they come in the door to make sure it's a camera."
The policy does not address cell phones or tablets, most of which are equipped with photo and video cameras. The policy seems to somewhat contradict the Chattooga County website biography of Winters which says he is "committed to an open and accessible county government."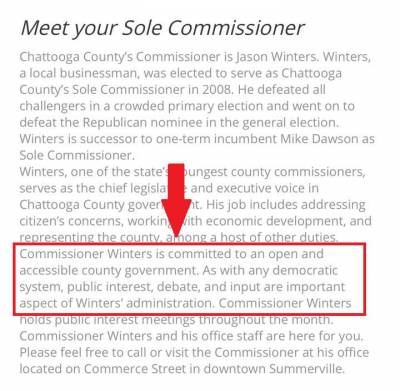 Georgia's Open Meetings Act, a state law governing transparency, reads "Visual and sound recording during open meetings shall be permitted." See OCGA 50-14-1(c), a provision that is not exclusive to the media. 
But the barring of camera and recording devices in public places where a person is lawfully present is not a policy most counties – even in larger and more metro areas – utilize. Public places are generally defined as a place where there is public access or 'in plain sight,' like inside a government building (though courts are governed by their own rules for privacy).  
Additionally, Georgia is a one-party consent state, meaning that no person who is a party to a conversation is required to inform the other party or parties that a recording device is being used.  In most places, it is only illegal to use a hidden video camera in areas where subjects have a reasonable expectation of privacy – like a home or public restroom. 
The courts have repeatedly ruled in favor of recordings made for editorial and journalistic purposes and have held that police and government officials carrying out their duties are protected activities so long as they are not disruptive to the employees or officials carrying out their duties. 
Chattooga County is represented by attorney Chris Corbin, who was also the attorney advising Abbey Winters as she faced criminal charges last week. Winters has scheduled a meeting this coming Friday, December 20th, at 11:00 A.M. to adopt the budget