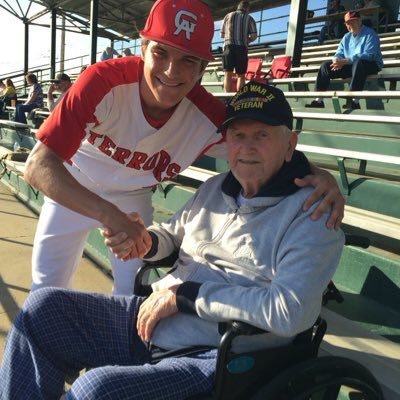 Today, AllOnGeorgia is pleased to introduce the first installment of "You Tell Me, MP" featuring legendary Glynn County-based sports writer Murray Poole. In this weekly summer series, current AOG writer Kevin Price will ask Poole a series of questions and the longtime Brunswick News sports editor and 2016 Glynn County Sports Hall of Fame inductee will answer them. Price's goal is to capture the opinions, thoughts and especially the memories that Poole has from yesteryear in local athletics. Today, the county's unoffficial sports historian answers several baseball-related questions to open this weekly Q and A with the man who used to write his regular Poole Shots column for the local newspaper.
---
Glynn Academy football and baseball standout Randon Jernigan, in pre-draft negotiations with a major league baseball team prior to this week's Major League Baseball Draft, couldn't reach a financial agreement with the team and will thus be going on to the University of Georgia on the baseball scholarship he signed earlier. Do you think Jernigan is making the right move as opposed to going directly into professional baseball?
There's no question in my mind Randon is doing the right thing. Even had he been drafted as high as the third round in this week's major league draft, I still think it would have been best for him to first play college baseball. Over the next three years on Georgia's weight program, he will develop physically as well as gain added maturity to position himself well for the baseball draft at the conclusion of his junior season. And then it goes without saying what kind of education he will be getting in his selected major of engineering at UGA.
You covered Adam Wainwright's high school career which included a game his senior year at Wayne County with numerous scouts there just to watch him pitch. What do you remember about that game in Jesup and how cool was it to see the local kid get drafted by the Atlanta Braves?
I will always remember that game Adam pitched in Jesup his senior year at Glynn Academy. It was a surreal scene for a high school baseball game as when Wainwright took the mound, there were no less than 12 major league scouts armed with their radar guns positioned behind the screen back of home plate.
That afternoon, Adam pitched one of his best games only to lose a 2-0 game to the Yellow Jackets, on a day when the Wayne County pitching staff silenced the Red Terror bats. One incident in that game showed me Wainwright's coolness under fire.
When a sudden windstorm came up unexpectedly and caused the dirt in the infield to swirl everywhere, Adam simply stepped off the mound, crouched down and waited for the disturbance to cease. He then came right back and continued to pitch superbly before being saddled with a tough defeat.
And then, at the end of his fabulous prep career, it was a dream come true for all Red Terror and Glynn County baseball fans in general to see Wainwright chosen in the first round of the Major League Draft by the home-state Atlanta Braves. Too bad the Braves, a few years later, made that infamous trade with the Cardinals, sending Adam to St. Louis where he would begin putting up Hall of Fame pitching numbers.
Early in your professional career you saw Tommy Cason, Sam Bowen and  Kevin Drury play for Glynn Academy. Obviously, all of them were drafted by major league franchises. What do you remember about all three guys?
I joined The Brunswick News in the fall of 1965, but since I didn't become sports editor until June of 1966 I saw Tommy Cason play only briefly in the spring of his senior season at Glynn Academy but did see him play for South Georgia College, before he went on to play for Auburn and Jacksonville State and then professionally in the Boston Red Sox chain.
But Tommy was an exceptional left-handed hitter with outstanding speed, who could spray the ball all over as well as hit with some power, especially for a player his size.
Sam Bowen, well, he was as natural a baseball player as you will ever see. He did it all, pitching and hitting, for the powerful 1969 Glynn Academy team and then went on to star at Brunswick Junior College and Valdosta State, before then beginning his professional career with the Boston Red Sox.
As most everyone knows, Sam spent most of his pro career playing with the Sox' triple-A Pawtucket, R.I., team but did get to see action with the big team at Fenway Park. Bowen had great power for his compact physical makeup, once launching a home run at Pawtucket 500 feet. I can only imagine how many home runs Sam would have hit in Edo Miller Park had the high schools then used the metal bat rather than the wooden one.
And Tommy Cason's cousin, Kevin Drury, was without question the best high school shortstop I've ever seen, covering the left side of the infield like a blanket defensively while helping lead the Red Terrors to the 1973 state championship. Only Walter Ward, who played at Glynn several years later, was close to Drury with the glove. And Drury was a terrific high school hitter also, batting in the high .400s again, mind you, with the wooden bat. Kevin then took his talents to the Chicago Cubs organization, using his exceptional talent to climb as high as triple-A ball.
Also early in your sports writing career you covered Glynn Academy's march to the 1973 state baseball championship as previously noted. Glynn's run included a series against your alma mater Moultrie High. How awesome was that for you personally to cover that matchup?
Well, the spring of 1973 was a special one indeed! Not only did Max Braun's Red Terror baseball team surge to Glynn Academy's only state championship in that sport, but the Terrors had to step over my alma mater to do it.
You can imagine the mixed emotions I had entering that South Georgia championship series. At the time I had only been out of Moultrie High School for 13 years and was pretty close to the family of Packer pitcher and slugger Ray Goff. In fact, my midget football coach was Jim Buck Goff, Ray's dad and then the director of the Moultrie Recreation Department.
The first game of that two-of-three series was played in Moultrie, at the field just across the street from my old high school. Boy, did the Terrors jump the Pack that game, hitting the ball all over the lot in a 13-6 romp over Moultrie.
Then came the second game back at Edo Miller Park and talk about a tight pitching duel. Goff, the future UGA quarterback and head football coach, was smoking the ball around 90 mph but good as he was, he couldn't beat the guy on the hill for the Terrors that day, one Gary Brunson. The junior left-hander silenced the Packer bats in a tightly-contested 4-2 win, which propelled Glynn Academy on to series wins over Butler and then Columbia High of Decatur for the coveted state title.
And that game, too, marked my only game as a play-by-play guy on the radio as a Moultrie station asked me to broadcast the game back to the Packer faithful, which I did from a table set up behind the screen to the right of home plate.
Who was the best high school player you saw in your sports writing career who wasn't wearing the uniform of a local team?
Boy, this is a tough one because there were so many players down through the years that came to Edo Miller Park and put on one-man shows against either the Terrors or Brunswick High Pirates. But for one defining moment, I'm going with a slugger from Coffee County named Riccardo Ingram.
Playing in the same 1980s-era with Trojans star Pulpwood Smith, Ingram on that spring afternoon launched the longest home run I've seen at Edo Miller. The ball exploded off the bat and was still climbing when it carried to the top of the tall trees behind the left field fence. It was indeed a "bomb" in the truest sense and surely would have carried 450 feet had not its flight been obstructed by the trees.
Ingram, for those who don't remember, went on to star in both baseball and football at Georgia Tech and is now in the Tech Hall of Fame. Unfortunately, after playing professional baseball and being a minor league manager in the Twins organization for many years, he died in 2015 at still the young age of 48.