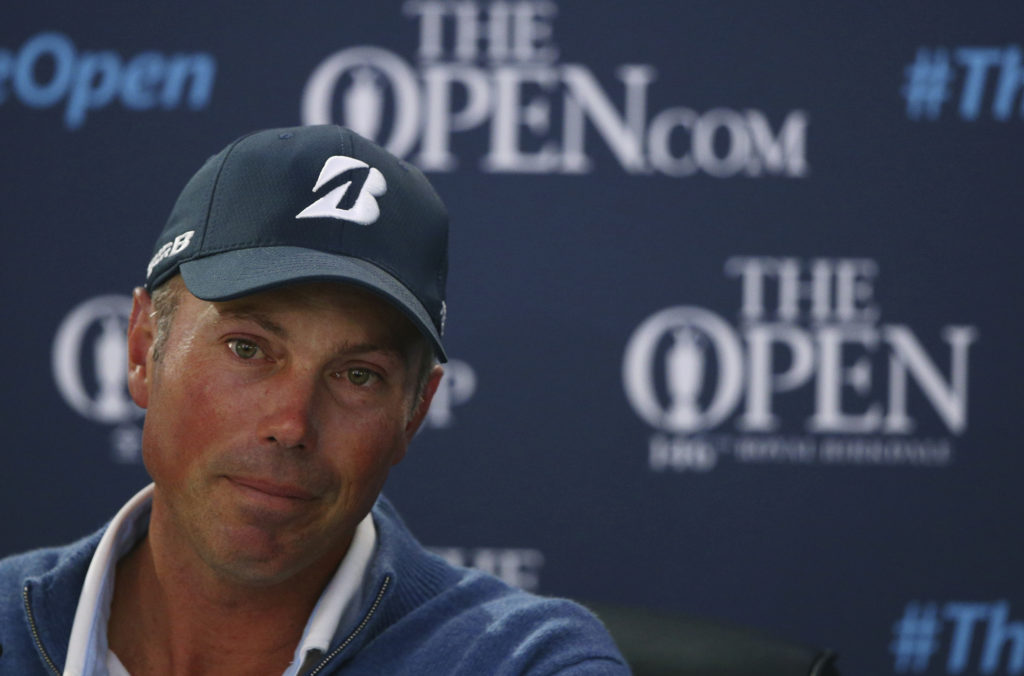 Georgia Tech golfers have won the British Open.
David Duval hoisted the Claret Jug in 2002, and Stewart Cink won this same major in 2009.
Last year, it looked like Matt Kuchar, another former Yellow Jacket, might win it at Royal Birkdale.
Instead, he walked off with a stinging defeat as Jordan Speith rallied from behind with an amazing finish to win by three strokes over the former Georgia Tech All-American.
"Kooch", as the St. Simon's Island resident is often called, had a one-shot lead when he stepped on the tee at the 14th hole and he came home with a strong finish of his own, making two birdies and two pars over the next four holes before making what ended up being a meaningless bogey at the last.
Spieth, though, upstaged the always-smiling Kuchar with a finish for the ages. It started when he avoided potential disaster by salvaging a miraculous bogey on the 13th hole following a tee shot that has been described as "being off the grid."
From there, Spieth would play the next four holes in 5-under par, including a near-ace on the next hole and then a 50-foot eagle putt on the very next hole.
The young Texan would later admit he "stole" the victory, and it turned out that Kuchar was the one who got robbed. The Claret Jug was in his grasp and Spieth snatched it away.
Kuchar has since called that victory "crushing" among other such adjectives.
Now, a year later, he is back to try again. This time, the Open goes to Carnoustie which looks like it will play firm and fast. So much so that Duval, the fellow former Tech great, is considering not even carrying a driver in his bag.
His rationale is that an iron might be all that is needed off the tee to get the ball out there some 200-yards plus and let it roll until it decides to stop, especially on a hole that is playing downwind.
Duval isn't sure whether the conditions will truly make this an open Open, bringing more players into the mix or if it will narrow the number of players who can actually win.
He did say that the unpredicatibility of the setup is going to drive some players "batty."
Whatever the case, it sounds like the setup might be right in Kuchar's wheelhouse. He often has to hit driver where the longer players in today's game might be hitting a 3-wood.
He also can "grind it out" with the best of them and normally keeps a even-keel if not upbeat demeanor when he plays, obviously often flashing one of the prettiest smiles in all of sports, not just golf.
During a practice round earlier this week, Kuchar was optimistic about his chances at Carnoustie, seemingly not still dwelling on what might have been this time a year ago at Birkdale.
"Last year certainly stung, it was particularly hard having the lead so late. There is no telling how many more chances I'll have," he told reporters on site this week.
"It looked like it was my time and then it wasn't my time again. I've still got lots of positive memories from that Open and I know that this style of golf suits my game."
Kuchar, now 40, is considered one of those "best players to not have won a major."
Rickie Fowler might top that list, at least in American golfing circles. But Kuchar is certainly right there with his U.S. counterpart.
Kuchar, also called Mr. Consistency for his always steady play on the PGA Tour, has certainly won plenty of big tournaments, including the Players Championship.
A major title has eluded him, however.
Last year, his runner-up finish at the Open was part of a strong run by Kuchar in the majors. He tied for fourth at the Masters, tied for 16th at the U.S. Open and then also tied for ninth at the PGA Championship a few weeks after his close call at the British Open.
In this year's first two majors, Kuchar tied for 28th at Augusta and missed the cut last month at the U.S. Open.
Kuchar is a 7-time winner on the PGA Tour but hasn't won since the 2014 RBC Heritage which is mind-boggling even to him.
This year, he has three top-10 finishes including a tie for fifth at the Waste Management Phoenix Open.
He hasn't played in the States since missing the cut at the U.S. Open.
Last week, he missed the cut at the Scottish Open in his final tune-up for this week's championship.
The British Open starts Thursday, and Kuchar has been picked by several in the British press to emerge as the champion.
Other more popular picks were Dustin Johnson, Justin Rose and Tommy Fleetwood and Fowler.
Of course, Tiger Woods has gotten some play, too.
For a video preview of Kuchar going into the tournament, click here.