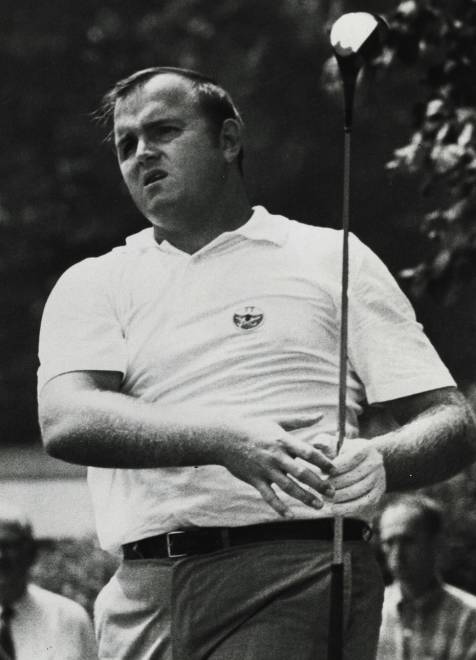 Today, AllOnGeorgia releases the fifth installment of "You Tell Me, MP" featuring legendary Glynn County-based sports writer Murray Poole. In this weekly summer series, current AOG writer Kevin Price will ask Poole a series of questions and the longtime Brunswick News sports editor and 2016 Glynn County Sports Hall of Fame inductee will answer them. Price's goal is to capture the opinions, thoughts and especially the memories that Poole has from yesteryear in local athletics. This week, the county's unofficial sports historian answers questions related to his coverage of the Golden Isles Invitational golf tournament.

---
The Golden Isles Invitational is taking place at the Brunswick Country Club again this week. You covered this tournament for many years while working for The Brunswick News. Can you talk about how prestigious this annual amateur tournament is?
 There were many reasons why the Golden Isles Invitational was my favorite golf tournament to cover. First of all, it was one of the very top amateur tournaments in the state of Georgia, attracting a field that consisted of veteran golfers who had already made their mark on both the state and national scenes and also the rising young stars who were already beginning to make their presence felt just coming out of the high school and college ranks.
And, what many people who follow the tournament today don't realize is that in the Golden Isles' early years, and on up into the 1950s, '60s and early '70s, there were always a number of celebrity entrants in the Brunswick Country Club event. Just involving football alone, I can recall such guys as Steve Spurrier (Florida Heisman Trophy winner and San Francisco 49ers QB), Maxie Baughan (Georgia Tech All-American and Philadelphia Eagles and LA Rams standout), Larry Morris (former Georgia Tech and Chicago Bears standout) and Steve Sloan (former Alabama quarterback and  head coach of Vanderbilt, Texas Tech, Ole Miss and Duke), among others, teeing it up at BCC.
But just the good brand of golf alone sold this tournament, along with the hospitality of the Golden Isles tournament committee. And that's why so many of the best golfers around had the Golden Isles Invitational marked on their summer calendar and kept returning here for many, many years in succession.
Bill Ploeger obviously is the most prolific champion in the long history of the tournament. What was it about him that made him so good in this event for so many years?
Bill Ploeger, I can talk about him non-stop!
Besides being one of the nicest gentlemen I've ever met, Bill was also one tremendous striker of the golf ball. Growing up within a long putt of the Brunswick Country Club, Bill knew the course like the back of his hand and as we all know, that profound knowledge of BCC along with his cool demeanor and outstanding poise in the biggest of pressure situations, propelled the former Glynn Academy athletic standout, and Columbus resident, to a record 11 Golden Isles titles.
I was fortunate to interview Bill after every one of those 11 championships, and if he ever boasted after winning, I never heard it. Just the opposite, Bill was humble to a fault, downplaying every single time that he had just once again whipped a field of 200 or more golfers.
Steve Melnyk has been back in the tournament in the Senior Division in recent years. Obviously, he won the tournament multiple times after growing up playing at the country club. Can you tell us about the time he was leading and left to go play in the British Open which created a little bit of a stir at the club?
You are of course talking about the 1971 Golden Isles Invitational, which was likely my favorite tournament of all the ones I covered in my 40 years at The Brunswick News.
Former Glynn Academy great Steve Melnyk, who was soon headed for the PGA professional tour, was on his way to a fourth Golden Isles championship. In fact, Steve was running away with the thing, having built something like a 13-stroke lead or so after the second round.
In other words it was no contest and the rest of the field was simply competing to see who would wind up the tournament runner-up. But then, there would be no final round for Steve as he had to withdraw from the tournament to make his flight connections to the British Open tournament.
And when that happened, three golfers who were given new life would go on to tie for the championship after the three rounds of regulation play. They were Mr. Steve Spurrier — who by the way was Melnyk's roommate at Florida — Jim McDonald of Athens and a Glynn Academy and Georgia Tech alumnus named Bill Ploeger.
And as we now all know, Ploeger went on to best Spurrier, the then 49ers quarterback and punter, and McDonald in the sudden-death playoff to capture his first-ever Golden Isles championship. Little did we all know at the time that there would be 10 more championships to follow for Mr. Ploeger at the country club.
A lot of people probably didn't know that Steve Spurrier used to come here to compete in the Golden Isles, and that you interviewed him during those tournaments. Was he as cocky and confident then as he was when he was coaching football at Florida?
I remember sitting on an outside bench with Spurrier at the country club and talking with him about his Florida days and his then professional team, the San Francisco 49ers. And yes, he was always confident, borderline cocky, in everything he discussed regarding his athletic career.
And, certainly, he had always backed up about everything he said. In the 1960s as Florida quarterback, he not only won the Heisman Trophy (1966) with his passing and running performance at that position but he also kicked field goals for the Gators, in fact beating Auburn with a 40-yard kick I believe the week before Georgia handed Florida its first regular-season loss in the old Gator Bowl.
But because college football players during that time weren't turned loose with the media as much as they are today, I don't recall Steve Spurrier being a quote machine as the Florida QB, certainly not the way he was when he became the Gators' most successful head coach ever throughout the 1990s, when as we all know he came off cocky and confident in almost every interview he had and, again, backed up what he said by steering Florida to unprecedented heights.
Obviously people around here root on the local guys when they are contending for the Golden Isles title, especially those who are BCC members. And obviously, several have won the tournament. Was it always maybe a little more special to write about a local person winning the event?
 It was indeed special to write about a hometown guy winning the Golden Isles championship.
Of course, former Red Terror Bill Ploeger was at the top of that list but then in my time covering the tournament, there was Steve Melnyk winning his three titles in the middle and late 1960s, former Jekyll Island resident and future PGA touring pro Andy Bean winning in 1972, Ron Eulenfeld winning in 1974, Brunswick's Skipper Torbett being co-champion with Mike Cook in 1975, Mark Drury capturing the title in both 1981 and 1992, a guy named Davis Love III winning the championship in 1985 when I remember fierce lightning running us all off the 18th green just after Davis made his final putt, Scott Todd winning the crown in 1997 and then, the year before I retired from The News, Jay Cason winning the championship in 2004.
Jay's winning the Golden Isles was special for me since he played on my youth baseball and basketball teams. Then, in the last 10 years, local golfers taking home the Golden Isles championship were Dru Love, son of DLIII who won the title in record fashion in 2011 and 2016, Travis Williamson in 2015, Josh Williams in 2013 and Thomas Hogan, just last summer and the defending champion entering the 2018 tournament. Being a Glynn County resident and winning one of the state's most prestigious golf tournaments on their home stomping grounds had to be super special for everyone of these guys.