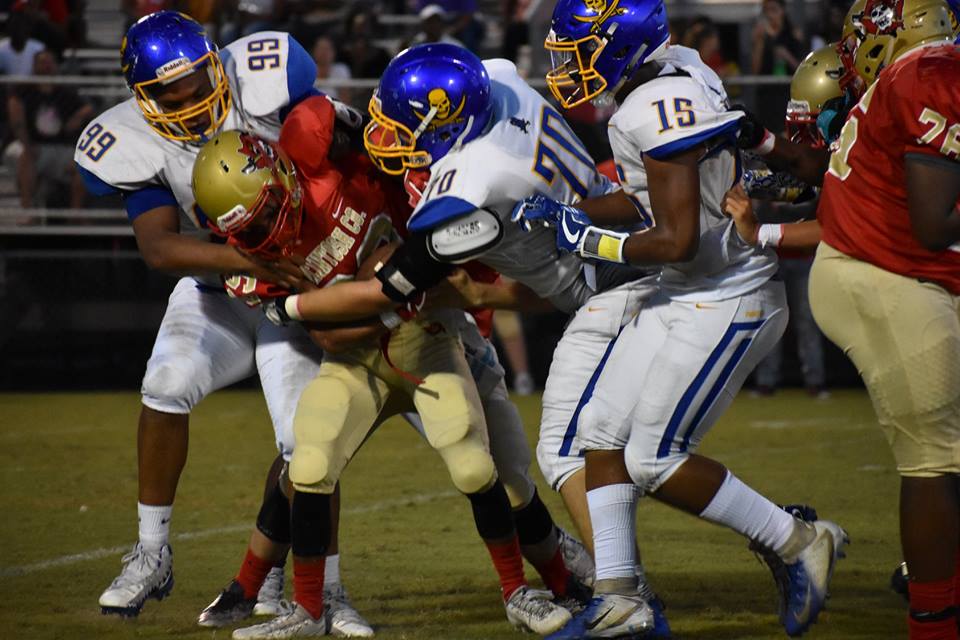 The Brunswick Pirates and Glynn Academy Red Terrors might not have games this Friday night, but both teams are still hard at work on the practice field this week.

Without having to prepare to face an opponent at the end of the week, the Terrors and Pirates are trying to become better teams by working on themselves.
"We have problems to fix and teaching we have to do, so that's really going to be our focus this week," said Glynn coach Rocky Hidalgo.
The Terrors took Monday off since there was no school on the Labor Day holiday. They practiced Tuesday and planned to practice Wednesday and Thursday before taking Friday off.
The team might watch film this week on Wayne County – next Friday's opponent – but the game plan for the Yellow Jackets won't be installed on the practice field until next week.
"I want to be physical," Hidalgo said in regards to practices this week. "We have a lot we need to work on. We're not a finished product. For us, this week is a chance to step back, take a look at things and work on what we need to work on."
The Terrors (2-1) are coming off a 49-0 victory last Friday at home over Groves in a game that was called at halftime due to a lightening storm that was going to delay the rest of the game.
Hidalgo admitted it was difficult to gauge his team's overall performance against the struggling Rebels who were physically overwhelmed by the Terrors.
The coach did like the play of his offensive line after some position changes during the week leading up to the Friday game.
"I think the group we used Friday is probably the one we're going to play with the rest of the year," Hidalgo said.
This week, the Terrors planned to do some focused work on the tight ends which could take on a bigger presence in the offense going forward.
Hidalgo said the defensive staff would also pay close attention to the secondary in practices this week.
"We've still got a lot of work to do there," he said. "We're just young back there and have been limited in what we can do. We'll look at adding some things and try to keep improving."
Hidalgo said team scrimmages this week would feature the first-teamers against one another.
"We'll do a lot of ones-on-ones to get that speed of the game," he said.
Hidalgo said that junior running back Nolan Grant would not practice this week. Grant had an undisclosed emergency surgery following Glynn's opening game and did not play last week against Groves. His status for next week's game at Wayne County remains in question.
Following next Friday's showdown with the Jackets – Wayne and Glynn are ranked first and second respectively in the Southeast Georgia High School Football Power Poll – the Terrors will stay on the road for games at Ware County and Camden County in the next two weeks.
"This three-game gauntlet will be pretty tough," Hidalgo admitted. "We'll find out a lot about ourselves."
The Pirates started the season with challenging road games at Coffee and Bartram Trail (Fla.), two teams that played for state championships last fall.
Brunswick lost both of those games, but cracked the win column last Friday with a 49-7 win over rebuilding McIntosh County Academy in Darien.
The Pirates will return to the field next Friday with their first home game against Camden, and the coaches have already been watching film on the Wildcats to prepare for that game.
But like Glynn, the Pirates are focusing mostly on themselves this week and not the next opponent.
"We're going to work on our base fundamentals and try to get better as a football team," said BHS coach Sean Pender.
Brunswick also did not practice Monday, but planned to practice the rest of the week including a Friday morning practice since they don't have a game later that night.
Instead of coaching a game, the BHS coaching staff will be scouting Friday night in Richmond Hill where the hometown Wildcats will play Camden.
Of course, Brunswick and Richmond Hill will also meet later this season in a region game, so the Pirates will get a first-hank look at both squads.
On Tuesday, the Pirates watched film of the MCA game and spent a lot of time on special teams on the practice field.
Their Wednesday and Thursday practices will include the first-team offenses and defenses facing off in game-like situations. Their Friday practice will be like their usual Thursday walk-thru practice with the addition of conditioning work mixed in.
"If we don't play better than we did our first two games, we'll get beat," Pender said as he looked toward the Camden game. "We need to ride the momentum we created Friday and continue to improve."
Pender said the Pirates don't have any major injuries to report this week.
"We're pretty healthy," he said.