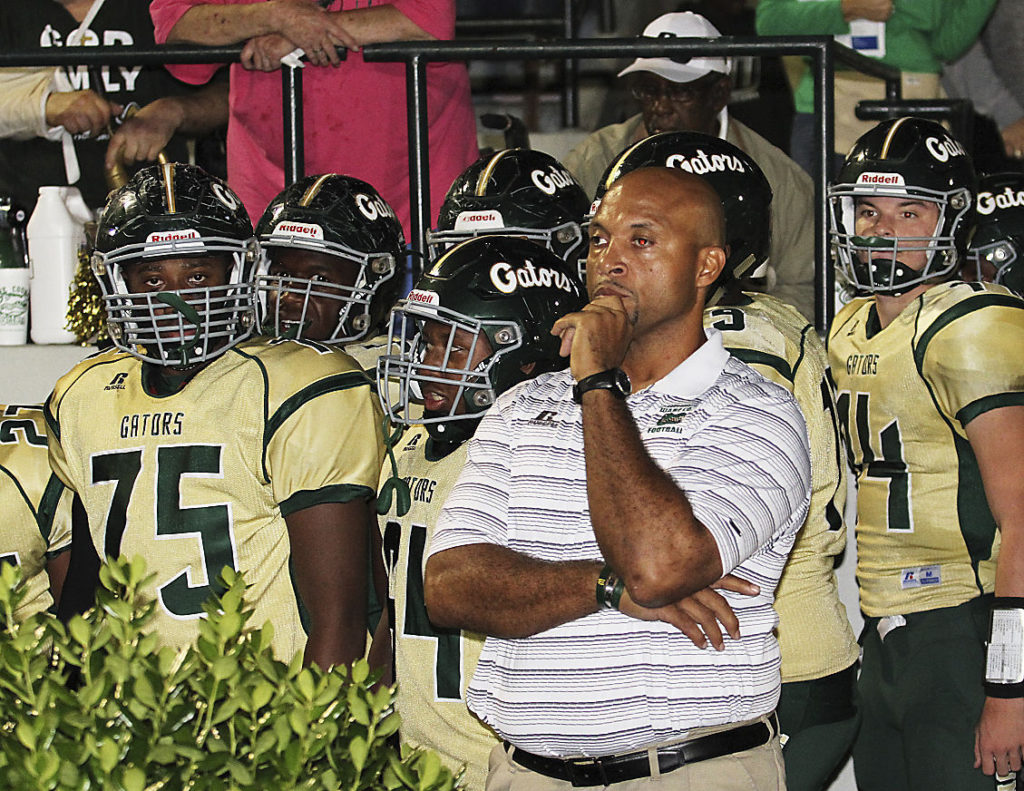 Camden County and Richmond Hill will square off Friday night in a battle between the Wildcats that looks attractive on paper.
The game at Richmond Hill pits Camden, the third-ranked team in the Southeast Georgia High School Football Power Poll, against the hometown Wildcats, who are ranked eighth this week in the power rankings.
The contest will be the first-ever meeting between the schools. Camden competes in Georgia's Class 7A while Richmond Hill is a Class 6A school that competes in the same region with Brunswick, Glynn Academy, Effingham and Bradwell Institute.
Camden will head north to face the Wildcats with a 2-1 record, and the blue-clad Cats are coming off a convincing 51-13 victory last Friday at home over Locust Grove.
Richmond Hill is 1-1 for the season. The black-and-gold Wildcats won at Grovetown in their season opener, and then after having an early open date, they lost tough last week by a 23-21 score at Wayne County which is the No. 1 team in the power rankings.
Friday's game, of course, will be the first home game of the season for Richmond Hill.
Camden won its opener at home over West Forsyth before losing to Wren (S.C) 25-14 in a game played at Mercer University in Macon in Week 2.
Other Friday night pigskin matchups in Southeast Georgia include the following:
Randolph-Clay at Pierce County
The hometown Bears will put their undefeated record on the line Friday when they host the Red Devils in Blackshear.
Pierce's varsity defense has yet to allow any points through three games, and that doesn't bode well for the Red Devils who have been blanked on the scoreboard in each of their first two games.
Randolph-Clay, a Class A school, lost 57-0 two weeks ago to Pelham to open the season and last week fell 33-0 to Stewart County.
The Bears won their opener three weeks ago at McIntosh County Academy by a 48-14 final score before pitching shutouts the last two weeks against Bacon County (49-0) and Beach (38-0).
Friday's game will be the final one in a four-game stretch for Pierce to open the season. The Bears, who are third in the power rankings, will be off next week before playing their final non-region game at South Effingham on Sept. 21.
Jonesboro at Ware County
The Gators will be back at home in the Swamp Friday in Waycross as they host Jonesboro which will come south from the metro Atlanta area for this meeting.
The Gators (2-1) are coming off a 21-14 loss last Friday at home in the annual Border War showdown with rival Coffee.
Ware trailed the Trojans 21-7 at halftime and held Coffee to 55 total yards in the second half, according to a report on the school web site, to give themselves a chance at a comeback-win.
The Gators completed a 58-yard pass for a touchdown to pull within 21-14, and in the final seconds completed a 65-yard bomb to the Coffee 1-yard line which was nullified by a penalty against the Gators.
Jonesboro opened its season with a 14-13 win over rival Mt. Zion (Jonesboro) before losing 58-7 to state-power Buford and then winning again last week by 19-7 over Woodland (Stockbridge).
In last week's win, Jonesboro quarterback Tremir Alexis accounted for 150 total yards and threw a touchdown pass.
Linebacker Laquavious Williams was named the Clayton County Defensive Player of the Week after he recorded 10 tackles in the win.
Wayne County at Beaufort (S.C.)
The Yellow Jackets will cross state lines Friday for a matchup with Beaufort.
Wayne coach Ken Cribb is a former head coach in South Carolina as he coached for seven seasons at Bluffton before taking the job in Jesup prior to last season.
The Jackets are 2-0 on the season after rolling by Long County in their opener and then edging Richmond Hill 23-21 last week at home after trailing 21-13 early in the third quarter. Wayne is the top-rated team in the power poll.
Beaufort also is undefeated with three straight wins to start its season. The Eagles own wins over Flora (35-21), Battery Creek (S.C.) 48-6 and Effingham 21-13.
Brantley County at Jeff Davis
The Herons will be on the road for the third straight week to start the season and will again try to deliver new head coach Geoff Cannon his first victory with the program and first as a head coach.
Brantley lost its opening game two weeks ago at Charlton County (43-0) and fell last week at Atkinson County (27-20) while committing three turnovers.
Junior quarterback Bradson Bowers threw two touchdown passes in the loss to Atkinson including one that covered 99 yards to Jesse Trent.
Jeff Davis is off to a 3-0 start including a 41-40 victory over Windsor Forest in its second game of the season.
Appling County at Dodge County
The Pirates will go on the road for the first time this season to face an unbeaten Dodge County team.
Appling got its first win last Friday under veteran coach Rick Tomberlin who came out of a second retirement for the chance to coach at his alma mater in Baxley as the Pirates shut out Charlton County 21-0.
Charlton was ranked fourth in the Class A public school rankings going into the night.
The Pirates fell in their season opener the previous week at home against Vidalia by a 28-20 final tally.
Dodge, which is ranked sixth in the Class AA polls, will be playing its home opener.
The Indians won their opening two games, knocking off Bradwell Institute 23-15 in Hinesville, and then after an early off week, defeating West Laurens 22-10 last Friday.
Evans at Liberty County
The Panthers will look to rebound from last week's 23-6 loss at Statesboro when they host Evans from the Augusta area on Friday night in Hinesville.
Liberty, which fell from third to fifth in the power rankings following the loss to the Blue Devils, will be playing on its home field for the first time this season.
The Panthers won their opener at rival Bradwell three weeks ago.
In last week's loss at Statesboro, Liberty managed just 36 plays on offense as the Blue Devils controlled the ball and the clock for much of the game.
Evans will be looking for its first win of the young season after starting out with losses to Effingham (9-6), North Augusta from South Carolina (27-21) and Richmond Academy (41-7).